6 Questions with "THE RED ROAD" Star Zahn McClarnon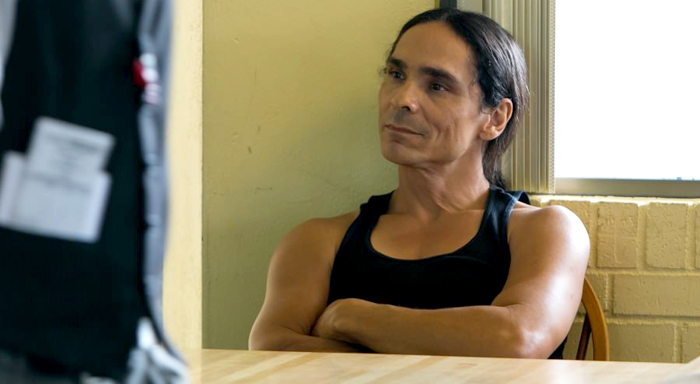 THE RED ROAD star Zahn McClarnon, who plays Phillip Kopus' partner-in-crime Mike Parker, discusses his Native American heritage, racism and coming to terms with his own death (at the hands of Jason Momoa).
Q: Your performance is so real. Did you model the part after someone?
A: Thank you, I appreciate that. I modeled Mike after a few different people I grew up around. Like a lot of people, I've seen what drugs and alcohol can do to peoples lives. I've been up close to a lot of that behavior. When it came to thinking about who Mike was, I had a lot to draw from.
Q: What did you draw from your own identity as a Hunkpapa Lakota Native American?
A: The simple fact that I am part Native obviously gives me a lot to draw from to portray a Native part on television. I've been on different reservations my entire life. Most of my relatives on my mothers' side still live on the rez. So, it's easy to draw from those experiences—I certainly understand some of the hardships Natives go through living on the rez. I also know how tight those communities can be. I'm very aware of how easy it is to get drawn into destructive behavior and fall away from your family and culture.
Q: There are some serious racial/class tensions on THE RED ROAD. Was it like that where you grew up?
A: I experienced the racial and class tensions my whole life. I lived just outside of the Blackfeet Reservation in Montana for the first nine years of my life. My grandparents lived on the reservation so I spent a lot of time there. I remember being in a cafe in one of the border towns next to the reservation with my father, who is white, and my mother and her sisters, who are Lakota. They wouldn't serve us. I didn't understand why we couldn't get service and my parents had to explain to me why. I'll never forget that. I also experience the reverse of that—my father wasn't too welcome on the reservation because he was white. So it goes both ways. Unfortunately this stuff is still happening today in 2014.
Q: When did you learn  your character was going to get killed? Were you surprised?
A: I learned Mike was going to be killed in the first week of shooting. It came up in a conversation I had with Jason Mamoa—he'd already seen the first four drafts of the scripts, or at least the outlines. I wasn't really surprised. it was more of a disappointment. Especially after spending weeks with the cast and crew. I had a lot of fun portraying Mike Parker. He is such a tragic character and those characters are always fun to do.
Q: If you had a piece of advice to give to Mike, what would it be?
A: My advice to Mike Parker would be, "Mike, your life is going into the toilet. Do something about it!" Then I'd probably slap him upside his head like Kopus does. (Laughs) I think I'd just try and be a good example to him. I'd show him that he really doesn't have to live the way he does. There are other paths. Canku Luta! That means "the red road" in Lakota. When you walk the red road in my culture it means you're on the the good road.
Q:  Is there anyone in the cast that you hang out with now that the season is over?
A: I'm still in touch with Jason quite a bit. We text back and forth all the time. He invited me to his premiere of Road To Paloma coming up in July. I also have seen LilaKoi (Lisa Bonet) on a few occasions. They're both wonderful human beings. I also stay in touch with Kiowa, he's a good man.
Click here to read an interview with Zahn McClarnon's THE RED ROAD costar Kiowa Gordon.