6 Questions with "THE RED ROAD" Star Mike Farrell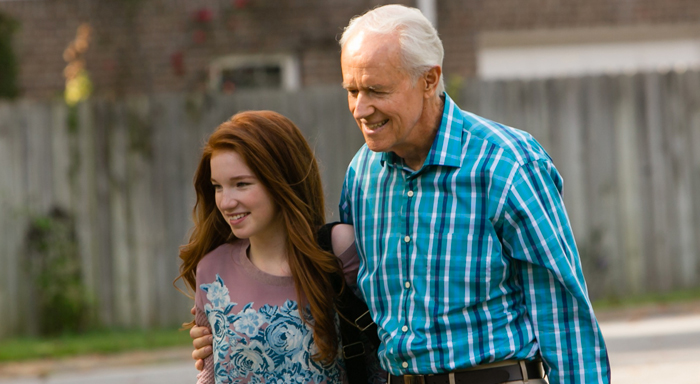 Veteran TV actor Mike Farrell, who plays Jean's father David Rogers on THE RED ROAD, looks back on his memorable role in M*A*S*H, how his politics intersect with his characters and the changing TV landscape.
Q:  As a father, are your character David's actions toward Jean something you can relate to?
A: Of course. As a father, the immediate response to having one's child—even an adult child—in difficulty is to bring to bear all the weapons in one's arsenal to solve the problem and/or heal the situation. David, being a state senator and a man of some means, has a number of such weapons available and will clearly use everything at his command to help his daughter.
Q: You're a fairly political guy. Do you think your THE RED ROAD character and you would vote alike?
A: My guess is no. The big house, the somewhat cool relationships, the intention to avoid discussion and certainly dissection of unpleasant matters in the past, the attitude about the use of power and the manner in which it is done suggest a somewhat elitist posture that hints at a political view I don't share.
Q: You're best known as BJ Hunnicut on M*A*S*H. Did you know that role was going to put you on the map?
A: The short answer is no. The longer answer is more complicated. I was thrilled at the opportunity to join the cast of what I knew was a wonderful and very successful show. I was also very worried about two things: one, I was concerned that the cast, after three years on the air and a fair amount of success, would resent my coming in to replace a beloved member; two (once they welcomed me with open arms and put that concern to rest), I worried about whether the audience would accept me. We all know that casting new people in an ongoing show can be problematic and a series can be cancelled at any point for any number of reasons. Until we went on the air I lived with the fear that if M*A*S*H was cancelled in its fourth season I would wear it around my neck for the rest of my life. Once successfully past those potential pitfalls, I thrived. As far as being "put on the map," as you referred to it, I was more astonished—and thrilled—at the reaction we got, but none of us knew that we were becoming a social phenomenon. I still consider my self the world's luckiest actor for having been able to be part of that company.
Q: You wrote and directed a handful of M*A*S*H episodes and a TV movie. Is more directing in your future?
A: I doubt it. I really enjoyed directing and then producing, as well. I'd be a better director today than I was then because of what I've learned by producing pictures and working with editors, but directing is a career one has to pursue. And working one's way up that ladder involves doing shows wherein the cast knows more about the characters than a guest director can ever hope to know, so one becomes, in essence, a traffic cop. Not for me.

Q: Your career spans several decades. How does the TV landscape today compare to how it was when you started out?
A: It's a very different animal today. Many friends I've made along the way have said "it's not fun any more." I think there are some wonderful things being done in television today, mostly outside the network arena, but it's much more of a cutthroat world, I think, where shows that don't make a significant rating in the first outing are gone in a blink without ever having a chance to find their feet. I usually say, when asked that question, that in the old days there was kind of an understood partnership between the creative people and the business people. In recent years the business people have come to believe they are the creative people.
Q: Patch Adams is based on your own history with the title character. How'd that come about?
A: There's a chapter or two about the movie in my book, not a happy story. Patch and I were part of a peace delegation to the Soviet Union in 1985. Kind of what's known as track-two-diplomacy. Though I was skeptical about this weird fellow at the outset, he did a wonderful stunt that simply knocked me out and I fell in love. We became fast friends and have remained so. Probably ten years later he got a lot of attention for a book he released and the industry began to court him. Big names began calling and he was being romanced about a movie. He called me and asked my advice, so I tried to steer him away from the wolves and toward the more substantial people, but he hated the phoniness, wasn't interested in being wined and dined and limousined. What he wanted was to earn enough money to build a free hospital. Finally, he said he wanted my partner and me to make his movie. I tried to warn him that we didn't have the clout some of those who were pursuing him did, but he insisted. He trusted me and didn't trust them. We agreed that the movie should be a substantial film and not just a wacky comedy and that's what we set out to do. Unfortunately, once involved in a studio deal, power plays and all the dishonesty and nonsense that permeate the business resulted in our being pushed aside and a wonderful story about an extraordinary man and a great dream became a wacky comedy. It did, I'm happy to say, make Patch a world-renowned figure, but it didn't get his free hospital built. Yet.
Click here to read an interview with Mike Farrell's THE RED ROAD costar Julianne Nicholson.