What's Ahead for the Cast of "THE RED ROAD"? Movies, Movies, Movies!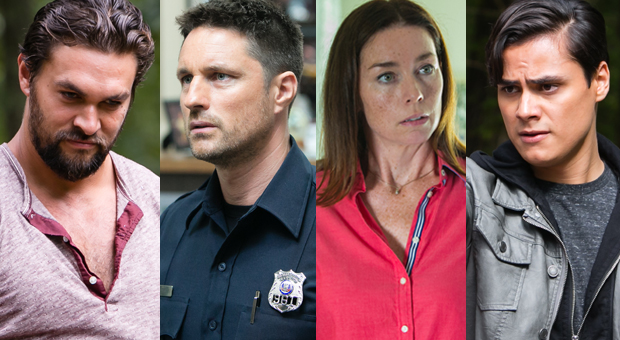 Can't wait for THE RED ROAD Season 2? Keep up with the stars through their upcoming big-screen projects in the meantime.
Jason Momoa (Phillip Kopus)
In addition to starring in and directing the recently released Road to Paloma (which also features wife Lisa Bonet), Momoa has two more movies slated for 2014: The action-horror coming-of-age movie Wolves (as in were-) helmed by screenwriter David Hayter (X-Men, X2 and Watchmen) for this summer; and Debug, a hackers-in-space thriller directed by Stargate: Atlantis costar David Hewlett.
Martin Henderson (Harold Jensen)
The New Zealand native will appear in the suspenseful Everest alongside Jake Gyllenhaal, Josh Brolin, Robin Wright, Sam Worthington, Emily Watson and John Hawkes. In it, two groups of climbers are hit by a massive snowstorm–not unlike the one that recently hit the mountain in real life and killed a dozen hikers and sherpas. Also, Henderson's Aussie crime drama Secrets & Lies gets an American network remake soon.
Julianne Nicholson (Jean Jensen)
Nicholson stars in the movie adaptation of Ten Thousand Saints from director Shari Springer Berman (American Spledor). The film concerns late-'80s teens–and their parents–dealing with complicated, interconnected lives. Costars include Hailee Steinfeld, Ethan Hawke, Emile Hirsch and Emily Mortimer.
Kiowa Gordon (Junior)
Gordon stars in (and produced!) the indie dark comedy Heat Wave with his Twilight series costar Bronson Pelletier. The movie, written and directed by Russ Russo (The Projectionist), was partly Kickstarter-funded and is still in the works. Hopefully out at end of year?
Allie Gonino (Rachel Jensen)
You'll be able to catch Gonino later this year in See You in Valhalla, a movie about a young woman returning home to her family for the first time in years after the unexpected death of her brother. Modern Family's Sarah Hyland stars alongside her producing role.