7 Questions with "THE RED ROAD" Star Julianne Nicholson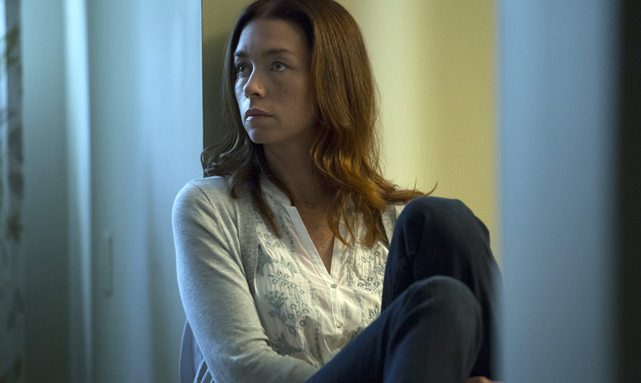 Julianne Nicholson, who plays troubled mom Jean Jensen, tells us why she's particularly honored to have been the first person cast on the show, the scene she found hardest to shoot from Season 1, and what she hopes to do next (hint: It's funnier than you might think).
Q: You were the first person cast for the series. How did that come about?
A: I was sent the script and I just fell in love with it. I went in and met with [show producers] Aaron [Guzikowski] and Bridget [Carpenter] and had a chat about it. I just made it very clear that I loved the show and would love to be part of it. I was so excited to be the first person cast; so often they cast the men first and cast the women to match the dudes. It was a great honor that it happened this way.
Q: What were the challenges in playing such a mentally fragile character? How did you prepare for the role?
A: I read a lot about schizophrenia and talked to a lot of people who have loved ones with schizophrenia. [I used] what Aaron had written, what I had heard and my imagination. It's not a lot of fun to be in that state. Of course it's not real, I'm not hearing voices, but it still is hard. I found it harder as the series went on. I can get into a certain headspace, but to continue to go back there is a challenge.
Q: You have intense scenes with both Martin Henderson and Jason Momoa. How do their acting styles differ?
A: They're very different people. They enter a room in a different way, they speak in a different way, but they are both such lovely people who are really there to do their best work. They're both incredibly present, which you don't always get. When you look across the scene and see that they're really there, that is such a joy.
Q: What was your most difficult scene to shoot, and why?
A: Jean doesn't get a lot of laughs in Season 1. It was all varying degrees of difficulty. I thought all the stuff around the drowning was particularly difficult – the safety issues, swimming with clothes and shoes on, that felt particularly challenging.
Q: You've joined a number of successful series later in their run, like Boardwalk Empire, Law & Order: Criminal Intent and Ally McBeal. Is it easier or harder coming in on the ground floor of a series?
A: I like being part of creating something from the word go – that is very exciting to me, where you're not trying to match anything, you're creating it. It can also be exciting to take a part in a show if you're already a fan of it, like with Boardwalk Empire. I'm so lucky to have the opportunity to do both.
Q: You won a best actress award at the U.S. Comedy Arts Festival (for 2004′s Seeing Other People) but seem to get cast primarily in intense dramatic roles. What's up with that?
A: I think people continue seeing you in the kind of roles they're used to seeing you in. I'm dying to do a comedy – I'm putting that out into the universe. I will definitely try to have that be one of the next things I do. Being able to do both the darker, more dramatic stuff and the lighter fare is the best. There's great value in both.
Q: Is there anyone in the cast you hang out with now that the season is over?
A: I feel like I've gotten to know Jason ten times more now that the season is over. He and I live in the same part of Los Angeles. I bump into his wife [Lisa Bonet] all the time. I actually had lunch with both Jason and Martin the other day–we went out for sushi. I consider them both friends now.
Click here to read an interview with Julianne Nicholson's THE RED ROAD costar Tom Sizemore.