Nick Gomez: From "The Walking Dead" to "The Red Road"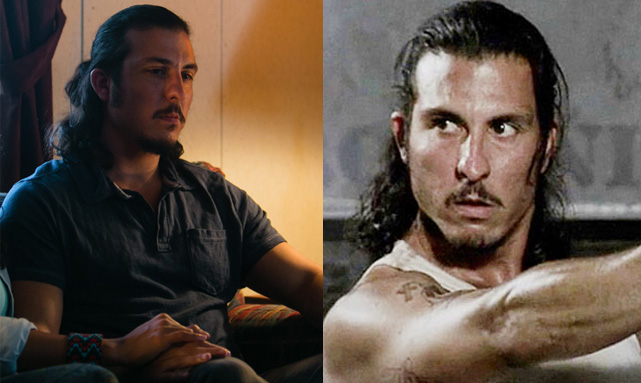 THE RED ROAD's Nick Gomez gives an inside scoop on co-stars Jason Momoa and Tom Sizemore and talks about his experiences on The Walking Dead, Dexter, and G.I. Joe: Retaliation.
SundanceTV: How did your role on THE RED ROAD come about? What were you told about your character?
NG: I got a call from my agent about THE RED ROAD, and I put together an audition tape for the casting. The scenes that I got to audition with were the actual scenes that I did for that first episode I'm in, where I'm trying to break into the garage. What's interesting is some characters just click and some don't. I've done a lot of very hardened sort of men, prisoners. I've played a lot of bad guys, so I'm usually hurting somebody. But as an actor you're always justifying what you're doing and this was the easiest one to justify because even though I was doing something illegal, I completely clicked with why he was doing it. I completely understood a father doing whatever he had to because his son was hurt, so I really wanted to play this role. I wanted to play a character that had some built-in sympathy.
SundanceTV: Your RED ROAD co-stars Tom Sizemore and Jason Momoa have also played some pretty hardened characters. Did you have any time on set with them?
NG: From the first rehearsal Tom Sizemore was 150% doing what he was going to be doing every single time. Balls to the wall going for it. And I guess that's what you expect when you're working with Tom Sizemore.
SundanceTV: What about Jason? Is he as intimidating in real life as he looks on screen?
NG: I'd seen him on a few things, Game of Thrones, where he plays a very scary, very intimidating individual. But before we even started speaking, you can just tell what a nice person he is. He's got a big heart and… he's a very encouraging actor. Very giving. He's just a nice, sweet guy, so it's actually kind of hard to be intimidated by him.
SundanceTV: You grew up next to a Western movie set, where Young Guns II was filmed. How did that influence your decision to get into acting?
NG: I grew up mainly in a really small town in the middle of nowhere in Arizona called Benson. A few miles past my house, there was this old Western film set that had been built in the 1950s, but it'd been abandoned for a few decades. In the late 1980s, when I was in the fourth grade, Westerns started coming back, and they started filming there, and I would just get on my bike and go there after school or on weekends, and I would just hang out on the movie set and that was my introduction.
SundanceTV: How did that evolve into your first speaking role?
NG: Sometimes they would dress me up as a poor Mexican kid. I never had shoes until years later. They'd put me in raggedy clothes. Then we were filming this one movie, Young Guns II, and we were taking a break and switching out the scenes and the director says, "Who wants to say something?" I was the first one to raise my hand, and I got to say one word — "Watch" — in a scene with Kiefer Sutherland. But because I said one word, my check was like 400 times more than it would have been. So I was like, "Hmm, I think I'm going to keep talking. I think I'm going to do this. I can keep talking and I can buy like 100 remote control trucks with this."
SundanceTV: You've had some memorable TV roles in the last few years: Dexter, The Walking Dead and now THE RED ROAD. How has your life changed because of that?
NG: I can't tell you how grateful I am to be on such awesome shows for a couple of reasons. When you're on such a good show, everybody is just so happy to be at their jobs. It's like being on a winning football team. I also get a lot of recognition now and have a lot of friends. I was at Target the other day and a guy approached me and I thought I knew him and just had forgotten his name, because he approached me in such a friendly manner. And he says, "I just started The Walking Dead." [LAUGHS] It's also opened all sorts of doors because now casting directors are bringing me in because they know me, which is a nice change.
SundanceTV: You've done some stunt work too?
NG: I actually didn't mean to. I literally kind of fell into it. No pun intended. My brother is a stuntman. He's doubled for me before. He was my stuntman on Looper. And he wanted to go and try out for G.I. Joe. They were having an open tryout for stuntmen in New Orleans. And he needed me to be his partner and help him choreograph a fight scene. Like two weeks later, I got a call saying they wanted me to do it and not my brother. That was kind of devastating.
SundanceTV: You were shot by The Rock in G.I. Joe: Retaliation. What was filming those scenes like?
NG: It was a lot of fun. Stunts are sometimes really dangerous, like jumping off buildings or wrecking cars, but this was just like playing cops and robbers when you're a kid. You're just running around with a big gun and falling down when you get shot. Hanging out with The Rock, I think he actually killed me four times in that movie because I was playing a terrorist with a turban, so they just kept rearranging the turban on my face and my head and I was like four different guys.
Click here to read an interview with Nick Gomez's THE RED ROAD co-star Tom Sizemore.