5 Questions with "The Red Road" Star Kiowa Gordon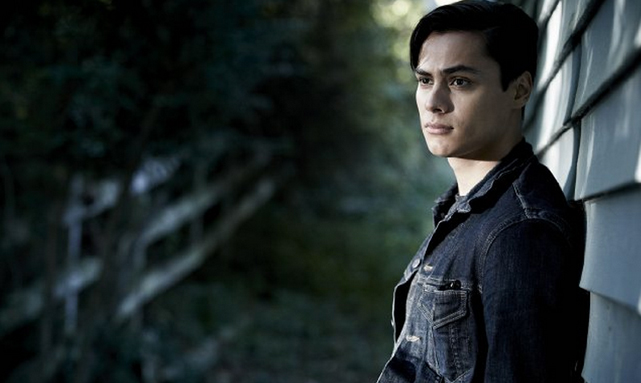 Actor Kiowa Gordon (THE RED ROAD's Junior) talks about his role in the Twilight franchise and his potential future as a pop singer.
Q: Your first movie role was in such a hugely popular franchise. Was all the attention around Twilight surreal? How did you deal with it?
A: Oh yeah, I was an 18 year old kid fresh out of high school. I just dealt with it one day at a time. I tried to stay close to old friends and family to keep me from going insane.
Q: You're a member of the Hualapai Nation in Arizona. Can you talk about your connection to the tribe & where you grew up?
A: Yes, my mom is Hualapai and her grandfather was a big advocate for the tribe after returning from WWI. My family moved to the Hualapai reservation when I was a baby and we lived there 'til I was seven. It wasn't a conventional upbringing. The Grand Canyon is basically our backyard. I remember being at my Gouda's (grandma) a lot and playing in ditches with my siblings and cousins throwing rocks at rattle snakes. We got into some natural mischief. Most other families wouldn't hang out with us. We were kind of the dark horse of the tribe. When I was about six our house burned down and we lived in a temporary place for almost a year and then decided it was best to leave.
Q: In THE RED ROAD, Junior's life changes pretty dramatically after Phillip shows up as a brother figure. What are the challenges of playing someone who finds himself at such a defining moment?
A: It's great to have these challenges as an artist that force you to stay on your toes and think things through, at least halfway. I grew up surrounded with dysfunction but I always had my older brothers to look up to. That's not the case with Junior. He grew up on his own. Nobody taught him how to be a man, he never even met his parents. I put myself in his shoes and wondered what it would be like to walk a thousand miles in them. There is a lot of mental anguish Junior is going through, and to have Kopus there, there is finally a man around to show him the ropes.
Q: What drew you the character of Junior? Could you relate to his struggles & situation?
A: Oh man. When I first read the script. I knew Junior was written for me. He talks like me, loves like me and is misunderstood like me. The only thing I had to dig deep on is not having biological parents or siblings. I come from a big family but there was turmoil in our ranks. My parents were working a lot and my older brother would take charge and really be the enforcer but I still felt alone and overlooked because there are eight kids fighting for a place in life.
Q: You also sing, right? We read that you were in a band called Touché. Was that in high school? Any plans to make more music?
A: Yeah, that was back in 2010 after I moved to LA. I gathered together my old buddies from Arizona and started messing around musically. We had high hopes for the five of us but that summer something happened and I decided to leave the band to pursue acting full time. They continued on and had member changes and now they have reinvented themselves and go by Lifelink now. It's heartwrenching melodic hardcore. I also recorded a track back in 2012 called 'Taking Back My Summer' with some of those guys and this producer, Daniel Grimmett. You can find it on iTunes or bandcamp and I have some other rough demos on soundcloud. The song was made under my moniker NatureBaby. Now I'm more focused on my acting career but when I have time I will find the right sound and make what I want. I have hundreds of lyrics written but no sound to go with them. I need some help with that.
Click here to read an interview with Kiowa Gordon's THE RED ROAD costar, Allie Gonino.