5 Questions with "THE RED ROAD" star Martin Henderson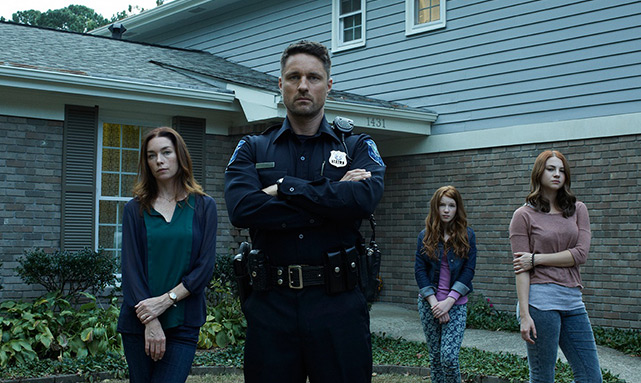 The SundanceTV original series THE RED ROAD premieres tonight, February 27 at 9PM
SundanceTV: Harold can't catch a break—he's struggling to keep his family functioning while also trying to keep up a semblance of normalcy in his job and in the town; is it hard to keep that level of tension going?
Martin Henderson: I don't think it's so much about technically maintaining a level of 'tension'; it became much more interesting to me to look at how Harold deals with his levels of stress. People deal with extreme tension in many, many different ways – his conflict lies in protecting his family from what he's experiencing and trying to navigate through his own turmoil inwardly – and alone. Therefore it was always about what he was not showing, what he was concealing, rather than displaying any consistent level of stress.
SundanceTV: We know that Harold has a scar on back after getting hurt playing football in school. You also played an athlete in the Australian series Sweat nearly a decade ago. Were you yourself ever an athlete? Do you have any scars?
MH: I've always played a lot of sport, yeah. I managed to get pretty smashed up a few times on the rugby field and broke my nose once. My best scar actually lies on the inside of my top lip that marks the spot where my face parted after being pushed from a slide by a girl as a little kid. Sad but true.
SundanceTV: Being from New Zealand, what's your take on the tense relationship between the modern Native American community in THE RED ROAD and their non-Native neighbors?

MH: Like anywhere where you find different ethnic groups living side by side, unfortunately, there is a deep seated mistrust, prejudice and historical resentment. It's interesting to see how the characters deal with this latent and overt racism and whether they can heal the past and forgive. What I find hopeful is how the younger generation in THE RED ROAD seems more prepared to bridge those differences.
SundanceTV: This is your second starring role in an American TV series (after "Off the Map"), but we know you did TV in New Zealand and Australia for years; how is it different here than there?
MH: Everything is just so much bigger in the US. There is a lot more money spent on production here and you can certainly tell this from the craft services station! Essentially the job doesn't change much but with a bigger budget you can enjoy a bit more time to explore different takes in a scene and finesse the action sequences.
SundanceTV: You've starred in so many different kinds of projects—horror ("The Ring"), romantic comedy ("Pride & Prejudice"), military ("Windtalkers"); do you have a favorite genre?

MH: Funnily enough (no pun intended) I would say comedy is my favorite yet that is probably the one genre I've least explored here in the States. I love that I've been able to enjoy a mixture of material and as a result I don't think I've been too pigeon holed. Certainly with Harold in THE RED ROAD, I've been given a unique and wonderful opportunity to explore a very ambiguous character from the "good guy/bad guy" perspective. It's a thrill to play someone so hard to define. It's exciting to think audiences will be so torn over their feelings toward him.
Learn more about THE RED ROAD. Sign-up for weekly updates to receive exclusive news, videos, interviews, and more…
Watch the all new SundanceTV original series THE RED ROAD, Thursdays 9pm.