"THE LAST PANTHERS" Series Recap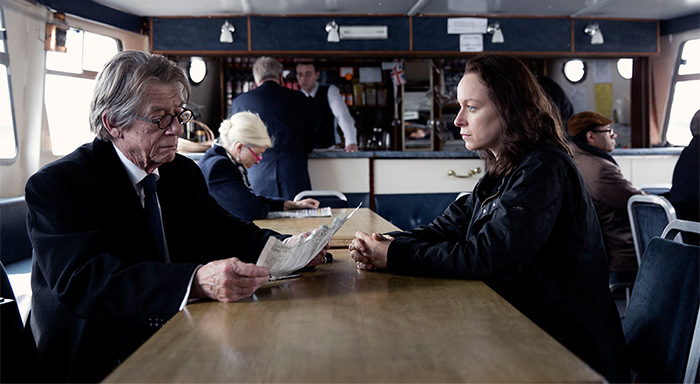 In Marseille, France, former Pink Panther member Milan Celik steals 15 million euro in diamonds from a jewelry store with accomplices Borisav and Rajko. Borisav accidentally shoots and kills a young girl while fleeing.
Khalil Rachedi, a French police officer, and Naomi Franckom, a claims adjustor for an insurance company, begin parallel investigations into the case. Naomi's boss, Tom, sends her to Serbia to investigate the diamond case despite her reluctance to work in the Balkans.
 
Milan's diamond buyer backs out of the deal due to attention generated by the girl's murder. Milan tries to sell the diamonds to interim Panther leader Zlatko Mladic, saying he needs money for his brother Adnan's heart transplant. Zlatko agrees to buy the diamonds after receiving pressure from Dragan, the imprisoned Panther leader, but he first orders Milan to kill Naomi. Milan ambushes Naomi but spares her life when he recognizes her face.
Khalil asks his brother, Mokhtar, to help trace the diamond thieves' guns. Mokhtar refuses to help. Khalil traces the guns to Georges and Margot Belair's apartment in Les Agnettes, a housing development. The Belairs are murdered after Khalil leads gun traffickers to believe that they snitched to police.
In Belgrade, a politician announces plans for a new airport and introduces Guillaume Von Reeth from Plex, the company that won the airport bid. Zlatko secures an airport security contract by bribing Von Reeth with the diamonds. Von Reeth travels back to London with the diamonds concealed inside Zlatko's dog.
Naomi threatens to extend Dragan's sentence if he doesn't help with the diamond case. Using intel supplied by Dragan, Naomi informs her diamond team that a man named Sol Meyer is about to purchase the stolen diamonds. Not realizing the diamonds are concealed in a dog, she misses the diamond exchange.
Tom meets with executives at the Belgrade airport to discuss insuring the airport. Tom recognizes Zlatko as a Panther and counsels a local politician to drop Zlatko from the airport team. The politician refuses. Tom decides to insure the airport anyway and takes Naomi off the diamond case.
Zlatko and Milan spring Dragan from prison. Milan and Dragan flee from Zlatko, who planned to kill Dragan and take over the Panthers. Milan calls Adnan to warn him that Zlatko will come after him.
Zlatko meets with Julia Ortiz, who represents the group that is bankrolling the airport. Julia convinces Zlatko to provide her with 100 million euro of untraceable cash flow in the Balkans.
Khalil witnesses a secret meeting between his boss Roman, Mokhtar and Manu, the head of a gun-trafficking ring. Manu shoots Rajko, who he's been holding captive. He lets Roman take credit for killing a diamond thief in exchange for allowing Manu to traffic guns. Panicked by the murder, Mokhtar later tells Khalil that Roman feeds police intelligence to Manu as a way of maintaining violence in Marseille.
Naomi traces the diamond dog to Von Reeth. Tom fires Naomi after she warns him that his airport associates are crooked.
Milan and Dragan seek help from Dragan's old friend, Jamezdin. Jamezdin, who now works for Zlatko, kills Dragan. Milan returns to Belgrade to save Adnan before Zlatko reaches him.
Khalil sets up a fake gun trade to entrap Manu and Roman. Manu and Roman are killed when the plan backfires. Mokhtar warns Khalil that the gun-trafficking mob will come after them and insists they preemptively kill the mobsters. Khalil refuses to kill anyone.
Naomi follows Zlatko to an abandoned building where Adnan is hiding. Adnan runs from Zlatko and jumps off the roof to his death. He lands near Milan, who has arrived a minute too late.
Flash back to 1995: In Bosnia, Naomi helps the U.N. maintain peace following the Bosnian War. She falls in love with Pev, a Bosnian officer and father to Milan and Adnan. When she learns that a Serbian militia known as the Tigers (later known as the Panthers) is smuggling guns, she warns Pev that the Serbians are re-arming. Milan overhears her and plants a bomb in a Serbian camp, triggering a deadly battle that kills Pev. Milan and Adnan flee to Belgrade.
Naomi and Milan follow Zlatko to London, where he's attending an E.U. conference. Naomi asks Tom to help capture Zlatko. Instead, Tom tips off Zlatko. Zlatko sends his bodyguard, Milomir, after Milan, but Milan kills Milomir.
Mokhtar carries out the mob hits, infuriating Khalil. Khalil kills Mokhtar after Mokhtar declares himself the new crime boss.
Milan attacks Zlatko at the conference. Zlatko chokes Milan to death but is shot in the head and killed by Naomi.
Khalil's mother Fatima urges Khalil to find Mokhtar's killer. Naomi returns to Bosnia and dedicates a memorial plaque bearing Pev, Milan and Adnan's names.