"THE LAST PANTHERS" Recap: Episode 104 (Serpents Kiss)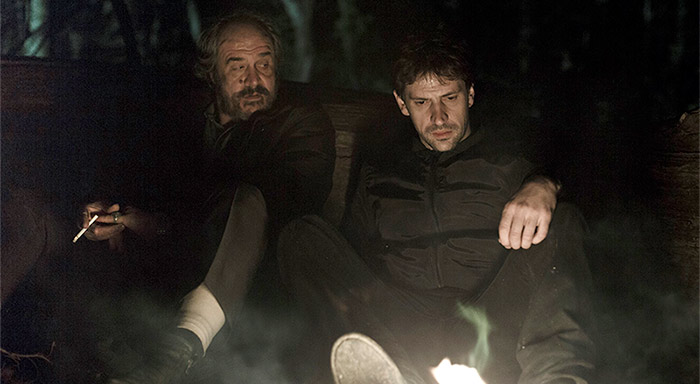 A cop stops Milan (Goran Bogdan) and Dragan (Boris Isakovic) as they hitchhike through Germany. Milan attacks the cop and escapes with Dragan.

In Belgrade, Adnan (Nikola Rakocevic) flees from Zlatko's (Igor Bencina) men.

Damir (Gordan Kicic) calls Zlatko and tells him to meet with Julia Ortiz (Juana Acosta Restrepo), who is bankrolling the airport deal. Milomir (Nikola Djuricko) drives Zlatko to the airport to board a jet.
At home, Samira (Camélia Jordana) tells Khalil (Tahar Rahim) that Mokhtar (Kamel Labroudi) unraveled when Khalil didn't return to Marseille for their father's death. She says that Khalil, like their father, is sometimes so sure of himself that he ends up hurting other people.

Naomi (Samantha Morton) tells Tom (John Hurt) that they will find the diamonds if they track down the man who delivered the dog. Tom declares the case dead and assigns her to a new case.
Khalil finds Mokhtar hiding in his car. "I'm in deep shit," Mokhtar says.
Mokhtar tells Khalil that Roman (Olivier Rabourdin) feeds police intelligence to Manu Esposito (Patrick Azam) because he believes the way to end violence is by installing one crime boss and managing that boss. Khalil asks Mokhtar to help ensnare Manu and Roman.

In London, Naomi asks a reluctant Kirsty (Natasha O'Keeffe) to help locate the man with the dog.

At the station, Khalil asks Franck (Karim Leklou) for a favor from the evidence room girl, who is Franck's fiancée.
Khalil and Mokhtar visit Nadim (Adama Niane), who's now retired from gun trafficking, and demands his help entrapping Manu. Nadim refuses but caves in when Khalil threatens to kill him.

In Scotland, Julia asks Zlatko for 100 million euro in cash so that the people she works for can have an untraceable cash flow in the Balkans.

Adnan hides in an abandoned apartment and calls Milan to say that Milomir is outside the building. Adnan flees the apartment moments before Milomir arrives.
Zlatko calls Milomir and asks him to gather 100 million euro.
Franck gives Khalil a duffel bag with guns that he procured from the evidence room. Khalil brings the guns to Mokhtar and Nadim.
Kirsty calls Naomi to inform her that she traced the man with the dog to Vienna. Naomi follows the man in Vienna.

Milan and Dragan arrive in Hungary, where they're greeted by Jamezdin (Ljubomir Bandovic). "Let's get you home," Jamezdin tells Dragan.

Khalil invites Roman to dinner to celebrate the end of the Internal Affairs investigation into Rajko's death.
That night, Jamezdin and his brother lead Milan and Dragan through the woods to help them return to Serbia.
Naomi follows her man to the airport and sees him greet Guillaume van Reeth (David Dencik). She recognizes van Reeth's face from a news story about the Belgrade airport. She spots the stolen watch on his wrist and immediately calls Tom to leave a message.

At their campsite, Dragan thanks Milan for saving him and calls Milan the last Panther.

At a Belgrade motel, Zlatko gives Julia 100 million euro.

Jamezdin and his brother spray gunfire at Milan and Dragan's tents, killing Dragan. Milan, however, is not in his tent.
Milan flees the campsite and calls Adnan to say that he's coming.
Zlatko and Milomir attend a nightclub party for VIP airport investors, where Tom is also in attendance. Jamezdin texts Milomir to report that Milan is still alive.
While waiting to meet Manu, Mokhtar assures a nervous Nadim that Khalil will disarm Manu and arrest Roman while they escape the scene.
Over dinner, Roman tells Khalil that they can only stem violence in Marseille by installing one boss that they can control. Khalil receives a call about gun runners. Not wanting to step on Manu's toes, Roman tries to stay out of it. However, Khalil claims he drank too much and insists Roman drive him to the scene.
At an abandoned warehouse, Khalil and Roman watch as Manu meets with Nadim and Mokhtar. Khalil charges in with his gun. Roman assures Manu that they'll work something out but Manu shoots Roman. Khalil shoots Manu, and Nadim gets shot in the crossfire. As back-up arrives, Khalil tells Mokhtar to take the guns and run.
Milan hitches a ride back to Serbia. Meanwhile, Zlatko's men close in on Adnan.
Naomi finds Tom at the nightclub and warns him that his airport associates are connected to the stolen jewels and the murder of a child. Tom fires her.
Khalil tells Franck that Roman is dead. He assures the panicked Franck that they are safe.
Naomi watches Zlatko and Milomir leave the nightclub.
Adnan hides in an abandoned building with Zlatko's men in close pursuit. On the phone, he tells Milan his location.
At Fatima's (Farida Rahouadj) house, Mokhtar tells Khalil that his gun associates now know that they're working together, putting Khalil, Fatima and Samira in danger. "They're coming for us," Mokhtar says.