Before "THE LAST PANTHERS": Top 7 John Hurt Movies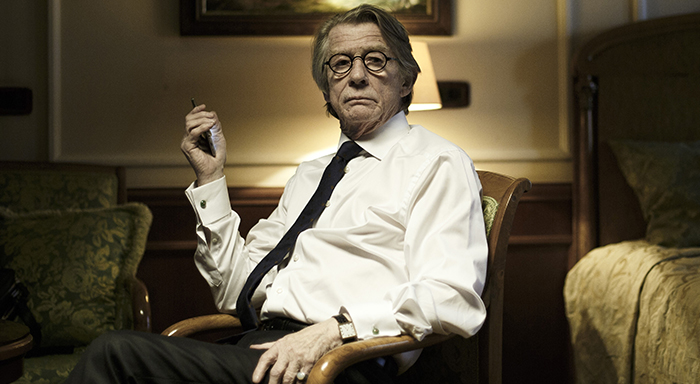 John Hurt's six-decade career encompasses roles as diverse as the voice of a rabble-rousing rabbit in the animated Watership Down to baroquely mad Roman emperor Caligula — the one who appointed his beloved horse to the senate — in the classic BBC series I, Claudius. Before Hurt's upcoming role in SundanceTV's miniseries THE LAST PANTHERS, here are seven of his most unforgettable movie performances.
1. Alien (1979)
As crew member Kane, Hurt checks out early from Ridley Scott's deep-space house of horrors. But what an exit! Having apparently recovered from a gruesome alien face-hugger attack, Kane sits down to a nice meal with his crew mates only to give bloody "birth" to a chest-bursting extraterrestrial. The snaky, yowling alien baby's entrance is a showstopper, but what really sells the scene is the death throes trembling of Hurt's slim-fingered hands.
2. Harry Potter and the Deathly Hallows: Part 2 (2011)
Hurt makes multiple appearances in the Harry Potter movies. His haunted appearance as elite wand-maker Mr. Ollivander is an exemplary illustration of the the series' practice of casting up. He brings chilling gravitas to talk of unicorn hair and legends that cloak hidden truths amidst Potter's looming past.
3. Midnight Express (1978)
As an articulate, educated, unrepentant junkie who befriends a naive American busted for impulsive drug smuggling, Hurt wasn't the star of the movie that made "Turkish prison" synonymous with "Hell on Earth." But he is its flawed, gentle heart, and the reason this notoriously intense movie's amped-up prison-picture clichés pale beside its delineation of relationships that provide a reason to live even when life appears unbearable.
4. Nineteen Eighty-Four (1984)
Hurt breathes vibrant life into Winston Smith the downtrodden Everyman protagonist of this grim dystopian vision, which introduced terms like "Big Brother" and "new speak." The novel is a high-school staple, but Hurt's performance grounds its political message in timeless human emotions.
5. The Elephant Man (1980)
The challenge of playing real-life Victorian Joseph Merrick lay in revealing the man hidden beneath birth defects that condemned him to a life of cruel torment and degradation. Hurt, his face obscured and his body distorted, earned a "Best Actor" Oscar nomination for laying bare Merrick's sweet, poetic soul in David Lynch's critically acclaimed movie.
6. The Hit (1984)
Forget the title: This is anything but a conventional crime picture. Hurt is a veteran hit man tasked with breaking in a newcomer while delivering a snitch to some old colleagues. Hurt's portrayal of a gangland lifer thrown for a loop by his charge's eerie serenity in the face of certain, painful death is the heart of this bleakly engrossing road movie directed by Stephen Frears.
7. The Shout (1978)
Hurt plays an experimental composer fascinated by unusual sounds who crosses paths with an eccentric who claims he's mastered an Australian aboriginal cry that can kill. The movie's a little nutty, but Hurt is breathtaking as a man who wants to believe.
SundanceTV's limited series THE LAST PANTHERS premieres Wed., Apr. 13 at 10/9c.