Before "THE LAST PANTHERS": Top 5 Tahar Rahim Movies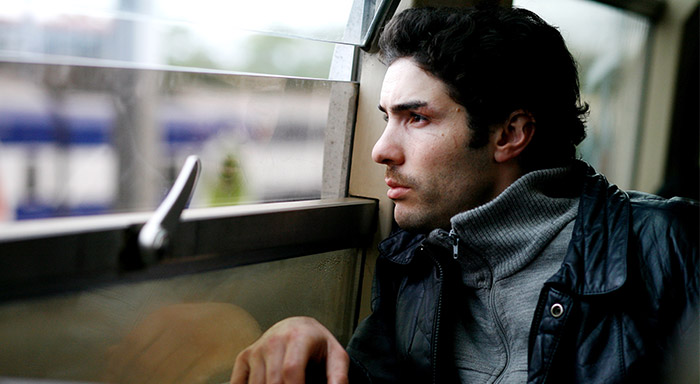 Although he plays a cop in THE LAST PANTHERS, Tahar Rahim first made his name on the other side of the law. Here are his five key big screen performances to date.
1. A Prophet (2009)
After a few smaller roles, Rahim exploded on to the world stage in Jacques Audiard's crime epic. He plays Malik El Djebena, whose first experience of prison changes him from a small-time crook to gangster kingpin. If it features fewer cinematic fireworks than a Scorsese crime film, A Prophet boasts a stunning central performance by Rahim, which is on a par with the best of early De Niro. His is a compelling presence and his transformation into a godfather who takes over the prison and the criminal fraternity outside its walls is chilling.
2. Free Men (2011)
Younes Ben Daoud may be a criminal, but with Paris occupied by the Nazis, he uses his skills to help the Algerian underground and the Jewish community. Although the character Rahim plays in Free Men is fictional, many of those who appear in the film were real, such as Si Kaddour Benghabrit, the rector of the Grand Mosque of Paris. He was responsible for saving countless North African Jews by giving them fake Muslim identity papers and also helped the movement fighting the German occupation. It's a fascinating story, with Rahim's character taking us past the war and highlighting the betrayal by the French government of the Algerians who helped fight in its armies and were promised, but not given, their independence.
3. Our Children (2012)
The true story of a woman who killed her five children may not appeal to everyone, but in the hands of Belgian director Joachim Lafosse it is presented as a sensitive drama that suggests domestic abuse isn't always about violence. Rahim plays Mounir, a young man who falls in love with and marries Murielle. They live with a seemingly kindly benefactor, but gradually the older man and her husband prove too much for Murielle. The film centers on Emilie Dequenne, as the harassed and finally murderous mother, but Rahim's performance skillfully balances charm — the reason Murielle fell for Mounir in the first place — with his insidious behavior which suffocates the domestic environment she struggles to live in. Lafosse cleverly employs Rahim's charisma. Mounir is never bad, but his treatment of his wife finds her struggling to hold on to her personality.
4. The Past (2013)
Asghar Farhadi is one of the finest directors at work today. He deservedly won an Oscar for his taut family drama A Separation (2011). The Past is his first film made outside Iran. It details a visit by an Iranian man to see his soon-to-be-ex-wife and their children. She now shares her life with Rahim's dry cleaning shop owner and his young son, but their relationship seems brittle at best. Acknowledging the baggage that piles up in our lives as we pass from one relationship or marriage to another, Farhadi wisely cast Rahim in one of his most sensitive roles to date, displaying both his depth and range as an actor. One scene, involving Rahim's character and his son on the Parisian subway is worthy of Hitchcock and shows just how impressive the actor has become.
5. Samba (2014)
If all his films to date involve him playing tough characters in tougher situations (an exception is his painted warrior in the enjoyably silly 2011 Roman period action movie The Eagle), Rahim made the most of his best friend role in the French comedy drama Samba. A timely look at immigration, starring Omar Sy, Rahim plays a co-worker whose charms easily disarm any woman he finds himself attracted to. Olivier Nakache and Eric Toledano's film is little more than a confection with a social message, but Rahim's warmth as a screen presence plays up the film's humor and reveals another side to this gifted actor.
SundanceTV's drama THE LAST PANTHERS premieres Wed., Apr. 13 at 10/9c.