6 Questions with Critics' Choice Nominee Janet McTeer ("THE HONORABLE WOMAN")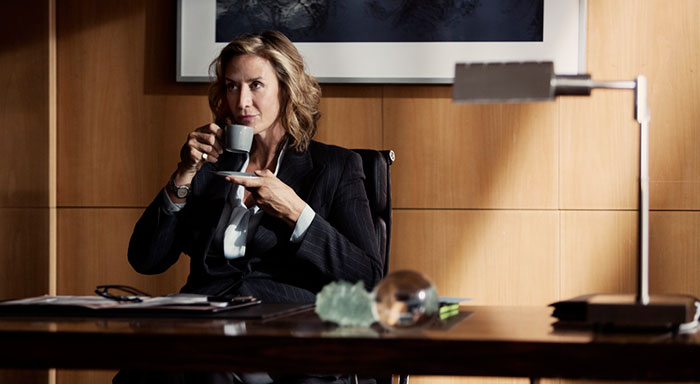 Janet McTeer is no stranger to awards shows. With Academy Award nominations (Tumbleweed, Albert Nobbs), an Emmy nomination (Into the Storm), and a Golden Globe win (Tumbleweeds), the actress has been feted since 1986. Now nominated for a Critics' Choice Award for her role in THE HONORABLE WOMAN, she shares what it was like to work with fellow Oscar nominee Stephen Rea and to shout down costar Andrew Buchan.
Q: Your character in THE HONORABLE WOMAN has some great one-liners. Do you have a favorite?
A: I would have to say, obviously, my last line. [McTeer's last line was: "Well, I don't know Harlan...but maybe it had something to do with the fact that in a room full of pussies...I'm the only one with a vagina."]
Q: Is there a scene from the series you remember being particularly challenging to shoot?
A: I don't know about challenging — compared to what Maggie had to go through — but serious fun was shouting down Andrew [Buchan] (Ephra). And basically every scene with Stephen [Rea] because I would be so caught up in the pleasure of watching him act, that I would forget to act!
Q: Did working on THE HONORABLE WOMAN change your views about the Middle East?
A: I don't think it changed my views. I find it fascinating and had read a great deal about it before we filmed—that was, in fact, one of the draws for me.
Q: Congratulations on your Critics Choice nomination. Having won and been nominated for so many different performances in your career, are you still surprised to be on the shortlist?
A: Of course it's a surprise! To feel any other way would be to be an arrogant nitwit!
Q: What was it like working with Stephen Rea?
A: He was a delight to work with. He's very funny. Very funny indeed.
Q: What's up next for you?
A: I'm currently filming Me Before You in London.

Find out more about THE HONORABLE WOMAN.