6 Questions with "THE HONORABLE WOMAN" Costume Designer Edward Gordon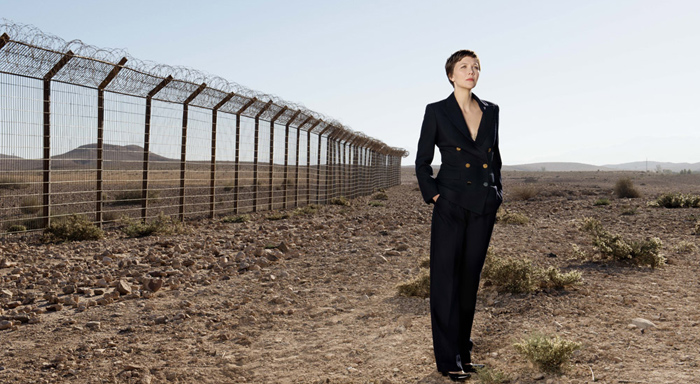 THE HONORABLE WOMAN's costume designer Edward K. Gordon talks about the challenges in dressing a character as complex as Nessa Stein, which designers she wore and the secret to "getting the Stein style."
Q: Some of your past credits include Skins and Secret Diary of a Call Girl – projects that have very different feel from THE HONORABLE WOMAN. What have been some of the best practices you've carried over from project to project? What are some of your initial steps when embarking on a new project?
A: For me, the work always starts with the script. If I am lucky enough to be presented with a great script, with characters that I believe/relate to my job, it is easy and all I have to do is honor the writing. Although I have done a varied body of work through my career, I bring the same aesthetic dogma with me to all my work. My ambition is always to present characters on screen in a way that might not be quite what people were expecting. I really believe in the power of clothes to help tell a story, and I am fortunate to work in a visual medium. With each great new character I try to create a look that is distinctive and unique to that person—although grounded in reality and truth there is always a slightly aspirational look to the way I dress people. Just to mix things up even more, the next job I'm doing is War and Peace for the BBC and Harvey Weinstein!
Q: Looking to the pilot episode, that initial green-cheetah print dress is definitely a statement piece—especially when you consider the juxtaposition Nessa's character has against the rest of the cast. What motivated that style choice? The dress also seemed to linger though the episode, as Nessa simply didn't change her clothes—can you speak to that?
A: The opening dress was always going to be such an important one and it naturally took us a long time to finalize our decision—in fact I was with Maggie the Sunday before we shot in that outfit—our first day of shooting, just to ramp up the pressure—still trying on options. That dress had to fulfill so many briefs and also act as a kind of mission statement for how we were going to present Nessa. Maggie is such an incredible actor and shares my belief in the importance of clothes, so we would workshop every outfit, with Maggie "acting" in fittings. For this first dress, Maggie needed to know that she would be able to stand and present herself in the way that felt right in the scene. For me, there is also something really punk about the choice. Nessa is not trying to fit in with the establishment that she has become a member of, she wants to remain the individual that she is being celebrated for.
Q: In the hidden bunker space that Nessa retreats to, we see a different side of her. What were you hoping to show with your ascetic choices within that space?
A: The outfit for the panic room was another really hard choice! We went through many different looks before settling on the beautiful Carine Gilson slip that Maggie wore. When we see Nessa in the panic room she is at her most vulnerable, in her rawest state, so we wanted to somehow show this, but not in an obvious way. There is something so beautifully fragile about the nearly-nude silk slip that is also evocative of something that Nessa would have worn a a child—hopefully without being too literal. We went through and discarded Victorian nightdresses, flannel pajamas, sweats and tanks, all sorts [of outfits] before we found this.
Q: You were recently quoted in Marie Claire saying, "The way Maggie looked as Nessa was constantly evolving throughout the six month shoot." Who were some of the designers that you relied on to assist you through such evolution?
A: The evolution of Nessa came about as we got to know her character more and more, and as Maggie began to inhabit her. Certain things just began to feel right and to earn a place in her closet. Stella McCartney tailoring informed a certain casual formality that felt instantly right. It was a way of doing what we felt was to be a modern way of presenting a powerful woman, without resorting to "power dressing." We looked to Acne for more sleek tailoring with a twist and a certain kind of edginess that helped place Nessa as an interesting and informed citizen of the world… The first dress was by Roland Mouret, and Maggie wore coats by Mulberry and Jil Sander&dmdash;but we didn't just rush to designers in dressing Nessa. Her choices were always going to be more eclectic than that. We used vintage pieces, High Street finds and also tailored a lot of things ourselves. The signature pussy bow silk blouses were beautifully made based on an original YSL find from the '70s.
Q: Let's talk about the men. In a show with such a strong female lead, how do you approach dressing the opposite sex so that they don't overpower a scene, but still maintain a distinct presence?
A: Again with the men I try to create an individual identity for each of them using their clothes. Hugo Blick writes such amazing and complete characters that there is never any need to resort to stereotypes. The women spoke for themselves and it was never necessary to reduce the power of the men in order to elevate them. Stephen Rea's character, Sir Hugh Hayden-Hoyle was in many ways traveling a parallel path to Nessa, and so I wanted them to have some empathy in the way they dress. He is another figure working within the establishment but refusing to conform, and his outfit choices represent this. Always slightly rumpled, but elegant and immaculately cut—with a slightly louche Bryan Ferry feel.
Ephra also travels a journey within the story. When we meet him he has already discarded the power suits of his early days and retreated into a more relaxed academic look. But this is just as much a disguise as Nessa's armor. Also because there are so many different nationalities and cultures within the show, I tried to highlight subtle differences&dmash;especially with the men's wardrobe. In many ways masculine dressing has a much more rigorous set of codes, that often only other men get, so I tried to pinpoint these details. Whether it was in a color palette, one too many shirt buttons undone or a refusal to wear a tie.
Q: With multiple press outlets and blogs devoting write-ups to "getting the Stein style," what's one fashion tip you would pass along to the woman who desires Nessa's look? And how would that tip change when she confesses she's on a budget?
A: It's always funny being asked for fashion tips as I am a costume designer rather than a fashion designer! So although I am dressing real people, they are always characters in a story. But maybe that is the clue to dressing well, dress to your character. For me, individual style is way more important than fashion trends or wearing the latest things. And having a budget should just make you more creative in your choices—everyone has way too many clothes in their closet already. So buy carefully, but buy less and learn how to sew.
Read an interview with THE HONORABLE WOMAN's Maggie Gyllenhaal.