"THE HONORABLE WOMAN" Recap: Episode 6 (The Mother Line)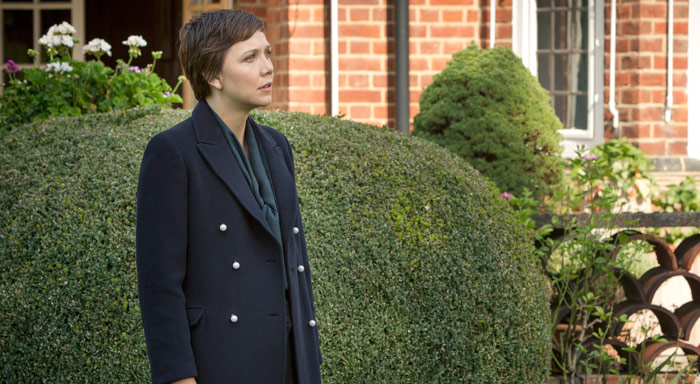 Nessa is bludgeoned and raped by a sadistic stranger during a one-night-stand. Her MI6 tail brings her to a discrete medical facility, where Sir Hugh meets with her and asks if she wants the man arrested. She says no to avoid publicity.
Sir Hugh tells Nessa an Israeli extremist group has claimed the killing of the whistleblower who exposed the Stein Foundation academy's selection process as biased. When Nessa denies the corruption, Sir Hugh theorizes aloud that Ephra made a deal with the Israelis to hide military intelligence programs in the academy without her knowledge.
Nessa meets with another Palestinian contractor, Jalal El-Amin, who reveals he is the one the kidnappers have groomed to replace Samir Meshal.
Shlomo surprises the engineer Nessa hired to find his wiretap, telling him he can help him trace the tap back to its source to see who paid for it. The engineer tells Nessa the tap was paid for by The Stein Group, confirming Ephra's complicity in the Israelis' hijacking of the academy.
Nessa confronts Ephra, accusing him of ruining them in a pathetic attempt to emulate their father. He argues that agreeing to the deal was the only way to get her out alive. She tells him he's no longer a part of the Stein Group or the peace process.
Next Nessa confronts the Israelis, telling them she's aware of her brother's betrayal and threatening to expose their corruption if they don't cease preferential admissions policies and support Jalal El-Amin's bid for the contract. Nessa announces Alamein as her choice.
Sir Hugh meets with Shlomo, who theorizes that radical Palestinian elements groomed Samir Meshal for the position and were forced to take more drastic measures to install his replacement when Meshal was killed.
The burned man, hiding out with a reluctant Arab, tells the man's young son his facial scars are the price he paid for following orders as a soldier and shows the boy his gun.
An Israeli official denies assassinating Samir Meshal once again but finally shares a secret with Sir Hugh: Israel intercepted Meshal's last phone call, in which he simply stated, "She has agreed," and discovered Meshal murdered soon after.
Shlomo explains to Sir Hugh that someone could have piggybacked on the tap but there's no way of knowing who. Sir Hugh proposes faking a technical failure and waiting to see who comes to fix it. An unidentified technician fixes the issue and MI6 tracks the man as he leaves.
Sir Hugh tells Dame Julia the American military was piggybacking on the tap and therefore must have killed Meshal. Julia warns Hugh not to dig any deeper.
Sir Hugh visits his ex-wife who tells him she suspects him of spying on her. He denies it and she tells him she has a date later that week in a window seat at a certain restaurant. She tells Hugh to spy on that and get the message that she's not interested.
Atika tells Rachel Kasim is Nessa's son. Rachel is furious with Ephra for keeping the truth from her.
Sir Hugh confronts Ephra with the truth about his deal with the Israelis. Ephra confesses he already shared the truth with Monica Chatwin years ago.
The burned man returns to his hideout after snapping surveillance photos of Monica Chatwin. As he arrives, the young Muslim boy accidentally shoots himself with the burned man's gun. The burned man tells the father to tell police the gun was his own and flees, calling an unidentified contact to ask for help.
Need to catch up? Read recaps of earlier episodes to get up to speed.
Click here for a reminder to tune-in to THE HONORABLE WOMAN Thursdays 10/9c on SundanceTV.