"EW" Calls "THE HONORABLE WOMAN" a "Stunning Tightrope Walk"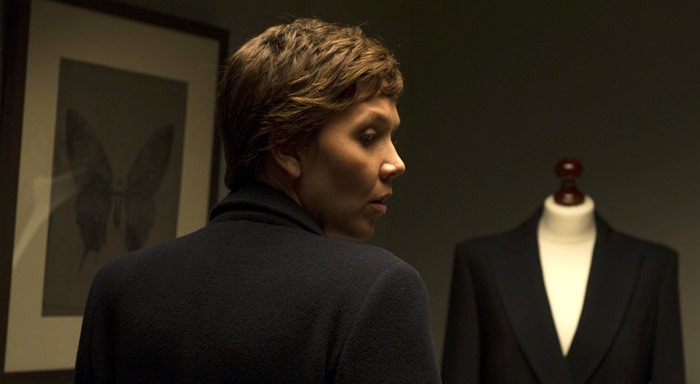 This week, Entertainment Weekly raves about the way THE HONORABLE WOMAN "deals deftly with a complex subject," while Indiewire says the series is "upending the sexy spy drama."
Read on for more:
• Entertainment Weekly praises THE HONORABLE WOMAN and sees Batman in Nessa Stein.
• Grantland applauds creator Hugo Blick's "elegant" writing, asking viewers to "imagine if Homeland were able to surgically strip itself of all of 24's raucous, dunderheaded DNA."
• The Huffington Post hails THE HONORABLE WOMAN for avoiding Middle Eastern stereotypes, with critic Gary Burge calling it, "Without doubt the best Middle East drama I've seen in years."
• The Los Angeles Times talks to Maggie Gyllenhaal about this deeply political series "with the complexity of a John le Carré novel."
• The Jewish Daily Forward applauds the series' artistry, writing that "the plot is intricate, the script is tight, and the filming is beautiful."
• TV Guide sits down with Maggie Gyllenhaal to talk the origins of Nessa Stein.
• Indiewire reviews the premiere with an eye toward the series' feminist credentials and says THE HONORABLE WOMAN "advances the notion that finite miniseries are the best thing on the small screen these days."
• Elle talks honor, blonde hair and the "career-defining" role of Nessa Stein with Maggie Gyllenhaal.
• The Hollywood Reporter interviews Maggie Gyllenhaal on the "thought-provoking" series.
• The Michigan Daily reviews THE HONORABLE WOMAN's "intriguing" premiere, praising "Blick's writing and Gyllenhaal's performance — both executed with finesse and patience."
• The St. Louis Post-Dispatch cites the series as being one in which "everyone seems to have a dark secret and nothing is what it seems."
• TV.com warns readers not to miss the most recent "shocking" episode.
Click here for a reminder to tune-in to THE HONORABLE WOMAN on Thursdays 10/9c on SundanceTV.