6 Questions with "THE HONORABLE WOMAN" Writer and Director Hugo Blick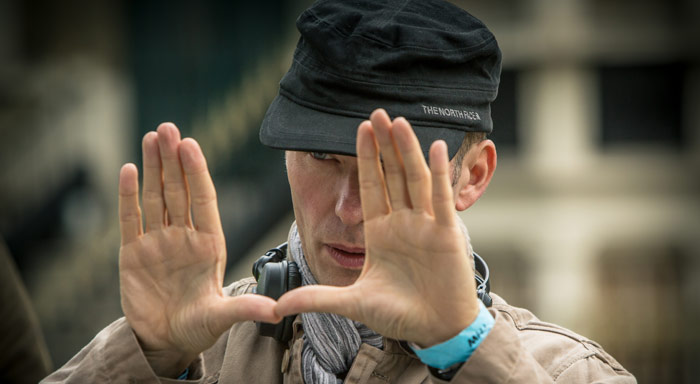 Hugo Blick–creator of political thriller THE HONORABLE WOMAN–discusses the dream-casting that is Maggie Gyllenhaal and the emotionally charged, real-life conflict he chose as the series backdrop.
Q: What was the inspiration behind the series?
A: THE HONORABLE WOMAN is about Nessa Stein. The series centers around a woman who is deeply conflicted about past events, events that have haunted her, it is the reason why she is constantly battling a consuming internal conflict—this internal struggle for reconciliation with her past and her search for personal equilibrium—is manifested in her political activities—to try to reconcile a conflict that has equally haunted a region of the world, countless lives and political agendas for many years.
Q: Did you always have Maggie Gyllenhaal in mind?
A: Nessa Stein carried deep emotional complexity; from a professional requirement, I cannot possibly think of anyone better suited to deliver on this. Also, it might be interesting to note that the role demanded an atmosphere of internationalism: Nessa is neither wholly Israeli nor British and to a degree this rootlessness, in tandem to being an orphan, helps explain her isolation. Maggie was a dream casting for this role and I am delighted that she chose THE HONORABLE WOMAN as her first project for long form drama.
Q: It is a very eclectic, international cast—was that important to you?
A: It's an international story—the cast reflect that. It was a great coup for me to work with Lubna Azabal and Igal Naor, among others, of whose work I have been in huge admiration.
Q: Why did you choose to set it against the back drop of the Middle East conflict?
A: I have a lifelong interest in the region, it is a cauldron of human identity, and it's this turbulence reflected in the character of Nessa Stein that I wanted to explore. To a backdrop of the seemingly irreconcilable, this is a story about personal reconciliation. It was very interesting to take a world issue, distill it into a single family and then to explore how this tested them.
Q: Should a very real, very present and emotionally charged conflict as this, be used as the backdrop to a drama—for entertainment?
A: Drama and entertainment in general should never shy away from difficult subjects, emotionally charged issues or complex themes. It is another medium through which we can explore different themes, ask difficult questions and highlight important issues. In THE HONORABLE WOMAN the conflict is used as a creative device—a reflection of the internal conflict of the central character—but it also cements the drama in a clear time frame and a conflict that viewers can relate to or are aware of.
Q: There is some fairly graphic violence throughout the series. Is this an integral part of the drama? Will it not incite reaction from different groups?
A: The violence inflicted against Nessa Stein is crucial to the character—it is what has shaped her, created the complex character she has become. What she has experienced and witnessed offers an explanation to why she makes the decisions she does, why she is often dichotomous—in character and in her actions. The Israeli/Palestine conflict is characterized by violence with many victims on both sides and that is referenced in the violence that the characters experience throughout the drama—which should be viewed in its entirety.
Click here for a reminder to tune-in to THE HONORABLE WOMAN on Thursdays 10/9c on SundanceTV.
Want to go deeper into THE HONORABLE WOMAN? Find out about the digital extras you can only find online.