4 Questions with "THE HONORABLE WOMAN" Star Andrew Buchan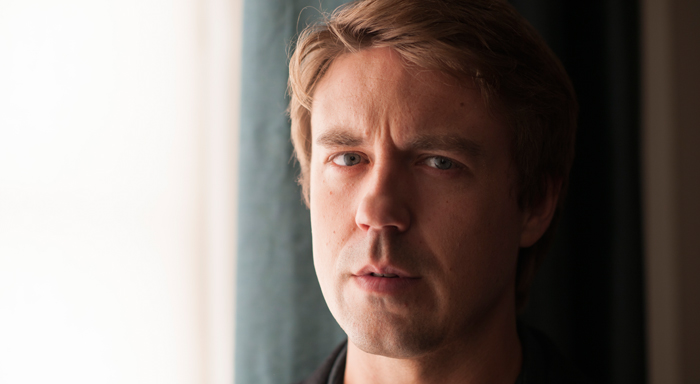 THE HONORABLE WOMAN star Andrew Buchan discusses the Stein siblings' complicated relationship and the page-turner script that sold him on the series.
Q: You play the enigmatic Ephra Stein, brother to Maggie Gyllenhaal's character Nessa. Can you describe Ephra and his very public sibling relationship?
A: Ephra and his sister Nessa have both had to take on an enormous responsibility after their father was killed, not only familial responsibility as they only have each other, but also the weight of the company. And that makes him grow up exceptionally fast. It forces him to make bad decisions as well as some good ones, and through the bad ones he creates quite a few enemies along the way.
Q: Are Ephra and Nessa close as a result of their experiences?
A: Ephra and Nessa really do need each other, they cling to each other. And amongst the business and the politics and the revolving doors of it all, often what they're longing for is to give each other a hug and say it's OK. However, because they're often in the public eye, plonked in front of huge groups of people on stages at conferences, they often have to maintain a sharpness and public persona.
Q: The political backdrop to the series is incredibly heated. How did you feel about being part of a project set against the current Israel-Palestine conflict?
A: I remember asking Hugo what his motivation was for writing this ridiculously extraordinary script, and he said he wanted to deal with an argument, and there's no bigger argument on the planet right now than Israel and Palestine. I was like, "Yeah, OK, I'll take that!" And at the heart of this is an honorable woman, who is just desperately trying to do the right thing.
Q: What was your initial reaction upon reading THE HONORABLE WOMAN script? How did you connect with the characters?
A: When you read it, it's agonizing because you think—come on, give these people a break—they're desperately trying to create peace and do the right thing by everyone. Yes, that involves a certain amount of change, but good change—let's go with them on that journey. I remember reading it, right from the word go, my jaw just seemed to be on the floor. It's a page turner and that's a given—I don't want to sound clichéd because actors always say that, don't they!—but it genuinely, genuinely was a page turner.
Want to go deeper into THE HONORABLE WOMAN? Find out about the digital extras you can only find online.
Click here for a reminder to tune-in to THE HONORABLE WOMAN on Thursdays 10/9c on SundanceTV.