"THE APPROVAL MATRIX": Recapped and Revealed (#WorstPeopleEver)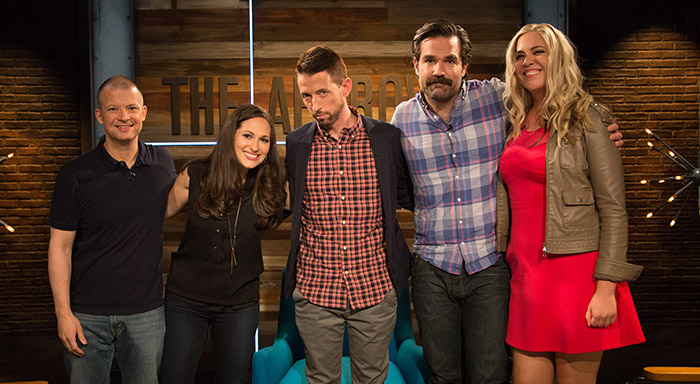 Panel includes: Jim Norton, Hannah Seligson, Host Neal Brennan, Rob Delaney and Mandy Stadtmiller.
What you didn't see in Monday's episode but which you will see in the 45-minute version of THE APPROVAL MATRIX "#WorstPeopleEver", which airs on Thursday night at 11:15/10:15c, is Mandy Stadtmiller predicting the future: "Someday we're going to elect a president who… [pause] we've seen his d**k."
Everyone agrees with that assessment.
"How can we not?!" Hannah Seligson chirps. The Internet, social media and various technologies have created a horde of shameless, overexposed youth who take funeral selfies and swap nude Snapchats. Those same tweens will one day grow into adults, one of whom will become president. According to our panel, this is the natural evolution of mankind: Steadily and regrettably, the current generation and its nonstop access to technology are generating the #WorstPeopleEver.
Trolls, ranting Yelpers, oversharers , hashtag philanthropists, Instagram-induced FOMO, etc. Each is a dark product of an ever-accelerating shift in cultural expression off the streets and into the tweets, some of which can be useful. Nowadays it's very possible to know the approximate quality of what you're going to buy, whom you're going to date and what party your going to attend, all before you actually have to confront them IRL. But does it make us terrible for taking advantage? So what if Neal had déjà vu in Miami — a city he'd never been to — after hours of playing Grand Theft Auto? Is it so bad that Jim Norton can skip a watercooler conversation about a coworker's wedding by saying, "I already saw the pictures online…"? When will people stop being so precious about their "real life" anyway?
Wait, wait. Maybe virtual life has become more real than real life? Maybe that's the problem! Have followers become more important than real-life friends? "No way," says Rob Delaney.
"Easy for you to say," says Seligson, who was once called an "entitled, whiny millennial" by an anonymous commenter, "You have a million followers!"
Aha! There's the rub. When social media makes us feel good about ourselves and loved by others, it's a feedback loop of pleasure, hard to resist and impossible to quit. The noise begins to sound like a song, until it doesn't. And even then, when it breaks our hearts, throws us off course, we're always trying to get back online. Perhaps that's what makes us the #worst… that never-ending human desire to been seen and heard at all time.
Things have officially gotten too real.
Get a tune-in reminder for THE APPROVAL MATRIX Mondays at 11/10c on SundanceTV.
Want more from THE APPROVAL MATRIX? Check out our interviews with panelists Hannah Seligson and Mandy Stadtmiller.