"THE APPROVAL MATRIX" Recapped and Revealed (Golden Age of TV)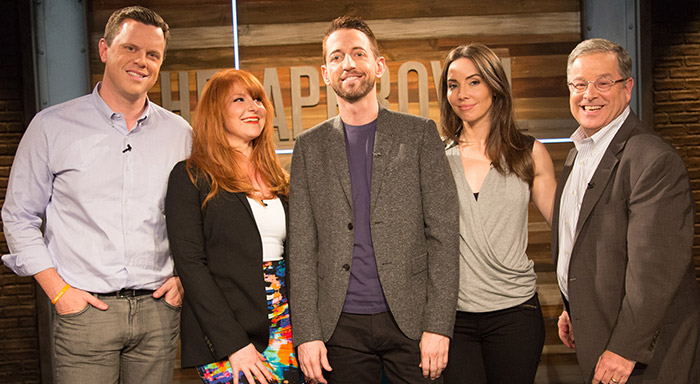 Panel includes: Willie Geist, Julie Klausner, Host Neal Brennan, Whitney Cummings and Matt Roush.
As Neal Brennan and the crew made final preparations before the cameras started rolling for the first-ever episode of SundanceTV's new series, THE APPROVAL MATRIX, "Big Jay" Oakerson, a comedian and friend of Neal's, kept the crowd revved up by vamping with a slew of off-color jokes. Big Jay is typical low-brow brilliant. He skewered people in the audience for what they looked like, where they were from, what they do. Among his targets were a couple of college kids from Jersey, a middle-aged writer of erotic fiction, and an attractive blonde in the second row. No one was safe.
No one except for Neal, the show's host. "Alright Jay," he said to cue the start of taping, "now get off the stage."
And so began the first episode "Golden Age of TV." A diverse group of panelists was called upon to use a 3-D Matrix to find meaning in everything from The Honeymooners to Breaking Bad and Whitney Cummings (2 Broke Girls), Matt Roush (TV Guide), Julie Klausner (I Don't Care About Your Band), and Willie Geist (NBC's Today) were all more than up to the task.
They talked Old TV, New TV Classics, multi-camera, sitcom, HBO, Bravo, race-based casting, Louie and even Punky Brewster. Nothing was off-limits. At one point, Roush clarified: "Are we talking about Pauline Kael (former critic at The New York Times) or Kale-Kale (the vegetable)?" In the next, Cummings was using 25-cent words like "erudite" that had Neal scratching his head. The pace was fast and opinions were flying. The only cease-fire was met when the entire studio held everything to screen a taped interview that Neal had done with Amy Poehler. The lights were turned down. Everyone went quiet.
But as soon as the studio lights were back, the conversation heated up again: What was the benefit of racial/social diversity on mainstream television? What is the value of audience interaction? At the last commercial break, the panel was almost out of breath. Passions had been seriously provoked. A league of PAs brought water bottles all around. Roush and Cummings shared a tender moment about Oprah.
After commercial, the panel riffed on binge-watching, book-reading, Real Housewives… Neal was the first to cry "Uncle!" But judging by the trill of audience chatter as they filed out of the studio, most could have watched it go on for hours.
Want a tune-in reminder for THE APPROVAL MATRIX Mondays at 11/10c on SundanceTV? Click here.
Want more from THE APPROVAL MATRIX? Check out our interview with host Neal Brennan.