"THE APPROVAL MATRIX" Recapped and Revealed (Fame Monster)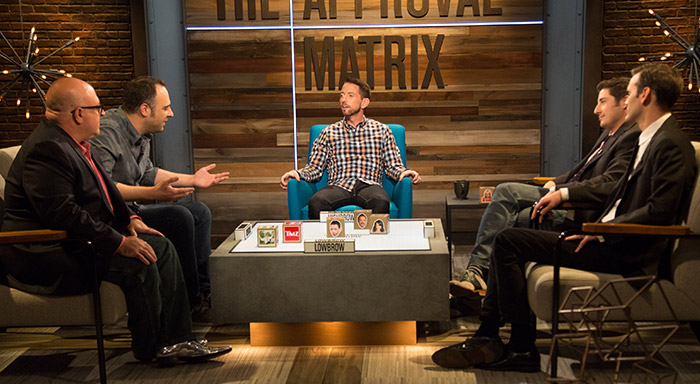 Panel includes: Frank DeCaro, Kurt Metzger, Host Neal Brennan, Jason Biggs and Dalton Ross.
Littered with off-color jokes about motor-boating Kate Upton, references to Helen Mirren as a "POA" ("piece of ass"), and a punchline that cites Liberace "before the AIDS," our taping of THE APPROVAL MATRIX: "Fame Monster" felt like a hilarious bonus reel from a buddy-reunion comedy about a group of frat brothers who are all grown up, but only sort-of matured…
"I think it's amazing that we were able to rustle up four white men," our host Neal jokes after introducing the panelists—who are indeed all white men—audience laughter follows. (It's funny because it's true.)
In 2014, on a liberal cable network based in New York City, a panel made up entirely of white guys could risk coming off a little low-brow despicable, eh? Fortunately for us, this frat pack of entertainment industry vets turns out a series of high-brow, at points brilliant, observations about the price and place of fame in society today.
Neal sets the tone with a strong monologue about how the road to fame has changed drastically with the expansion of the Internet. In listing the means by which people used to achieved fame—through movies, TV and other entertainment outlets—he stumbles, though, on a particular gaffable tongue-twister: "going down on Merv Griffin," (a reference to the Hollywood mogul who is rumored to have traded sexual favors for starring roles) a zing that, in repeat, became all the more hilarious.
Now, Neal continues, through YouTube and other social media outlets—anyone can be famous! And oh-boy are they trying! Panelist and comedian Frank DeCaro puts it best: "wanting to be famous is the resting pulse in America right now." Based on the findings of our showrunner Rory Albanese, who hosted a pop-up studio in the middle of Manhattan and asked random passersby if they deserved to be famous and why, DeCaro's absolutely correct. Between the wall-eyed man with no demonstrable talents, and a young guy whose claim to fame is that he can ride a bike, it seems that everyone believes they have their own special place on the digital red carpet.
Why, though, are we so obsessed it? Chris Rock—who appears in a previously taped interview with Neal, and who is incidentally the most famous person on our episode—calls fame a privilege like any other; it's social capital. "It's the closest thing to being white," he says in a brilliant Chris-Rockian observation of American racial politics. What he means, though, is that when you're famous, you can get away with a lot more freedom. That power is what people are after.
But the nature of fame has also changed. With the barriers to entry lowered, its cultural significance has been widely diminished. This is where the conversation gets meatier. Our panelist Jason Biggs—a child-actor who starred in one of the country's most sensational teen movies, American Pie, and then made a series of flops that drove his career into the ground—makes a perfect example of how fragile celebrity can be and ultimately how useless. Fame, though he had plenty at a certain time, was not everything.
Despite Neal's self-described industry record of two successes for every seven failures, he admits that he still wants to be famous. For him, though, fame isn't all about money and power, it's about attention and glory. When asked what famous person he would most like to trade places with he says: "Jason Biggs, 2003"—the peak of our young panelist's career. This is meant to be taken as a joke. Yet, after all that persuasive talk about how good it is to be on top, basking in the admiration of millions of viewers, some part of me wonders if Neal isn't joking one bit: being Jason Biggs in 2003 may be as good as it ever will get. In 2014, it's a dream that can come true for anyone with a webcam.
Get a tune-in reminder for THE APPROVAL MATRIX Mondays at 11/10c on SundanceTV.
Want more from THE APPROVAL MATRIX? Check out our interview with panelist Frank DeCaro.