"THE APPROVAL MATRIX" Host Neal Brennan Talks With Seth Meyers, Brian Lehrer and "Laughspin"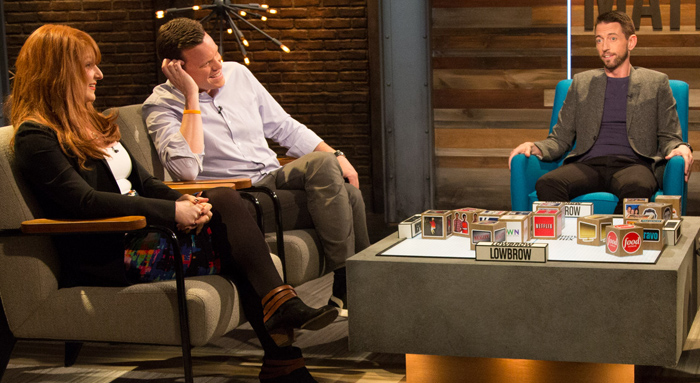 Fans of New York magazine's "wildly popular" backpage feature and pop culture devotees around the world are gearing up for the premiere of THE APPROVAL MATRIX, August 11, 11/10C on SundanceTV. Moviefone previews an episode featuring discussion of binge-watching and bad TV endings, while host Neal Brennan appears on Late Night with Seth Meyers.
Read on for more:
• Moviefone applauds the series and shows off an exclusive clip, raving that the show's panelists "share your frustrations, and deliver a stream of commentary so insightful you'll feel like they're inside your head, stealing your thoughts".
• Late Night's Seth Meyers sits down with THE APPROVAL MATRIX host Neal Brennan (at 26:08) to discuss the challenges of passing judgment on pop culture and to share an embarrassing story or two from old friends Meyers' and Brennan's days on the stand-up comedy circuit.
• Paste previews the "uproariously funny" series, which it writes "will get you thinking, talking and laughing."
• WNYC's Brian Lehrer interviews Neal Brennan on THE APPROVAL MATRIX's evolution from "beloved" magazine feature to TV series.
• Laughspin talks TV comedy with Neal Brennan, who expounds on his controversial take on Louis CK.
• Vulture shares another exclusive clip, in which Brennan, Julie Klausner, Willie Geist, Whitney Cummings, and TV Guide's Matt Roush each name their favorite individual episode of television.
• Entertainment Weekly warns readers not to miss the series premiere featuring Amy Poehler.
Want a tune-in reminder for THE APPROVAL MATRIX this Mon. Aug. 11 11/10c on SundanceTV? Click here.
Watch host Neal Brennan's opening monologue from the premiere episode" "Golden Age of TV."