Chris Rock's Top 5 Big Screen Cult Comedies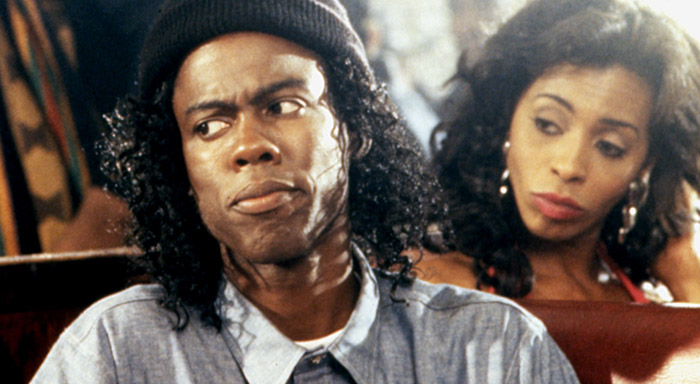 Anyone who has ever seen Chris Rock in action knows that he's an incisive stand-up comic—and in The Chris Rock Show and Everybody Hates Chris he has audiences rolling with sharp one-liners and spot-on cultural observations. But he's also starred in a number of movies, ranging from Kevin Smith's masterpiece Dogma to cult gems like Pootie Tang. Check out our salute to the performer's best work on the silver screen.
1. CB4 (1993)
Following his stint on Saturday Night Live, Chris Rock cowrote and starred in this send-up of gangsta rap tropes. Here he's playing a straight-laced guy who adopts a faux gangsta attitude in order to make it in the music world. The movie's jabs at hip-hop culture and the faux-documentary style were ahead of their time back in 1993.
2. Dogma (1999)
Chris Rock's sensibility meshes well with Kevin Smith's in this irreverent religious satire. Rock stars as Rufus, the 13th Apostle who was left out of The Bible because he's black. It's exactly the kind of edgy role that Rock's idol Richard Pryor might've played in his heyday.
3. I'm Gonna Git You Sucka (1988)
Chris Rock made his big screen debut as a parking valet in Beverly Hills Cop II. But he scored his funniest early role in this Wayans Brothers' blaxploitation spoof. Here he plays an annoyingly cheap rib-joint customer who wants to know the cost of one rib. Two years after the film's release, Rock joined the cast of Saturday Night Live. The rest is history.
4. Nurse Betty (2000)
Rock scored rave reviews for his turn as a hitman in this Rene Zellweger vehicle. In one of his more dramatic roles, he plays a borderline psychotic killer who somehow retains a comedic edge. The fact that Rock and costar Morgan Freeman never got their own movie as a father/son hitman duo remains a real shame.
5. Pootie Tang (2001)
The gibberish-spouting blaxploitation superhero Pootie Tang originated as a character on The Chris Rock Show. Writer-director Louis C.K. helped to spin the character into a feature film. Although it didn't pop during its initial release, Pootie Tang has developed a cult following thanks to Rock's multiple roles—he's particularly funny as "Daddy Tang"—and appearances from alt-comedy heroes like Sarah Silverman and David Cross.
Want more from Chris Rock? Check out extra footage from Rock's interview with THE APPROVAL MATRIX host Neal Brennan.