6 Questions with "THE APPROVAL MATRIX" Showrunner Rory Albanese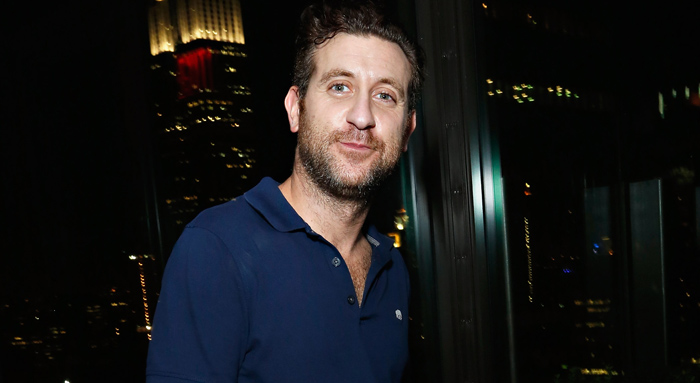 SundanceTV's new series, inspired by New York magazine's pop culture roundup, airs Mondays at 11/10c. To prep, we spoke to showrunner Rory Albanese (The Daily Show) about "showbiz," working with host Neal Brennan and how it feels to win an Emmy.
Q: How does THE APPROVAL MATRIX show expand on the original New York magazine back-page grid?
A: Mainly because the original version is in a magazine and this one is on the TV. Also, this version is hosted by the hysterically funny and super duper brilliant Neal Brennan, and I don't use the term "super duper" lightly.
Q: What are you most excited about on the show?
A: I'm most excited about the field pieces that I was a correspondent in. Because this will without a doubt be my one-way ticket to super duper fame and a lifestyle equivalent to that of Leonardo DiCaprio. In fact after these shows air, I'm guessing Leo and I will become best friends and spend all of our free time on yachts covered in models. Thank you, SundanceTV, for turning my life into one of riches and b*tches. (Apparently I use the term "super duper" more than I realized).
Q: How did you meet host Neal Brennan? What makes you a good team?
A: Neal and I met a few times doing stand-up comedy, but were both fans of each other's prior work. At least that's what Neal told me. I loved Chappelle's Show and Neal's reputation as a performer, writer, producer, director, astronaut and equestrian is one of the best in the 'biz (that's short for Showbiz, which is short for "Show Business"). Working with Neal was my favorite part of this experience, and I hope he and I team up on many projects in the future. What makes us a good team is he's brilliant, and I'm really good at hanging out with brilliant comedians** (**i.e. Jon Stewart).
Q: You've been writing for The Daily Show since 2007. What's the secret to making a hit TV show?
A: If I knew the secret to making a hit show you'd be interviewing me from my floating blimp house (that's what I'd have if I was super duper rich). It's impossible to know if something will be a hit, but I believe the thing that makes a good show is having an honest conversation about whatever the show's subject matter is. THE APPROVAL MATRIX has some very funny and honest conversations. The hit factor is up to the TV Gods.
Q: How did you feel when you won your first Emmy?
A: It felt amazing. I grew up in awe of late night comedy. Lorne Michaels is my hero, and Letterman and Conan were all massive influences on me. So to see my name listed in the same category as these icons was a thrill enough, but to actually win was mind-blowing. I considered myself very, very, very lucky to have been a part of The Daily Show.
Q: If you were on a desert island and could only have access to one quadrant of the matrix as your pop culture news source, which would you choose and why?
A: I'd choose lowbrow despicable because that's usually where things like porn end up and let's be honest, you're all alone on an island… other than a satellite phone and a Swiss army knife, porn is a pretty valuable resource.
Watch THE APPROVAL MATRIX, all new Mondays 11/10c on SundanceTV.

Get more inside scoop on THE APPROVAL MATRIX—read our interview with host Neal Brennan.
Photo Credit: Getty Images