6 Questions with "THE APPROVAL MATRIX" Host Neal Brennan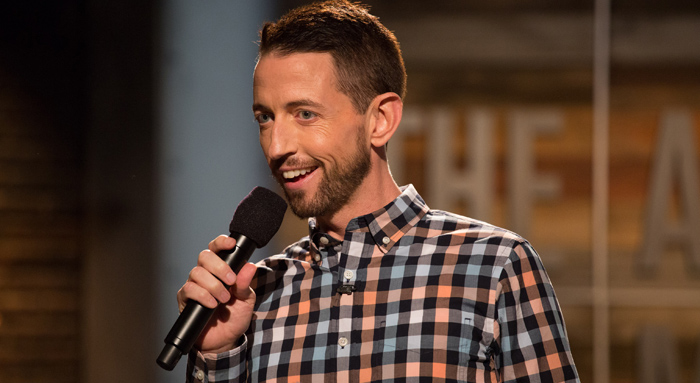 SundanceTV's new series, inspired by New York magazine's pop culture roundup, airs Mondays at 11/10c. To prep, we spoke to host Neal Brennan (Chappelle's Show, Half Baked) about some of the most surprising moments that happened during the shoot and his desert island quadrant pick.
Q: What are you most excited about for THE APPROVAL MATRIX?
A: I like all six episodes, but I'd say my little disagreement with Jon Stewart is interesting. Also, I told Willie Geist that he looks like a stock photo of a white person. So that was nice.
Q: How did you choose the topics that are featured on the episodes?
A: Rory Albanese, Michael Hirschorn and I batted around a bunch. Ultimately, it's what subjects could sustain a 45-minute discussion. My favorite is probably "America's Hall Monitors" about the snitch culture pervading our glorious nation.
Q: How did you meet showrunner Rory Albanese? What makes you a good team?
A: I'd met him once before. What makes us a good team is that we would lose our temper on alternate days.
Q: Which panelist's opinions surprised you the most on the show?
A: Hmmm…Jon Stewart, though he's not a panelist. The fact that he's largely made his peace with everybody recording everybody at all times was a surprise for sure.
Q: Is there anything in pop culture you would like to see disappear off the face of the earth?
A: Fake headlines on websites and links, like: "Kim and Kanye: Trouble in paradise?", "You won't believe how it ends!", "You'll never look at Puerto Ricans the same way again."
Q: If you were on a desert island and could only have access to one quadrant of the matrix as your pop culture news source, which would you choose and why?
A: Lowbrow/Brilliant. Highbrow is boring. And Despicable is often gross.
Watch THE APPROVAL MATRIX, all new Mondays 11/10c on SundanceTV.
Want a tune-in reminder for THE APPROVAL MATRIX? Click here.