6 Questions With "THE APPROVAL MATRIX" Executive Producer Michael Hirschorn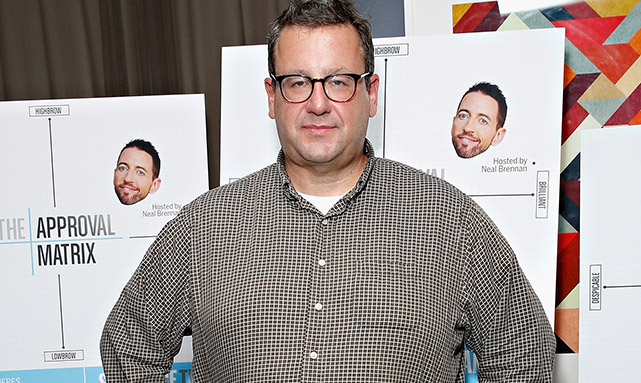 Executive producer of THE APPROVAL MATRIX, Michael Hirschorn, reveals the key ingredient to making a TV show, what it's like to accept an award while wearing shorts, and who he thinks will surprise viewers the most on the show.
Q: What are you most excited about on THE APPROVAL MATRIX?
A: I think U.S. TV desperately needs a smart and funny show that is about pop culture. There are amazing shows about politics, but there hasn't yet been a show that brings the incredible energy of the web and social media's debate about culture to TV.
Q: Which panelist's opinions surprised you the most?
A: Bailey Jay, America's foremost transsexual pornstar. Take all the assumptions that conjures up and throw them out the window.
Q: As a TV producer, what's the secret ingredient you look for when creating a show?
A: Make the smart stuff fun; and make sure the fun stuff is just a bit smarter than it needs to be.
Q: How did you feel when you won your first Emmy?
A: We were nominated for best documentary for a project I oversaw when I ran programming at VH1. I actually didn't realize when they were giving out the awards so I was pretty stunned when I got a call saying, "Hey, you just won an Emmy!" That wasn't as bad as the time I accidentally ended up accepting an award at Banff live on Canadian TV while wearing shorts. I'm flaky that way.
Q: Is there anything in pop culture you would like to see disappear off the face of the earth?
A: Obviously pandering, self-promotional Tweets and Facebook posts.
Q: If you were on a desert island and could only have access to one quadrant of the matrix as your pop culture news source, which would you choose and why?
A: All the really interesting stuff happens in Lowbrow first, then becomes Highbrow later, so I'd say Lowbrow-Brilliant. The truly Despicable stuff might corrode my soul.
Want a tune-in reminder for THE APPROVAL MATRIX Mon. Aug. 11 11/10c? Click here.
Want more from THE APPROVAL MATRIX? Check out our interview with host Neal Brennan.