The A Word Recap: Episode 205 (Family Album)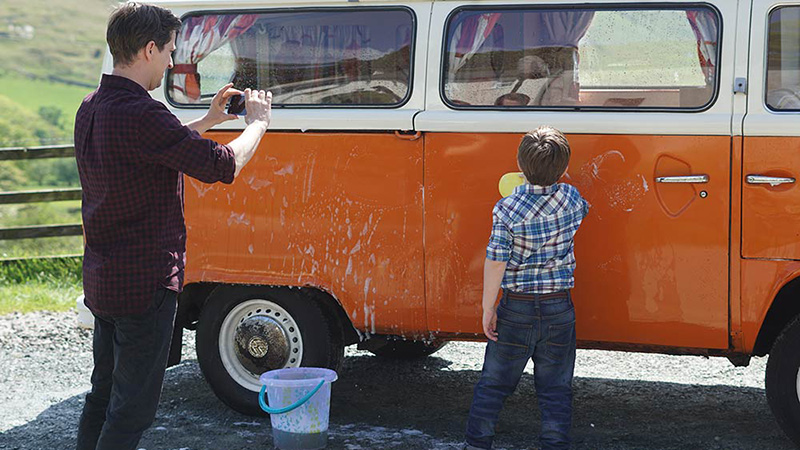 Paul (Lee Ingleby) walks to work while Alison (Morven Christie) drives Joe (Max Vento) to school.
Maurice (Christopher Eccleston) helps Louise (Pooky Quesnel) at home.
Alison, Paul, Nicola (Vinette Robinson) and Maurice watch a video of Joe that Nicola is planning to present to health professionals to educate them on autism. Paul worries that it over-emphasizes Joe's autistic qualities and storms out.
Rebecca (Molly Wright) informs Alison and Paul that she passed her driving test.
Alison and Nicola discuss the video of Joe. Alison says she will convince Paul to allow the video to be shown.
Rebecca tells Alison that she is not attending college.
Maurice fixes Louise's bathroom sink. He later suggests to Louise that they take a vacation after she finishes her chemotherapy, but Louise refuses to plan ahead. Ralph (Leon Harrop) privately tells Maurice that Louise won't need him around once she gets better. Maurice asks Ralph if Louise told him that. Ralph remains silent.
Paul picks up Joe on his last day of school. Paul looks wistfully at the non-autistic kids getting out of school.
Maurice drives Louise and Ralph home. Louise puzzles over Maurice's unusual silence.
Paul vents about Nicola's video to Eddie (Greg McHugh). Eddie defends Nicola.
Alison pleads with Rebecca to attend college. Rebecca insists on saving money and working full-time at the Fellside gastropub.
On a date, Eddie jokes with Holly (Anna Koval) about her efforts to avoid having sex with him. Holly points out that it's, in fact, Eddie who has been delaying sex. She breaks up with him.
Eddie calls Nicola to say goodnight to Emily (Emelia Rae Levy).
Maurice ignores a phone call from Louise.
Paul leaves a message with Alison saying that he doesn't want Nicola showing the video of Joe.
Eddie philosophizes about human nature to his students.
Maurice asks Dr. Graves (Daniel Cerqueira) if chemotherapy can cause patients to say hurtful things.
Paul tells Alison that Nicola is using Joe for professional gain in the "autism industry." Alison explains that she will attend Nicola's presentation and defend Joe if any misconceptions arise. Joe listens to them argue.
Louise runs into Maurice at the supermarket. Maurice makes awkward conversation and abruptly leaves.
Nicola begins her presentation at work. Alison watches the doctors and nurses eat their lunch while watching the video of Joe.
Joe begins to rock back and forth while watching a movie with Paul at home. Paul tries to stop Joe from rocking. Joe runs off.
Nicola continues her presentation. Afterwards, she apologizes to Alison for showing the video in such a casual atmosphere.
Alison admits to Paul that she found it difficult to watch the presentation. Paul tells Alison that he loves Joe but hates Joe's autism. Alison tears up.
Rebecca pulls up in a Volkswagen van and announces that she's going to work for her father, Stuart (Ralf Little), who asked her to fix up the vehicle.
Stuart assures Paul and Alison that he merely gave the van to Rebecca in order to keep her busy. Alison privately admits to Stuart that her marriage is rocky, then confides that she volunteered to help at a school in Manchester and might also teach a course.
Paul vents to Eddie about the video and Rebecca's college decision.
Paul watches childhood videos of Rebecca and laments to Alison that they stopped filming Joe after his autism diagnosis. Alison remarks that it took her two years to achieve the level of autism acceptance that Paul initially demonstrated.
Paul films Rebecca, Joe and Tom (Matt Greenwood) as they work on the van.
Alison reviews Mark's (Travis Smith) college application with Sophie (Lucy Gaskell) at the Fellside. Mark reads his "dreams and ambitions" statement, in which he hopes to meet people at college who are OK with having an autistic friend.
Paul films Joe at the Fellside. He asks Maurice for the first word that comes to mind when he thinks of Joe. Maurice thinks.
Tom questions Rebecca's decision to skip college and reminds her that they always wanted to escape their hometown.
Maurice goes to Paul's house and says that "engine" is the word he associates with Joe, who has a "good engine." Paul records him saying "engine."
Maurice tells Eddie that Louise ended their relationship. Eddie urges Maurice to talk to Louise and ask her to clarify what Ralph said.
Maurice packs his late wife Sandra's belongings in a box.
Paul stops by Nicola's apartment and tells her that he simply needed a warning before watching the video. Nicola reminds him that the only way to make progress with autism is for people to talk about it. Paul storms out.
Nicola tells Eddie that Paul hasn't fully accepted Joe. Eddie points out that her video must have made things worse for Paul if he does indeed have trouble accepting Joe's autism.
Alison tries to talk with Paul at work but Paul says he just wants to bury his feelings.
Maurice visits Louise and explains why he's been behaving strangely. Louise clarifies that she never fully informed Ralph about the nature of their relationship. Maurice asks Louise to marry him. "What?" she asks.
Maurice returns home alone and sighs.
Alison finds an iPad waiting for her on the kitchen table. She watches a video of Joe that Paul created. She laughs, then cries when she sees footage of a younger Joe.
Maurice unpacks Sandra's belongings.
Eddie and Nicola read to Emily.
Alison cries as she watches Paul's video. Joe quietly watches her from the doorway.
The A Word Season 2 finale airs Wednesday at 10/9c on SundanceTV.