The A Word Recap: Episode 204 (Falling)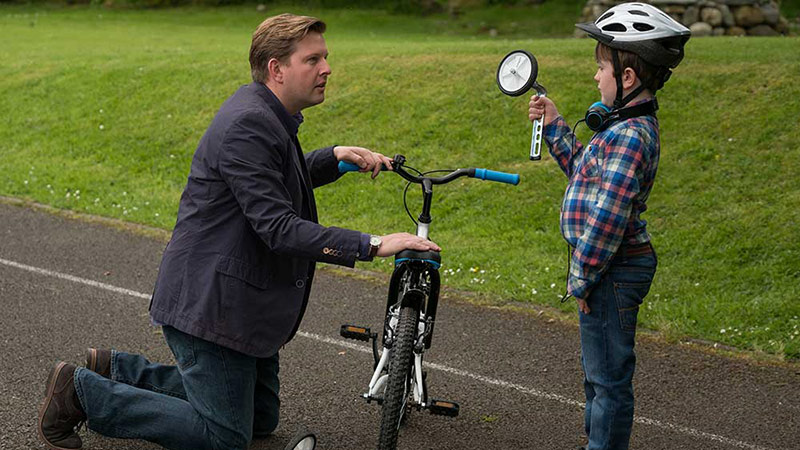 Alison (Morven Christie) gives Paul (Lee Ingleby) the silent treatment at home.
Maurice (Christopher Eccleston) rushes to help Louise (Pooky Quesnel) at her house during a fit of vomiting. He offers to keep Ralph (Leon Harrop) busy for the day.
Rebecca (Molly Wright) orders Alison and Paul to spend the weekend alone in Eddie's (Greg McHugh) Manchester apartment to work out their problems. Eddie arrives to pick up Emily (Emelia Rae Levy) and informs Nicola (Vinette Robinson) that he and Emily will be staying with Holly (Anna Koval) for the night.
Nicola and Rebecca fill out a questionnaire for Joe's new school. Eddie lingers and decides to teach Joe (Max Vento) how to ride his bike without training wheels.
As they drive to Manchester, Alison and Paul contemplate driving back home but ultimately decide to keep driving.
Ralph helps Maurice at the brewery but storms off after Maurice makes a tone-deaf joke.
Nicola and Rebecca watch as Eddie tries to teach Joe how to ride his bike.
Alison and Paul arrive at Eddie's apartment. Alison takes out a timer and challenges themselves to talk about anything besides Joe for five minutes. Paul immediately brings up Joe.
Ralph texts his girlfriend and tells Maurice that she will be attending the upcoming Fell Race.
Nicola and Rebecca take Emily for a stroll. Rebecca notes that Eddie hasn't left for Manchester yet and guesses that he's staying for Nicola.
Alison and Paul stroll around an art museum. Alison wonders if Paul felt a need to "rescue" Sophie (Lucy Gaskell), a single mother, just as he had done with her. Paul insists that Sophie is not Alison.
Maurice stretches before the Fell Race and offers Ralph unsolicited advice about women. Meanwhile, Eddie, Joe, Rebecca and Nicola arrive at the race.
Alison and Paul sit on a park bench. Paul encourages Alison to follow through with her desire to attend college. They kiss.
Alison and Paul return to Eddie's apartment and start to make out. They lose momentum when Paul stops Alison from undressing him. Alison shares that Paul's momentary attraction to Sophie made her feel rejected. Paul storms off.
Maurice races through the hills.
At the finish line, Nicola assures Eddie that they don't need to disclose who they are sleeping with.
Maurice stops in the middle of the race and looks around.
Eddie probes Nicola about her comment. Nicola bristles but clarifies that she hasn't slept with anyone since he left.
Eddie and Joe find Maurice sitting in the grass, taking in the view and philosophizing about "the end."
Maurice finishes the race then runs all the way to Louise's house. In a heartfelt speech, he tells Louise that he wants to stay in each other's lives. Louise takes his hand.
Alison and Paul decide to go back home after Eddie reports that he lost one of Joe's shoes. They have sex in the car on the way home.
Maurice tries to offer Ralph some advice about sex. Ralph insists there are more things to life than sex.
Alison and Paul return home, to Rebecca's disappointment.
Paul and Rebecca watch a video of Eddie riding Joe's bike. Alison leaves to drop off Mark's (Travis Smith) school application with Sophie.
Eddie apologizes to Nicola for getting short with her. Nicola admits that she hasn't met anyone that she liked as much as him. Their intimate moment is interrupted by Maurice and Holly, who drove from Manchester to find Eddie.
Nicola and Eddie awkwardly hug goodbye. Rebecca informs Nicola that she has decided not to attend college.
Alison goes to Sophie's house and reviews the paperwork with Sophie. While Sophie is upstairs, Alison looks around the living room.
Maurice brings Eddie and Holly to his bedroom, where they will be sleeping. Eddie refuses to displace Maurice from his bed.
Rebecca tells Nicola that she doesn't want to go to college because she's afraid that her family will fall apart without her. Nicola insists that Rebecca is not responsible for her family and urges her to go to college.
Holly tells Eddie to sort through his feelings about their relationship, then drives back to Manchester.
Maurice calls Louise and urges her to call him if she needs anything. Louise correctly guesses that Maurice is standing outside her house.
Alison asks Paul to promise that he won't stray again, then jokes that at least they're not Nicola and Eddie. "Yet," he says. When Alison asks what Paul means, Paul complains that Alison never leaves things alone.
Nicola cooks while watching a video of Eddie riding Joe's bike.
Maurice lies in bed next to Louise, listening to music with shared headphones.
Eddie drives back to Manchester.
Alison and Paul wake up to the sound of Joe riding his bike without training wheels. They run outside and follow Joe down the road. Joe gets off his bike. "I've done that now," he says, then continues by foot.
The A Word airs Wednesdays 10/9c on SundanceTV.