6 Questions with The A Word Star Greg McHugh (Eddie) About Season 2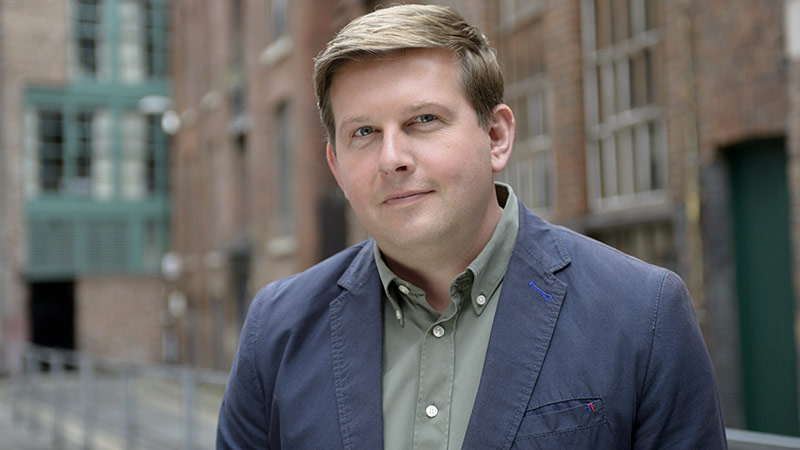 The A Word star Greg McHugh discusses the changes his character Eddie is facing since his split with Nicola in Season 1, why he enjoys the show's balance of pathos and humor, and how he discovered goat wrangling is not his forte on the Season 2 set.
Q: How would Eddie describe himself?
A: What drives Eddie, I think, is he probably wants to be successful at something. I think he's struggled to be successful in the eyes of Maurice, who, of course, he keeps trying to please. So, subconsciously, Eddie is driven by approval. But I don't think Eddie would ever admit that. And I think what he's really driven by now is the arrival of his daughter, Emily, and wanting to be a good dad.
Q: What has changed for Eddie in Season 2?
A: At the end of Season 1, he drove off and we didn't know if he'd be back. The cast had great delight in saying I wouldn't be back. But, thankfully, Peter wrote me back in.
So, the major changes are: He's got a daughter, Emily. Nicola and Eddie are on pretty good terms considering what's gone on, but Eddie has moved to Manchester to become a lecturer in artificial intelligence and IT-related studies.
So, they're pretty massive changes, both geographical and family-wise. But as the series progresses, perhaps that doesn't quite work out for him.
Q: What have you most enjoyed about Eddie's story in Season 2?
A: I've got lots of different things to play and to push against, and Pete's written – I've got to say – a lot of killer, funny lines as well. So, I've enjoyed the mix of pathos and humor this year. I've really liked that.
Q: What makes the central story of Joe and his family remain so compelling?
A: It's about the reality of Joe's condition, which is challenging and difficult, but it's also peppered with loads of light moments and loads of human moments, which means that, as an audience, I think you're never watching something that is just on one level. You're seeing the effect of this diagnosis, and actually on the reality of the relationships around it. So, there's a lot of change in the show itself.
Q: What challenges did you face in filming Season 2?
A: For me, one of the most challenging days was walking a goat down the Honister Pass. And the Honister Pass is the iconic shot of the show really, of the opening. And it's kind of prehistoric, and it's a vast crevice, and it's one lane for traffic to get through, and we had to hold up both sides of the traffic for me to walk a goat – which is, obviously, one of the storylines in the show – down the Honister Pass.
And that was just utterly surreal because the goat didn't want to do it. And we didn't do goats at drama school, so I missed that. So, I wasn't quite up on my goat whispering.
Q: Why should people watch the second season of The A Word?
A: I feel this year Pete's writing is just so spot-on for everyone. He's built on that first [season] so it's just a broader picture of those relationships, and hopefully the audience will find it even more engaging than last year because they know them a little more.
The A Word airs Wednesdays 10/9c on SundanceTV.