"THE A WORD" Recap: Season 1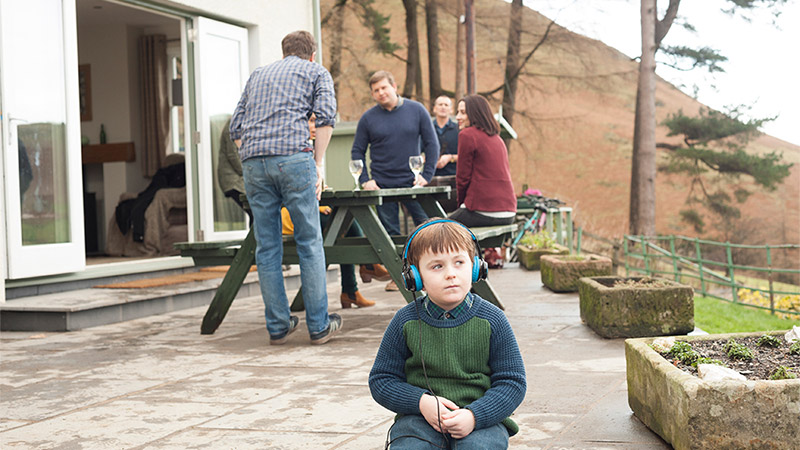 Alison and Paul Hughes throw a party for their son Joe's fifth birthday. Alison's brother, Eddie Scott, and his wife, Nicola Daniels, suggest that Joe might have a communication disorder based on his withdrawn behavior.
Eddie begins work at the family brewery, having recently moved to the Lake District with Nicola after she ended an extra-marital affair.
Maurice Scott, Alison's father, takes voice lessons from Louise and declines her proposal to sleep together.
Autism specialist Dr. Weide informs Alison and Paul that Joe has autism. Alison begs Nicola, who is a doctor, to get a second opinion from her ex-lover Michael, a pediatrician specializing in autism. Alison removes Joe from school and organizes a home-schooling schedule.
Nicola meets with Michael, who agrees with the autism diagnosis and refers Joe to a speech and language therapist. Nicola leaves abruptly after Michael says he still has feelings for her.
Alison's daughter, Rebecca, invites her boyfriend, Luke, over to have sex. Eddie inadvertently interrupts them and advises Rebecca, who is a virgin, to delay sex until she's ready.
When Alison hires Maya to babysit Joe, Paul complains about babysitting costs and puts his latest business venture, a gastropub, up for sale.
Dr. Graves hires Nicola to work as a nurse.
Alison and Paul send Joe back to school. Alison insists Paul keep the gastropub but he reasons that Joe will need a lot of their time and energy.
The Hughes family meets Joe's therapist, Maggie White, who Alison recognizes from high school. Maggie makes progress with Joe.
Maurice accepts Louise's sex proposal and admits he hasn't slept with anyone since his wife's death.
Paul reluctantly agrees to let Maurice buy the gastropub so that he can continue working on it.
Alison asks Maggie to return but Maggie explains that her job was merely to assess Joe before handing off the case to a local therapist. When Alison persists, Maggie accuses Alison of bullying her just like in high school. Alison hounds Maggie again at her Manchester office. Maggie tells Alison that her high school bullying resulted in years of therapy.
Alison misses Rebecca's school play. Rebecca expresses her disappointment and later goes to Luke's house to have sex. Luke proceeds to ignore Rebecca at school. Rebecca cries to Eddie and Nicola about losing her virginity to Luke.
Joe falls sick with a fever. While sick, he recognizes a photo of his dead grandmother and observes that Alison looks sad. Alison rejoices at his display of empathy.
Alison and Paul have sex. At Paul's suggestion, they skip the condom to try for another baby.
Eddie sees Luke at the supermarket and confronts him about Rebecca. Luke breaks up with Rebecca, saying her family is too intense.
Rebecca tells Paul about Luke and tries to tell Alison, but Alison is too distraught when she finds that Joe has reverted to his autistic state. Nicola explains that fever sometimes causes symptoms to diminish in autistic children. Alison asks Nicola for a morning after pill and convinces Nicola to explain why Rebecca has been moody.
Alison tries to talk to Rebecca about Luke but Rebecca walks out.
Alison takes the morning after pill.
Maurice accuses Eddie of mismanaging the brewery. Eddie defends himself and threatens to leave for another job.
Rebecca realizes Luke has been telling his friends that they had sex. Nicola encourages Rebecca to seek revenge on Luke.
Maurice gives his friend, Inspector Bob Herd, permission to ask Louise out. When Maurice later asks Louise if she slept with Bob, she accuses him of only liking her once Bob started liking her.
Bob decides to deport Maya after police discover her visa has expired. Joe throws a tantrum at school. Alison attributes it to Maya's departure but Paul says that Joe is only sad about Maya because of Alison. When the Hughes family says goodbye to Maya, Joe tenderly acknowledges Maya by mirroring her "horned beast" heavy metal sign.
Paul fights with Alison after learning she took the morning after pill. He admits he wants to "father a normal child," while Alison reveals that she does not want another child.
The Hughes family prepares for the gastropub's soft opening. Maurice takes Joe to Louise's house to invite her to the opening. Joe disappears while Louise's son, Ralph, who has Down Syndrome, watches him.
Eddie tells Nicola he accepted a job offer in Manchester. Nicola says that she might be pregnant and does not want to move.
Luke gives Rebecca a poem, but Nicola informs Rebecca that it's a Simon Armitage poem.
Police question Ralph about Joe's disappearance. Bob meets with Alison and Paul, who reluctantly reveal that Joe has autism. Bob then takes it upon himself to inform the volunteer search team that Joe has autism.
Bob asks Maurice if Ralph seemed "over familiar" with Joe, alluding to an incident years earlier. Maurice insists Ralph would never hurt Joe but nevertheless tells Alison that Ralph was once accused of touching a girl's leg — though the accusers later admitted to lying. Alison questions Ralph and brings up the bus incident. Louise angrily defends Ralph.
Luke finds Joe sitting in a bus shelter. Alison tries to apologize to Ralph but Louise says he's already been damaged by hateful messages on his Facebook page.
Nicola informs Eddie that the pregnancy was a false alarm. Eddie questions whether the baby would have even been his and walks out on Nicola, unwilling to be in a relationship plagued with mistrust.
Alison, Paul and Rebecca snuggle in bed with Joe.
Need to catch up on THE A WORD Season 1? Find out where to watch.
For more on Joe's favorite music, listen to THE A WORD Spotify Playlists.
Interested in better understanding or helping people with autism? New York Collaborates for Autism has a list of recommended resources.