"THE A WORD" Recap: Episode 104 (Sleepover)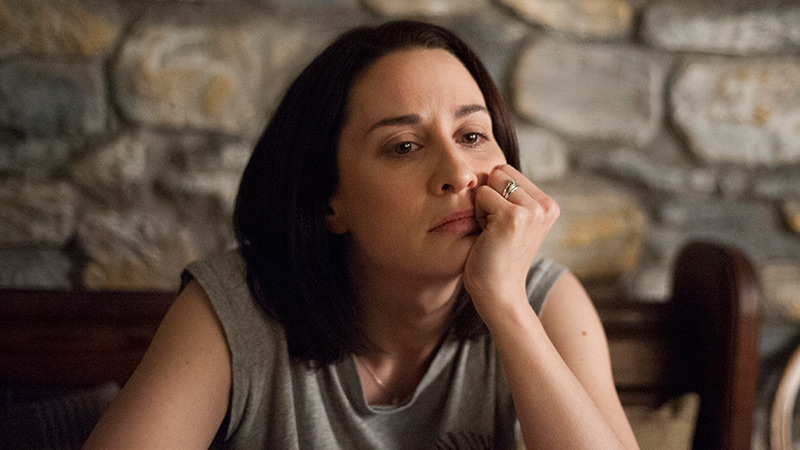 Maya, David and Pavel pick up Joe on the road. A passing motorist chastises them for letting Joe walk alone.
Maurice gets dressed after spending the night with Louise. Nicola sees Maurice leave Louise's house.
Paul and Alison meet with Joe's principal and teacher to request an "EHC plan" for Joe. The principal says they're required to try to help Joe themselves before requesting financial assistance.
Paul demotes Sally so that he can manage the restaurant project himself.
Alison volunteers at Joe's school but watches Joe the entire time. The teacher gently declines her offer to volunteer all day.
Alison sees Joe playing with two boys on the playground. At home, she asks Joe for the boys' names so that she can invite them to a sleepover.
Rebecca tries to speak with Luke at school after he fails to reply to her texts. He brushes her off.
Eddie and Nicola console Rebecca after Eddie finds her crying at her front door.
Ramesh and Bill, the kids from the playground, attend a sleepover at the Hughes residence. Paul puts on a movie for the boys but later finds them playing on their own instead of watching the movie together. Alison serves pizza as Paul sits them in front of the TV again.
Paul and Alison eat in the kitchen and hear the boys laughing at the movie. Moments later, Ramesh runs in to alert the parents. Joe is vomiting in the living room, burning up with a fever. Alison spends the night at Joe's side.
Nicola tells Eddie that Maurice is sleeping with Louise.
Nicola examines Joe and tells Alison he caught a bug. She asks how Rebecca is feeling but clams up when Alison probes further.
Alison browses the family photo album. Joe recognizes a photo of his grandma and observes that Alison looks sad. To Alison's amazement, Joe realizes Alison is sad because her mother isn't with them.
Alison leaves a voicemail with Paul to update him on Joe's apparent breakthrough.
Eddie sees Luke at the supermarket and orders Luke to talk to Rebecca.
Rebecca approaches Luke at school. Luke tells her about his run-in with Eddie and says that her family is too intense. He breaks up with her.
Eddie asks Paul for the name of the restaurant so that he can include it in one of his launch brews. "Fellside," Paul tells him.
At the diner, Eddie tells Maurice that he knows about Louise and offers his blessing.
Maurice goes to Louise's house and worries that his family will think he no longer loves his dead wife. He adds that Joe doesn't need more drama in his life and storms out when Louise tries to console him.
At home, Alison excitedly tells Paul that Joe has turned a corner. They have sex. At Paul's suggestion, they don't use a condom to try for another baby.
Rebecca tells Paul about Luke. Paul hugs Rebecca and urges her to tell Alison.
The next morning, Alison wakes to the sound of music in Joe's room. Rebecca tries to talk to Alison but Alison hushes her. Alison turns off Joe's music and brings out the photo album. Joe ignores her.
In the kitchen, Alison realizes that Paul never believed that Joe had changed. Rebecca gives Alison attitude. Paul suggests Alison talk to Rebecca.
Alison tells Nicola about Joe's momentary breakthrough. Nicola says that fever sometimes causes extreme symptoms to diminish in autistic children. Alison asks Nicola to procure her a morning after pill then inquires about Rebecca.
Paul confronts Eddie about intruding on Rebecca's life. Eddie points out that at least someone was there to listen to her.
At the restaurant, Sally reminds Paul that he's interviewing chefs. Paul apologizes to the applicants for being late.
Dr. Graves tells Nicola that her school measles talk was a hit and that two other schools have requested her to speak.
Rebecca tells Alison she's going to her father's house. Alison reveals that she knows about Luke and asks if this explains Rebecca's difficult behavior. Rebecca slams the kitchen door.
At the restaurant, Paul admits to Sally that he's been difficult. They bond over beers. Eddie walks in and presents the Fellside brew.
Alison tells Rebecca that she understands Rebecca's situation. Rebecca says Alison has no idea and leaves.
Eddie asks Paul why he's bonding with Sally, his ex-girlfriend, late at night. Paul assures Eddie that his marriage is solid and confides that they're trying for another baby.
Nicola gives the morning after pill to Alison.
Maurice spots Rebecca at the bus stop and offers her a ride to her father's house. In the car, Maurice tears up and says he misses her grandma.
Alison tries to show the photo album to Joe but he refuses to cooperate. She takes the morning after pill.
Need to catch up on THE A WORD Season 1? Find out where to watch.
For more on Joe's favorite music, listen to THE A WORD Episode 104 Playlist.
Interested in better understanding or helping people with autism? New York Collaborates for Autism has a list of recommended resources.