"THE A WORD" Recap: Episode 101 (Diagnosis)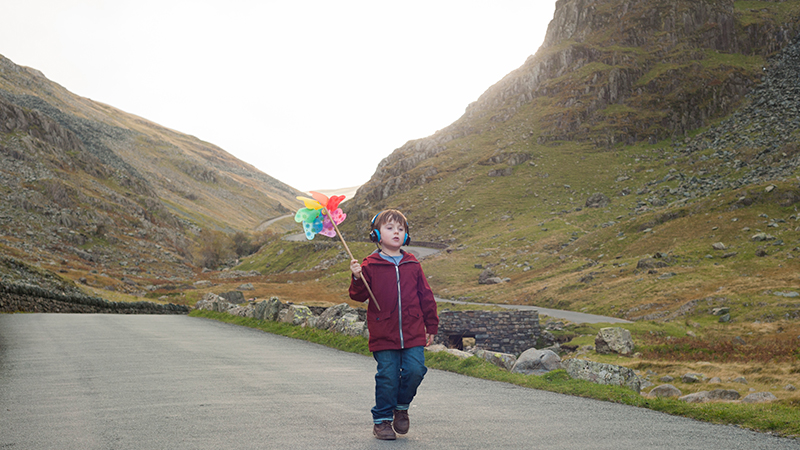 Joe Hughes (Max Vento) walks down a country road, listening to headphones and singing "Mardy Bum" by The Arctic Monkeys. Two men pick him up in a van and bring him back home to Joe's dad, Paul Hughes (Lee Ingleby).
Alison Hughes (Morven Christie) and Paul throw a party for Joe's fifth birthday. Alison's brother, Eddie Scott (Greg McHugh), and his wife, Nicola Daniels (Vinette Robinson), arrive late. Alison refuses to hug Nicola, who cheated on Eddie with a co-worker.
Alison brings out the birthday cake. Joe prostrates himself on the floor. Paul coaxes him up by singing "Where Were You?" by The Mekons. Nicola quietly tells Eddie that Joe exhibits all the telltale symptoms.
After the party, Joe listens to music on his headphones instead of opening presents. Eddie brings up to the family that Joe might have a communication disorder. Alison and Paul leap to Joe's defense.
Maurice Scott (Christopher Eccleston), Alison's father, privately asks Nicola what kind of communication disorder she thinks Joe has. Not wanting to get involved, she leaves for a walk.
In the middle of the night, Alison finds Joe watching videos in bed. She takes him to the car and explains to Nicola, who's still awake, that car rides help Joe sleep. In the car, Joe ignores Alison's repeated requests to close his window. "That's enough!" she screams. "That's enough! That's enough! That's enough," he yells back.
Alison brings Joe to school the next day. He compulsively closes the classroom door then opens it again before entering the room.
Paul and Eddie arrive at the family brewery where Paul secured Eddie a supervisor job. The employees privately pity Eddie for losing his business and being a cuckold.
Maurice takes voice lessons. His teacher Louise (Pooky Quesnel) proposes they sleep together but Maurice awkwardly explains that he doesn't think of her romantically.
At home, Maurice asks Nicola to recommend a doctor for Joe's potential disorder. Nicola reluctantly agrees to make some phone calls.
Maurice tells Alison that he's taking Joe to a science museum but instead takes him to a doctor.
Alison works in the family café truck. A customer mentions an upcoming kid's birthday party. Alison realizes that Joe was not invited.
A doctor recognizes Joe in the hospital waiting room and says hello — much to Maurice's surprise.
At the café truck, Nicola realizes that the barista knows about her extramarital affair. Paul sheepishly admits that everyone knows about everyone's private life in their small town.
In their bedroom, Nicola tells Eddie that she loves him, despite her misgivings about moving to the Lake District. They kiss and make love. Eddie stops abruptly when he suspects Nicola is pulling a move that she performed with her lover. They fight.
Maurice tells Alison that he took Joe to the hospital and asks why the specialist already knew Joe. Alison blows up at Maurice for taking Joe to the doctor without telling her.
Alison and Paul take Joe to see the specialist. In the waiting room, Alison complains that Joe was not invited to his classmate's soccer party.
Alison and Paul meet with autism specialist Dr. Weide. After performing tests and spending time with Joe, Dr. Weide informs them that Joe has autism and that he uses his advanced vocabulary and music to keep everyone at a social distance. Alison and Paul reel from the diagnosis.
Maurice and Eddie jog through the countryside. Maurice tells Eddie to get over the affair.
Nicola interviews with a local doctor for a nursing position and quickly realizes that everyone at the office knows about her affair. The doctor turns her away because her "personality" is wrong for the office.
On the way home, Alison turns off the music and worries that music contributed to Joe's autism. She rants about the soccer party. Paul pulls over to get some picnic supplies.
Paul takes Alison and Joe to a park, determined to have their own soccer picnic. To their surprise, the classmate's soccer party is taking place at the same park. Paul encourages Joe to kick a soccer ball. Joe instead interrupts the soccer party then climbs a large log. When Paul tries to coax Joe off the log, Joe slaps him.
Maurice barbecues at the Hughes residence. Alison asks Nicola to call her specialist friend for a second opinion. Nicola reveals that her friend, a pediatrician who specializes in autism, is Michael, the man she had an affair with. Nicola refuses to contact Michael out of fairness to Eddie, but Alison insists.
Joe interrupts the family tension, loudly singing along to "World Shut Your Mouth" by Julian Cope.
Need to catch up on THE A WORD Season 1? Find out where to watch.
Love Joe's taste in music? Listen to THE A WORD Episode 101 Playlist.
Take a look at THE A WORD Episode 101 photos.