The Joe R. Lansdale Short Film Festival Adds Texan Spice to Shorts on Sundance.TV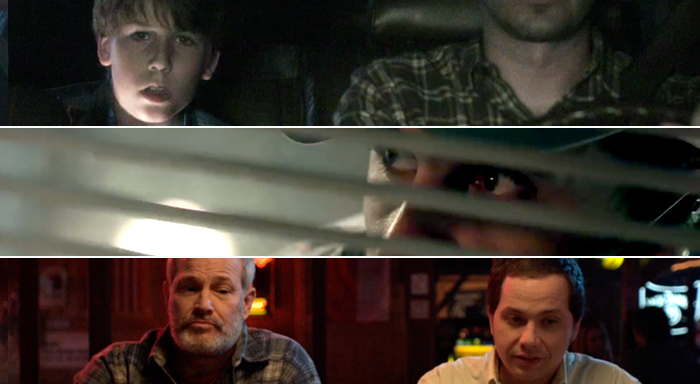 As the first season of SundanceTV's hit series HAP AND LEONARD draws to an end, fans can further explore the work of Joe R. Lansdale with short films based on his short stories at Sundance.tv. The Joe R. Lansdale Short Film Festival will include three short films and a short documentary on one of the greatest contemporary writers of today. The award-winning novelist, whose Hap and Leonard novels serve as the basis for HAP AND LEONARD, is also a co-executive producer on the series. The four shorts can be found at the Shorts on SundanceTV's homepage.
The films included are as follows:
Once We Were Children
This documentary explores the upbringing and the imagination of Hap and Leonard novelist Joe R. Lansdale.
• Directed by Chiara Stangalino
• Official Selection Courmayeur Noir In Festival 2015

Hit Call
Following a murder, a desperate man receives a phone call from a femme fatale who's about to turn his world upside down.
• Directed by award-winning director Phillip Guzman
• Starring Elle LaMont (From Dusk till Dawn, Machete Kills) and Denton Blane Everett (The Leftovers)

Bar Talk
In a dusty Texas bar, a chatty stranger insists on striking up a conversation with the man sitting next to him. The more this out-of-towner talks, the more obvious it is that he's not from around here.
• "Best Kill Scene" Silver Scream Festival 2016
• Official Selection Courmayeur Noir In Festival 2015
• "Best Short Film" Phoenix FearCon 2014

The Drunken Moon
A strange, lonely drunk wanders the streets at night in a small Texas town. Nobody knows much about him, until it is too late.
• Official Selection Living Dead Horror Convention 2015
• Official Selection FantomFest 2015

Joe R. Lansdale is a prolific fiction writer who has published more than 40 novels and numerous short stories in many genres, including Western, horror, science fiction, mystery and suspense. Lansdale is the winner of the British Fantasy Award, the American Horror Award, the Edgar Award and nine Bram Stoker Awards. In 2007, he received the World Horror Convention Grand Master Award, and in 2015, he was honored with the Raymond Chandler Award, celebrating a lifetime of achievement in noir storytelling.
Shorts on Sundance.TV is a new online destination within the network's website featuring award-winning and notable drama and comedy short films from the past decade. It represents a continued commitment by SundanceTV and its online platforms to deliver innovative, compelling content alongside its critically acclaimed original series.