6 Questions with "Parks and Recreation" Star Ben Schwartz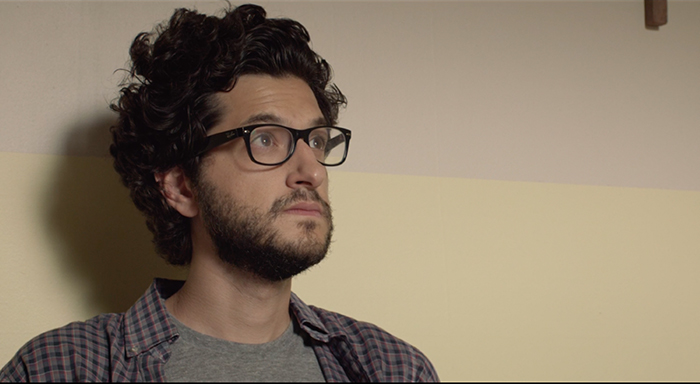 Best known for his Jean-Ralphio character on Parks and Recreation and Clyde Oberholt on House of Lies, Emmy® Award-winning writer, actor and comedian Ben Schwartz is a comedy powerhouse with serious acting chops. We kibbutzed with him about his role in the Sundance Film Festival Short, I'm a Mitzvah.
Q: Do you have any bad travel experiences that rival the movie?
A: Not like that… The worst thing happened to me traveling-wise wasn't really bad, but one time I was going to perform at the Montreal Comedy Festival with Gil Ozeri (Brooklyn Nine-Nine), Adam Pally (Happy Endings), Bobby Moynihan (Saturday Night Live), Charlie Sanders (Key & Peele) and Eugene Cordero (Teachers). It was the first time they ever allowed sketch at the Montreal Comedy Festival and for us it was the biggest deal.
We were in a van crossing the border on our way to the festival, and in the back we had fake bags of cocaine and big guns. All props for our show. Then, when we passed the border, the guy (customs agent) comes up to me and says, "Hey, how are you? Can I see your passport?" Gil says, "Just so you know, sir. I don't have my passport," and I say, "Also, we have fake guns and fake cocaine in the back." Then the border guard says, "Everybody out."
They looked through all our stuff and interviewed us one by one to make sure our story matched up. We were never in trouble. The story was too insane not to take it. They were very nice, very polite. It was easy.
Q: You have such a strong improv background. Did you improvise any scenes in the movie?
A: There are some moments where I got to play a bunch. There's one scene where I'm dancing around at this big party with a bunch of people. The whole idea is that they don't speak English, but we're still communicating just by being around each other. That was all improvised. The speech that I was having with a woman where she's speaking Spanish to me. We played a lot.
Q: You are mostly known for your comedic roles on Parks & Rec and House of Lies. How did you like taking on a more serious role? Is it easy for you to play the straight man?
A: I love dramatic stuff a lot. I get to flex muscles I don't get to flex as often. It's very exciting for me. On House of Lies (SPOILER ALERT) I killed my father, and I have a drug habit. I get to play the straight man to a different comedic guy. Those dramatic scenes are really fun. I really, really enjoy it.
Q: You also collaborated with director Ben Berman on Comedy Bang! Bang! What makes you two an effective comedic team?
A: The reason why it worked was because we were very communicative with each other. We both understood where the world lived and how we should play it. From the beginning, if he asked my opinion, I'd give it to him. I loved his vision for what it was.
Q: The characters you play are consistently fan-favorites. Which one did you like playing the most?
A: I don't know if there's one I love the most. I think the first big one that people really connected to was Jean-Ralphio, which was very exciting. I really love playing that character, and Amy (Poehler) was such a goddess to me. I think she is so talented and such a wonderful human being that I just want to learn from her always…. It's like the first one that really breaks through that really holds a special place in your heart. I love my House of Lies character, but you never really forget that first one. When you are walking down the street, that's the one that people yell at you the most for.
Q: If you had to choose anywhere in the world to be stranded with a corpse, where would it be?
A: I'd probably pick New York, just because my family is there and they would know what to do. I would have no idea what to do. I would call my dad or my mom and say, "This just happened" and they'd be like, "What?!" And then they'd come by and we'd figure it out. My family would be the best.
Unless I went on a really cool vacation and you said, "Hey, there's a dead body. Would you like to go anywhere in the world?" Then, I'd say, "Paris. I'll go to Paris. That'll be fun. I can chill out."