Rosehaven Recap: Episode 203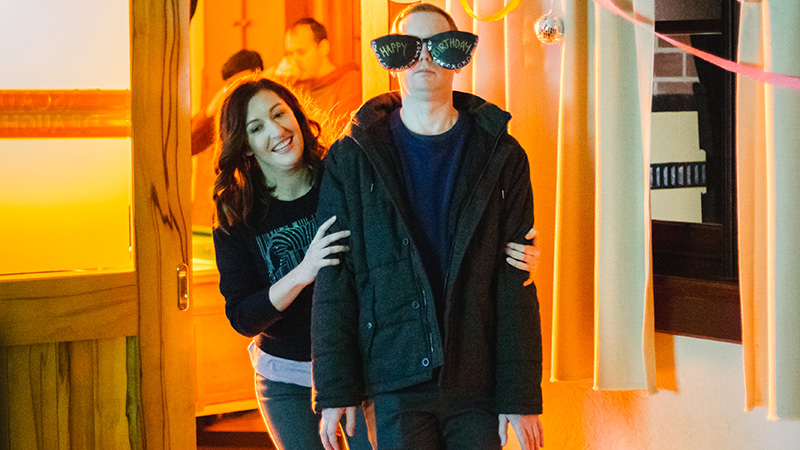 On the morning of Daniel's (Luke McGregor) birthday, Emma (Celia Pacquola) wakes him up by shooting off a popper and jumping on his bed. He tells her he wet himself from the scare. Emma leaves to let him change, then returns and fires off another popper.
Over coffee, Emma tells Daniel she's throwing him a party. Daniel says he'd rather not have a big party. He says that he promised himself he would've sold a house by his birthday. Barbara (Kris McQuade) wishes Daniel a happy birthday. He tells her that he plans to get a house listing by the end of the day.
Over the phone, Grace (Katie Robertson) gives Daniel encouragement for getting a listing.
Daniel makes a list of ways to get a house listing. Emma suggests they check for homes that are having garage sales.
Strolling through town, Emma tries to get Daniel to guess what they're doing for his birthday party. He says Barbara gave him $50 in a card for his birthday, just like every year. He also reveals he's been saving for a trip with Grace. On the town board, they notice a posting for a garage sale. Emma says she'd like to call the guy who posted about having a leaf blower.
On the drive to the garage sale, Emma and Daniel discuss aging and birthdays. Emma looks up facts about ears and noses growing as you age.
At the garage sale, Emma and Daniel run into Damian (David Quirk) who is there browsing. Emma notes that the garage sale is like Damian's house, but outside.
Daniel talks to the homeowner, Steve (Hamish Michael), about selling his house. Steve tells Daniel to prove he's a good salesman by selling something at the garage sale. Emma grabs an antiquated female hair removal device and says Daniel will sell it to a man browsing the garage sale.
Daniel pleads with the man to buy the hair removal device so that Steve will let him sell his house. He offers to pay the man $10, but realizes he doesn't have any cash.
Daniel talks to Grace on the phone about not being able to sell the device. He asks her if it's okay that they go long stretches without seeing each other. She says she doesn't like it but thinks they're okay. Emma interrupts and tells Daniel to appeal to Steve's spiritual side by telling him it's his birthday.
Daniel tells Steve it's his birthday and that they were destined to meet. Steve says if Daniel can sell everything before he gets back from getting something to eat, he'll take him on as a realtor.
Daniel and Emma attempt to sell a single shoe, an appliance without a power cord and other useless items.
After having no luck, Daniel decides to buy everything left at the garage sale with his savings and birthday money. He tells Emma to have Damian load the stuff up in his van.
Steve returns to find that everything from the garage sale has been sold. Daniel asks him to sign a realtor contract, but Steve says he'll think about it.
While unloading the stuff from the garage sale at the second-hand store, Daniel says he doesn't think Steve will actually call him. Gez (Susie Youssef) agrees, and notes that people say they're thinking about buying stuff from her all the time and then never do.
At McCallum Real Estate, Barbara tells Daniel that Steve came by and said he wants to use him as his realtor. She adds that since Daniel wasn't there, she signed him up herself. Daniel says he was unloading all the stuff he bought from Steve. Barbara says Daniel can take the lead on Steve's listing and figured she'd surprise him on his birthday. Daniel promises to sell the house.
Later at the pub, Emma brings Daniel to his surprise party that no one else was invited to. Emma said her plan was for Daniel to think she was throwing him a big party but actually it would just be the two of them hanging out.
Grace calls and Daniel tells her he got the house listing. She surprises him by showing up in the party room. Emma tells Daniel it was hard to keep the secret that Grace was in town. Paul (Tim Logan), the leaf blower guy, blasts Grace with the leaf blower as per Emma's request to give Grace a windswept hairdo.
Rosehaven airs Thursdays at 1 am/12c on SundanceTV.
Stream Rosehaven full episodes online now (Episode 101 and 201 no login required).