Rosehaven Recap: Episode 201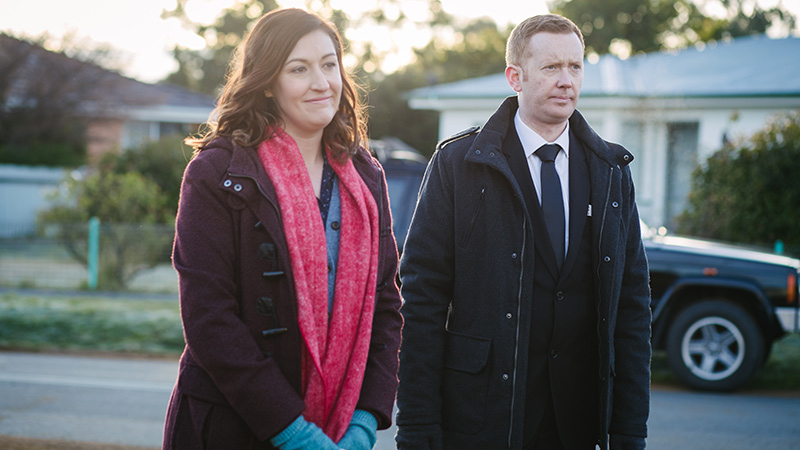 While starting the day, Daniel (Luke McGregor) tells Emma (Celia Pacquola) how nice it is to have his friend living with him again. She tells him he's a pervert for watching her sleep.
Over banana smoothies, Barbara (Kris McQuade) tells Daniel his suit makes him look like he's going to a funeral. She goes to the car, and Emma pours out the smoothie and tells Daniel she hates banana but doesn't want Barbara to know.
At their new office, Barbara calls a meeting at Daniel's desk. Daniel notes that Emma has more responsibilities than he does. Barbara says he shouldn't be rewarded for taking a month off and that Emma sold a house while he was gone.
Later, Emma shows Daniel his new calendar. Daniel marvels at how Emma sold a house. Barbara sends them to deal with a tenant issue and puts Emma in charge as the senior staff member.
In the car, Daniel mentions his long-distance relationship with Grace (Katie Robertson) is going well. He asks Emma how often he should tell Grace he loves her.
Outside of the rental house, the tenant Tom (Brad Kannegiesser) says he has a problem with his neighbor Gail (Elaine Crombie) cleaning up his yard and planting flowers. Tom says he keeps his yard messy to dissuade potential burglars. Gail accuses Tom of damaging her car.
As Emma tries to help the arguing tenants, Daniel intervenes and says he called Tom's landlord and he can keep the yard as messy as he wants. He tells Gail she can trim an overhanging hedge as well. Daniel gives Tom his card and suggests he should buy a home if he doesn't like his current rental arrangement.
At the office, Barbara says Tom is furious about Gail cutting off too much of his hedge. Emma says it's Daniel's fault for going over her head to the landlord.
Over video chat, Daniel tells Grace about adjusting to being back at McCallum Real Estate. Daniel says he's happy that Emma sold a house. Emma interrupts to say she's still mad at Daniel and is going to the pub to meet Tom and Gail and fix his mistake.
At the pub, Daniel apologizes for going over Emma's head. Emma says her plan is to get Tom and Gail to work together on the pub quiz in order to win an alarm system. The quizmaster reluctantly agrees to let Grace play via Daniel's laptop.
Tom and Gail arrive and are surprised that Emma has invited them to a pub quiz. Tom starts to leave but stays when the home alarm system is announced as a prize.
The team tries to answer a musical theater question. Emma notes to Tom and Gail that it's nice when people get along. Tom and Gail argue over his messy yard and her trimming the hedge.
During the quiz break, Emma notes the team is in second place and tries to get Tom and Gail to work together.
At the bar, Daniel tells Emma her plan isn't working. Emma says they'll definitely win since they have Grace on their team and she knows all the answers.
Later, Grace is no longer on the team as Daniel's laptop has run out of power. The team struggles with the answer to a question about the Spice Girls. Tom and Gail continue to argue.
The teams switch answer sheets for scoring. Emma suggests cheating and giving Quiz Vegas, the team in the lead, a bad score. She explains that if Tom wins the home alarm system he won't need to have a messy yard and agrees to let Gail chop down one of Tom's hedges.
The quizmaster announces that the Brain Maniacs team has won the top prize.
Daniel and Emma's team comes in second place. Tom announces to the bar that they cheated. The quizmaster announces Quiz Vegas as the winner.
Tom admits to hitting Gail's car. She suggests instead of paying her back he should use the money to buy a security system so he can clean up his yard. They call it even and decide to go for a drink and leave Emma and Daniel. The quizmaster says Emma and Daniel have to be thrown in the lake for cheating.
Later, Emma congratulates herself for getting Tom and Gail to solve their differences. Daniel apologizes for doubting her. Emma admits that she didn't actually sell a house. Barbara says she was in on the lie and thought it was funny. Daniel tells Barbara that Emma pours her smoothies down the sink.
Rosehaven airs Thursdays at 1 am/12c on SundanceTV.
Stream Rosehaven full episodes online now (Episode 101 and 201 No Login Required).