Rosehaven Recap: Episode 108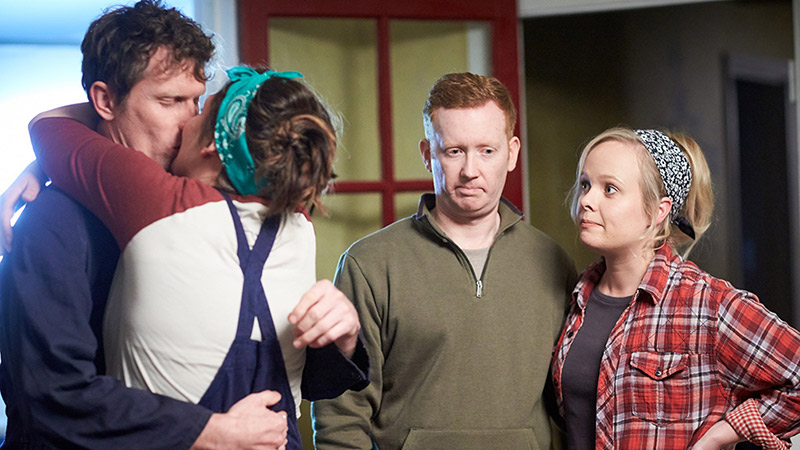 At McCallum Real Estate, Emma (Celia Pacquola) comes into work late. She tells Daniel (Luke McGregor) she's late because she wanted to sleep in and Damien (David Quirk) doesn't own alarm clocks. Daniel tells her he's planning to move to the Gold Coast with Grace (Katie Robertson) when Barbara (Kris McQuade) comes back to work. Emma says she's happy for him.
On their way to a home inspection, Daniel asks Emma if they're cool. Emma says they're cool. They find that the house has been trashed by the previous tenants. Daniel worries that Barbara will blame him for the wrecked house.
At McCallum Real Estate, Daniel and Barbara find that the bank has locked them out for not paying the mortgage.
Barbara tells Daniel she has multiple home sales lined up when she comes back to work. One of the homes she plans to sell is the trashed house. Daniel and Emma lie and say the house looks good.
At the office, Emma and Daniel have trouble finding home cleaners. Daniel says they'll have to clean the house themselves. Emma objects, but Daniel says it'll be the last thing he asks her to do for him.
Emma and Daniel clean the house with Grace and Damien. Grace asks Daniel if Emma is okay with him moving.
Emma jumps on a trampoline to remove a condom from a light fixture. Daniel tells her to be careful. Emma accidentally knocks the condom onto Daniel.
The gang stays up all night cleaning. Emma paints a penis on the wall to lighten things up. Daniel says she isn't doing her job and should grow up. They argue and Emma storms off with Damien. Barbara arrives and sees the penis on the wall.
While arguing about state of the house, Daniel tells Barbara he's moving with Grace to the Gold Coast. Barbara tells him to take responsibility for the trashed house with the client, Denise (Anne Cordiner).
Barbara and Daniel apologize to Denise for the messy house. They knock on the door and Emma shows them that house has been cleaned up. She says the cleaning was nothing McCallum Real Estate couldn't handle.
Daniel thanks Emma for saving him. She says she asked some road workers who owed her a favor for help cleaning. He apologizes and asks Emma to come with him and Grace to the Gold Coast.
At the office, Barbara commends Emma for cleaning the house. Emma asks Barbara if she can stay on at McCallum when Daniel leaves. Barbara agrees if she's on time and studies the real estate business. Barbara tells Daniel there would've been a place for him at the company if he wanted it.
That night, Daniel packs to leave and meet Grace's parents. Emma says she's happy for him. Daniel tells her he's glad she's here. They hug and Emma touches Daniel's butt since the moment was getting too sad.
A month later, Emma is now Employee of the Month at McCallum Real Estate. Barbara asks if she's been signing off company emails as "Charlie's Angels."
Daniel arrives back from the Gold Coast. He tells Barbara he'd like to apply for a job. He says he's still with Grace but doesn't want to miss the chance to work with Barbara and learn about the business. Barbara asks Emma to interview Daniel for the job.
Emma asks Daniel what makes him qualified to work at McCallum Real Estate. He tells Emma he's missed her. She tells Daniel he's hired. Barbara tells Emma to take down the Employee of the Month sign. Emma asks Daniel what made him give up on the mainland. "Couldn't hack it," he says.
That night, Emma and Daniel talk about how every night will be like a slumber party. Barbara tells them to go to bed.
Rosehaven airs Thursdays at 1 am/12c on SundanceTV.
Stream Rosehaven full episodes online now (Episode 101 and 201 No Login Required).