Rosehaven Recap: Episode 107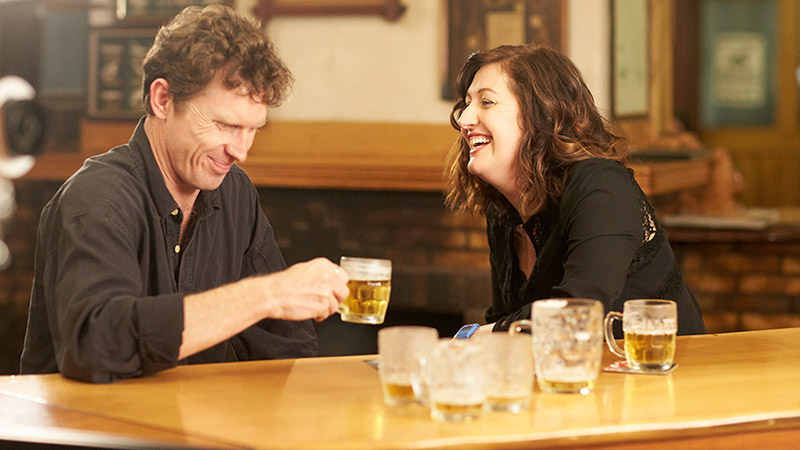 While jogging with Grace (Katie Robertson), Daniel (Luke McGregor) has trouble keeping up and gets a limp in his leg.
At the office, Daniel tells Emma (Celia Pacquola) that Barbara (Kris McQuade) has been paying for business expenses out of her own pocket. To make cuts, they need to fire Mrs. Marsh (Noela Foxcroft).
Daniel says if the accountant can find another way to save money he won't fire Mrs. Marsh. He asks Emma to come to lunch with him and Grace.
In the park, Emma realizes the lunch is a romantic picnic for Daniel and Grace. Grace gives Emma flowers from her office, since her allergies don't allow her to keep them. Daniel kisses Grace, and Emma gets up and leaves, feeling like a third wheel.
At the accountant's office, Daniel catches up with Steph (Ella Watkins). She tells Daniel she's been trying to get Barbara to sell the business. Steph suggests saving money by ending McCallum Real Estate's sponsorship of the Rosehaven Ravens Frisbee team.
At the Frisbee field, Bruce (Sam Cotton) tells the kids that Daniel and Barbara are the reason they are able to play. A kid named Timothy (Thomas Lawler) gives Daniel a card. Daniel tells Bruce that McCallum Real Estate can no longer sponsor the Ravens. Bruce tells Timothy to take back the card.
Emma tells Daniel he did the right thing ending the sponsorship. She offers to get them dinner, but he declines since he's having dinner with Grace.
Emma asks Daniel when they're going to hang out since he spends all this free time with Grace. Daniel suggests she book some time with him. Emma takes offense, saying she'll book some time with his secretary, if he doesn't fire her first. Barbara overhears them talking about firing Mrs. Marsh.
Barbara asks Daniel why he canceled the Ravens sponsorship as he isn't the boss. Daniel says he's not going to let her dig into her retirement savings and asks that she back up his decisions since he's a manager. He leaves, and Emma offers Barbara the flowers Grace gave her.
At the pub, Emma shows up to Daniel's dinner with Grace. Emma says she's there to go on a date with Damien (David Quirk).
Grace tells Daniel she received a job offer on the Gold Coast. She asks what his plans are for when Barbara comes back to the office.
Olive (Gabrielle Adkins) and some townspeople approach Daniel and ask why he canceled the sponsorship of the Ravens.
Emma tells Damien about Daniel's plans to fire Mrs. Marsh. She says he doesn't have time for her and notices the townspeople arguing with Daniel.
Emma interrupts the townspeople and says if they want to speak to Daniel, they have to make an appointment.
The next morning at the office, Daniel finds a pile of Frisbees with "monster" written on them. Daniel tells Emma he's upset that she didn't have his back at the pub. Mrs. Marsh tells Daniel that some protesters outside the office want to talk to him.
The townspeople demand their Frisbees back and boo Daniel. They chant "Ravens" as Emma and Daniel go back into the office.
Daniel says he was stupid to cancel the sponsorship since McCallum Real Estate gets business from the kids' parents. He decides to go ahead with his plan to fire Mrs. Marsh. Emma says she doesn't want to be there when he does it. He tells her to go since she's hungover anyway. She tells him she's hungover because they didn't drink together at the pub last night and he broke their system.
Emma tells the crowd that McCallum Real Estate will sponsor the Ravens and fire a nice old lady in the process. She throws Frisbees at the townspeople and storms off.
Daniel tells Mrs. Marsh he has to let her go. She laughs and says she doesn't get paid to work at McCallum. She offers to leave if he wants. He apologizes and asks her to stay forever.
Back home, Daniel tells Barbara he reinstated the Ravens sponsorship. She says she knows the business is in the red, but she can turn it around when she comes back.
Daniel tells Grace he wants to go with her to the Gold Coast. He says Barbara is looking forward to getting rid of him and Emma is an adult and doesn't need him.
While Daniel and Grace sleep, Emma and Damien stay up playing a drinking game.
Rosehaven airs Thursdays at 1 am/12c on SundanceTV.
Stream Rosehaven full episodes online now (Episode 101 and 201 No Login Required).