Rosehaven Recap: Episode 104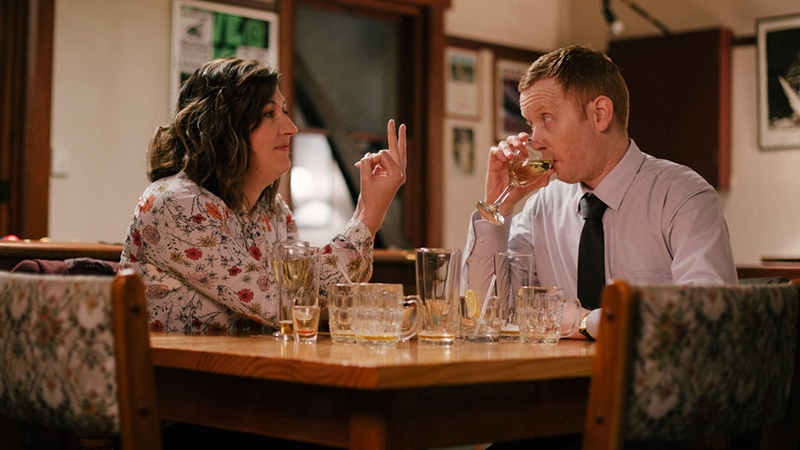 On a hike, Daniel (Luke McGregor) shows Emma (Celia Pacquola) his childhood "cubbyhouse." He reveals Barbara (Kris McQuade) built the cubbyhouse with him and it was a place where he'd go to hide from bullies.
Inside the cubbyhouse, Daniel realizes that Bruce (Sam Cotton) has turned it into his personal "man cave." Daniel admits to still feeling stressed about the real estate business and not completing his list of unresolved issues before leaving Rosehaven. Emma says she has something new for his list on their last day in town.  
In the car, Emma suggests Daniel confront Bruce about the cubbyhouse. Daniel says Bruce used to muss up his hair back in school. He decides it's time to stand up to Bruce.
At Bruce's house, Daniel chickens out and leaves.
Emma tells Daniel he needs to tackle other unfinished childhood business before he stands up to Bruce.
As part of his list of stuff he couldn't do as a kid, Daniel drinks juice after 9 a.m. and swings over a creek on a rope.
Back at Bruce's house, Daniel tries to tell him to get his stuff out of his cubbyhouse. Bruce interrupts and makes fun of how Daniel is standing with his hands in his pockets.
Emma apologizes for pushing Daniel to stand up to Bruce. Daniel can't let it go and they go off to continue tackling his childhood list.
Continuing his list, Daniel turns on a chainsaw and tells a pie shop clerk about the time he got food poisoning at the restaurant back in 1990. The clerk reluctantly apologizes. Emma pours a ketchup packet on the corner while leaving.
In the car, Emma says she wants Josh to show up and beg for her forgiveness. Daniel starts to pull up to Bruce's house but drives off for fear that Bruce might spray them with his hose.
Emma convinces Daniel to tell Grace (Katie Robertson) how he feels about her. She leaves to say goodbye to Damien (David Quirk), who Daniel calls the locksmith who unlocked her heart. Emma says she made Daniel an appointment with Grace.
In the examination room, Grace tells Daniel she has him down for a mole scan and tells him to remove his shirt and pants.
Emma visits Damien to say goodbye. They have a drink and listen to dramatic instrumental music. Inspired by the music, they throw their wine glasses against the wall and start kissing.
Grace examines a shirtless Daniel. He tells her he's leaving tomorrow as Barbara is coming back to work. Daniel tells Grace he still has feelings for her and tries to kiss her. She recoils, surprised, and Daniel picks up his clothes and walks out of the office past Olive (Gabrielle Adkins) in the waiting room.
At the office, Daniel tells Emma that he tried to kiss Grace. She reveals she kissed Damien and commends him for doing something his younger self never would've done. Emma says he's now ready to stand up to his "final boss," Bruce.
When they discover Bruce isn't home, Emma writes a note saying "F—k You. From, Dan."  Daniel stops her from leaving it.
Daniel says goodbye to Mrs. Marsh (Noela Foxcroft) at the office. She compliments him for always being on time and getting the photocopier working again.
At the pub, Daniel and Emma discuss her kissing Damien and his lack of a kiss from Grace. Daniel says he needs to let go of his fear of Bruce.
Daniel and Emma see Bruce over at the bar with friends. Daniel calls him a "piece of sh-t" and says he wants his cubbyhouse back. Bruce musses Daniel's hair. After an argument, Daniel pushes Bruce.
In a jail cell, Daniel holds a bag of ice on his head and says he's glad he resolved some childhood stuff. He thanks Emma and she says they had fun. Bruce, who is also in the cell, says it wasn't fun.
Daniel apologizes to Sgt. Greg (Kim Knuckey) for starting the bar fight. Emma asks Sgt. Greg to take their photo in the jail cell to send to Josh. Sgt. Greg says he'll get them all pizza to sober up.
Barbara arrives and Sgt. Greg explains he had to put Daniel, Emma and Bruce in a cell since everyone in town saw their bar fight. Barbara says she'll need Daniel to stay in Rosehaven longer to help her as she continues to recover from her surgery. Sgt. Greg lets Emma and Daniel out. Bruce asks if he can come see his dog. Daniel tells Barbara they have a dog now.
In the cubbyhouse, Daniel thanks Emma for getting Damien to put a lock on it. She says she hates being in the cubbyhouse. Daniel agrees and they leave.
Rosehaven airs Thursdays at 1 am/12c on SundanceTV.
Stream Rosehaven full episodes online now (Episode 101 and 201 No Login Required).