Rosehaven Recap: Episode 102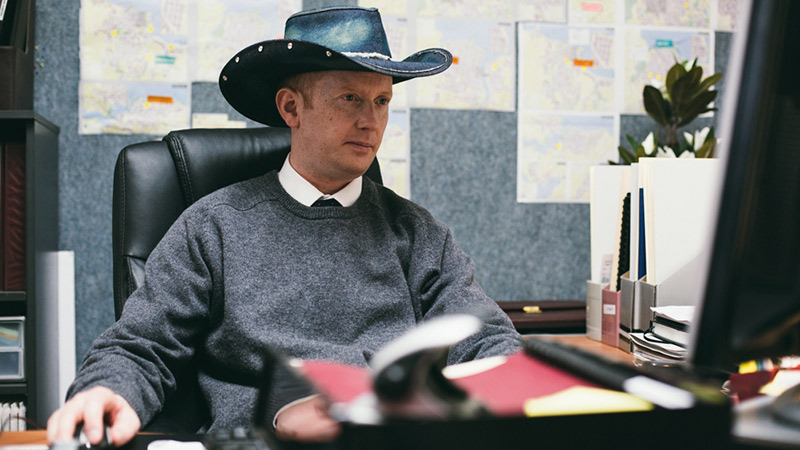 Daniel (Luke McGregor) and Emma (Celia Pacquola) arrive at McCallum Real Estate for their first day of work together. Emma asks if she has to call him "boss," and Daniel reminds her he is now her manager.
Mrs. Marsh (Noela Foxcroft) tells Daniel there are no calls or messages. Daniel practices answering the phone and selling houses. Olive (Gabrielle Adkins) and other members of the Neighborhood Watch come in and ask where Barbara (Kris McQuade) is.
Olive reveals that the locksmith has retired and his son Damien (David Quirk), who is a "weirdo" and a hoarder, is taking over. She asks Daniel to tell Damien he has no business being Rosehaven's locksmith.
While Daniel fixes the office doorbell, Emma looks for other locksmiths. She leaves to buy clothes, and Daniel says she should go on her break instead.
At the Pennyworth, Emma shops for clothes with the clerk, Gez (Susie Youssef), who asks about Daniel's sex life. Emma takes a call from her mom and lies and says she is having sex with her husband Josh on their honeymoon in Bali.
Emma returns to the office with garbage bags full of clothes. Daniel reveals that Damien charges less than other locksmiths but sounded weird on the phone. Emma is excited to come along to Damien's as he's a hoarder.
As Emma looks through Damien's stuff, Daniel asks if there is a code of ethics for locksmiths and if he's ever been to jail.
Outside, Emma says she likes Damien but Daniel says he seems a bit odd. Damien brings Daniel his wallet. Emma admits she left Daniel's wallet inside as a test of Damien's honesty.
At the office, Daniel makes a pros and cons list for Damien as a locksmith. Emma plays around with a basketball and Daniel says he wants to make the right decision for a locksmith since it's the first decision he's making for the business. Emma says Damien is just trying to follow in his father's footsteps like Daniel is with his mother. Daniel decides to go with Damien and to tell the Neighborhood Watch.
At Rosehaven Pub, Sgt. Greg (Kim Knuckey) tells Daniel that Damien is a good kid, but perhaps he's just never been caught.
Grace (Katie Robertson) tells Daniel she came to see him stand up to Olive. Emma says hello and Gez says she hears Daniel had a lot of sex when he was on the mainland.
With Emma's help, Daniel tells the Neighborhood Watch group that McCallum Real Estate will be using Damien as their locksmith and handyman. Olive agrees but says it's Daniel's head if he screws up.
Barbara calls Daniel from the hospital. She tells him he doesn't need to get into the company's online bank account and should just be answering the phone until she gets back.
Later that night, Daniel finds Emma rummaging through clothes she bought at the Pennyworth. Emma admits she doesn't want to tell her mom that she's in Rosehaven and not on her honeymoon in Bali. Daniel says he's worried that the real estate business isn't doing well since Barbara won't let him have access to the bank account.
The next morning at McCallum Real Estate, Sgt. Greg tells Emma and Daniel that the townspeople are blaming Damien for missing items in their homes. He asks them to help him calm the mob down.
At Damien's house, Olive and the townspeople yell for Damien to come out and confess to breaking into their homes. Emma offers to talk to Damien, and Sgt. Greg reveals he knows she has recently gone through a break-up on her honeymoon. Emma realizes Gez has been telling everyone her business.
Damien admits to taking stuff from the townspeople's houses.
Outside, Daniel tells the townspeople that Damien only took back the stuff that they had all borrowed from him and his father and never given back.
Damien shows Emma his sponge collection. She says she's mad at Gez for telling everyone about her break-up. Damien says at least now everyone knows.
Grace congratulates Daniel on standing up to Olive. Emma runs out wet from her sponge fight with Damien.
 
While shooting hoops, Daniel says he wishes Barbara would tell him what's going on with the business. Emma takes a call from her mom and tells her she has broken up with Josh and is staying in Tasmania for a while. Daniel says if he makes the next shot everything will work out for the both of them. He shoots and misses. 
Rosehaven airs Thursdays at 1 am/12c on SundanceTV.
Stream Rosehaven full episodes online now (Episode 101 and 201 No Login Required).