Rosehaven Recap: Episode 101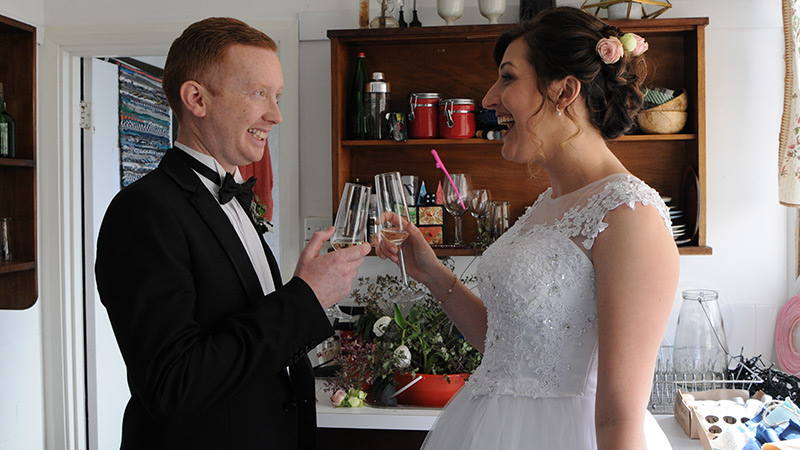 On her wedding day, Emma Dawes (Celia Pacquola) gives her best friend Daniel McCallum (Luke McGregor) a locket with her picture inside. He says it's weird, but she insists he take it since he's moving away to Tasmania to help his mother run the family real estate business. He resists putting it on, but Emma tells him he's being ungrateful. Daniel puts on the locket. Emma laughs at her successful prank.
Daniel helps Emma use the bathroom by holding her wedding dress.
In Tasmania, Daniel drives with the locket Emma gave him hanging from the mirror and listens to a business advice tape. Sgt. Greg Hardwick (Kim Knuckey) pulls Daniel over and they talk about the anti-bullying classes Hardwick taught when Daniel was in school. Daniel says he's helping his mother with the real estate business. Sgt. Hardwick gives him a speeding ticket with "sorry" written on it.
At McCallum Real Estate, Daniel says hello to Mrs. Marsh (Noela Foxcroft), his old babysitter who works for his mother.
Daniel visits some tenants of Terry's (Rodney Afif). Terry rushes in to use the bathroom without asking. The tenants tell Terry he shouldn't use their bathroom just because he's the landlord. The tenants fight with Terry and are interrupted by the arrival of Daniel's mother, Barbara McCallum (Kris McQuade).
Over dinner, Barbara tells Daniel that he is just covering for her while she has her back operation. Emma arrives and says she decided to visit Tasmania instead of being on her honeymoon in Bali.
Emma reveals to Daniel that her husband Josh left her on their honeymoon. She breaks one of Daniel's childhood toys and asks if she can have some clothes since she only packed for the beach.
The next morning, Emma asks if she can come to work with Barbara and Daniel.
At the doctor's office, Daniel bumps into his ex-girlfriend Grace (Katie Robertson). Emma says she has heard a lot about her from Daniel. Grace reveals she has lost weight and tells Daniel to make sure Barbara follows the doctor's instructions after her surgery. She asks Daniel to come and see her sometime for a check-up.
Walking around Rosehaven, Emma notices how quaint everything is. Barbara asks Daniel how long Emma will be staying with them.
At McCallum Real Estate, Barbara gives Daniel instructions for the office. Emma takes a call from her mom and lies and says she's in Bali. Barbara gets a call about a tenant having a dog in a home which doesn't allow pets. Daniel and Emma offer to take care of it.
Daniel realizes the tenant with the dog is Bruce Hardwick (Sam Cotton), an old classmate who used to bully him. With Emma's encouragement, they go inside.
Inside the house, Bruce denies having a dog. He recognizes Daniel from school and recalls the pranks he used to pull on him. Bruce calls in his giant dog.
In the car, Emma tells Daniel she convinced Bruce to give his dog to a friend.
Later at the office, Emma tells Barbara that it was Daniel who convinced Bruce to give up the dog.
Daniel and Emma say goodbye to Barbara as she heads off to the hospital. Emma ignores a call from Josh.
Emma and Daniel have beers and talk about the fact that she's single now despite still being married. Daniel suggests she work with him at the real estate office. Bruce arrives with the dog which Emma has agreed to keep. He says the dog bites and hasn't had any shots. Daniel looks at the dog and then at Emma. 
Rosehaven airs Thursdays at 1 am/12c on SundanceTV.
Stream Rosehaven full episodes online now (Episode 101 and 201 No Login Required).