Critally-Acclaimed Australian Comedy Rosehaven to Make Debut on SundanceTV September 27 at 11/10c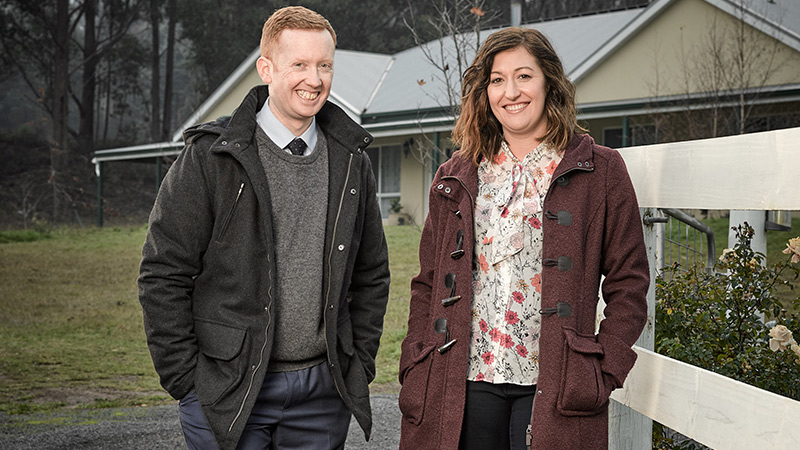 SundanceTV will premiere the first season of acclaimed Australian comedy series, Rosehaven, on Wednesday, September 27 at 11/10c with two back-to-back episodes for the first four weeks. The quirky, small town series created by, written by, and starring real-life best friends and comedians Luke McGregor (Luke Warm Sex, Utopia) and Celia Pacquola (Utopia, The Beautiful Lie), marks SundanceTV's first foray into the comedy genre. The hilarious and charming eight-episode series, set in rural Tasmania, has been praised as "clever, insightful, surprising – and, most importantly, really funny" by The Sydney Morning Herald.
As previously announced, the network is co-producing the second season of Rosehaven with The Australian Broadcasting Corporation (ABC), Screen Tasmania and Screen Australia, which is set to premiere Wednesday, October 25 at 11/10c, immediately following the finale of Season 1. The eight-episode second season will roll out with one episode each week.
In Rosehaven, Daniel McCallum (McGregor) returns to his rural Tasmanian hometown, Rosehaven, to help his intimidating mother (Kris McQuade) with her real estate business. He gets a surprise when his best friend from the mainland, Emma (Pacquola), turns up on his doorstep after her honeymoon is cut short when her husband decides to leave Bali – and their relationship – early. In no time, Daniel and Emma are thrown into the center of small-town life with Daniel confronted at every turn by the ghosts of his adolescent past and a town that hasn't moved on. All the while, Emma is lapping up her anonymity in Rosehaven and newfound life on the lam. Soon enough, these two best buddies find both their friendship and their sanity put to the test by the charming, but deeply eccentric townsfolk of Rosehaven.
The series co-stars Kris McQuade (Wentworth), Katie Robertson (The Kettering Incident) and David Quirk (Please Like Me). Rosehaven is a What Horse? / Guesswork Television production presented by Screen Tasmania, Screen Australia, the Australian Broadcasting Corporation and SundanceTV in association with Film Victoria. The series was created and written by Luke McGregor and Celia Pacquola. Kevin Whyte serves as executive producer, alongside executive producers for the Australian Broadcasting Corporation, Rick Kalowski and Brett Sleigh. Rosehaven is directed by Jonathan Brough and Shaun Wilson, produced by Andrew Walker and co-produced by Fiona McConaghy. Episodes will be available on sundance.tv the day after they air.
Sign up for the SundanceTV newsletter to be among the first to receive updates, full episodes and video extras from Rosehaven.