Cast Members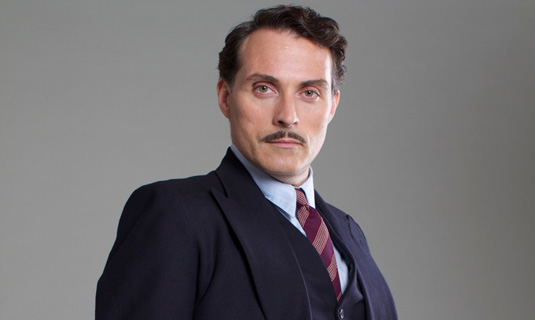 Rufus Sewell is a leading British actor of film, television and theatre. He most recently starred in cinemas in Timur Bekmambetov's ABRAHAM LINCOLN: VAMPIRE HUNTER, and he has four other feature films in line for release: ALL THINGS TO ALL MEN, directed by George Isaac; THE OCCULT, directed by Christian Christiansen; I'LL FOLLOW YOU DOWN, directed by Richie Mehta; and the ground-breaking HOTEL NOIR, directed by Sebastian Gutierrez.

Sewell first gained attention on screen for his performance as 'Will Ladislaw' in the BBC adaptation of Middlemarch. He received further acclaim in Christopher Hampton's feature film CARRINGTON, opposite Emma Thompson and Jonathan Pryce, as well as in John Schlesinger's COLD COMFORT FARM.

Sewell's other films include: THE TOURIST, directed by Florian Henckel von Donnersmarck; VINYAN, directed by Fabrice du Weltz; DOWNLOADING NANCY, directed by Johan Renck; THE ILLUSIONIST, directed by Neil Burger; Wes Craven's PARIS JE TAIME; THE HOLIDAY, directed by Nancy Meyer; THE LEGEND OF ZORRO, directed by Martin Campbell; TRISTAN & ISOLDE, directed by Kevin Reynolds; A KNIGHT'S TALE, directed by Brian Helgeland; DARK CITY, directed by Alex Proyas; DANGEROUS BEAUTY, directed by Marshall Herskowitz; ILLUMINATA, directed by and co-starring John Turturro; THE VERY THOUGHT OF YOU, directed by Nick Hamm; BLESS THE CHILD, directed by Chuck Russell; VICTORY, directed by Mark Peploe; HAMLET, directed by Kenneth Branagh; THE WOODLANDERS, directed by Phil Agland; and A MAN OF NO IMPORTANCE, directed by Suri Krishnamma.

Sewell's television work includes the role of Petruchio in the critically acclaimed BBC production of The Taming of The Shrew, for which he was nominated for Best Actor at the BAFTA Television Awards, and lead roles in Zen (Left Bank Pictures/BBC), Pillars of the Earth (Starz/Channel 4), Eleventh Hour (produced by Jerry Bruckheimer) and John Adams (HBO). He also memorably played the title role in Charles II, directed by Joe Wright for BBC Television.

On stage, Sewell made his West End debut in 1993 as 'Thomas Kratsky,' the Czechoslovakian hustler, in Making It Better, which garnered him the London Critics Circles' Best Newcomer Award, and the following year he played 'Septimus Hodge' in the original production of Tom Stoppard's Arcadia at the National Theatre, for which he was nominated for Best Supporting Actor at The Olivier Awards. In 2009, Sewell played 'Jan' in another Stoppard play, Rock n' Roll, which won critical and popular acclaim first in London (at The Royal Court and the Ambassadors Theatre), where he won the Best Actor awards at the Evening Standard, London Critics' Circle and Olivier Awards, and then on Broadway, where he received a Tony Award nomination and a Drama Desk nomination for Best Actor. Other theatre credits include: the Broadway revival of Brian Friel's Translations, opposite Brian Dennehy and Dana Delany; Rat In the Skull, directed by Stephen Daldry at The Royal Court; Macbeth, directed by John Crowley; Luther, directed by Peter Gill at the National Theatre; 'Darcy' in Pride And Prejudice at Royal Exchange Manchester; and As You Like It, The Seagull, and The Government Inspector, all at the Crucible Theatre in Sheffield.