"RECTIFY" Recap: Season 4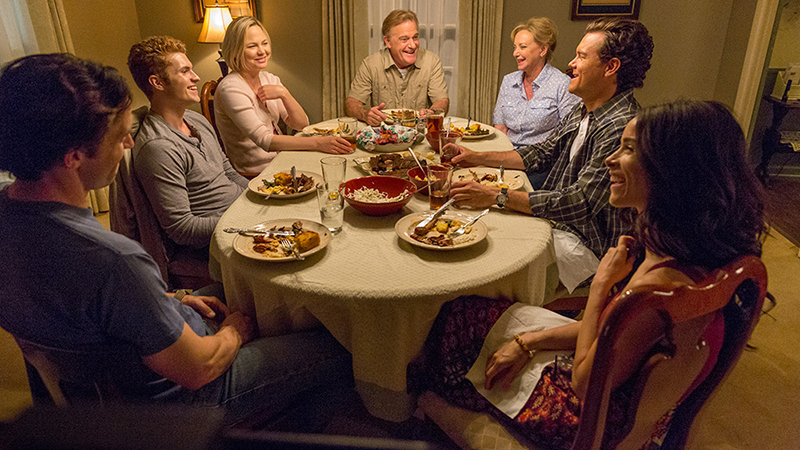 Daniel settles into his new life in Nashville, where he lives at the New Canaan Project and works at a warehouse. He attends group counseling sessions with New Canaan counselor Avery and his housemates Pickle, Nate, Tyrus and Jesse, but is reluctant to open up.
After Daniel's roommate Jesse runs away, Pickle, Nate and Tyrus warn Daniel that Jesse may have stuck around if Daniel had been more supportive. Daniel confides in Avery about the psychological damage he suffered while in solitary confinement. Avery suggests Daniel see a therapist who specializes in PTSD.
Daniel meets a woman, Chloe, who is part of an artist cooperative. She learns about his past from a Google search and tells Daniel that she is pregnant.
Jon begs his boss at Justice Row to let him strengthen the case for Daniel's innocence, but his boss refuses.
Tawney and Teddy meet for a date night in an effort to salvage their marriage.
At the nursing home where she now works, Tawney takes care of Zeke, one of the more difficult residents.
Amantha runs into high school classmate Billy Harris after her car breaks down. To save money for a new car, she moves in with Janet and Ted, Sr. while Teddy rents her apartment. Billy later takes Amantha on a hunting date.
Janet grows despondent when Daniel evades her calls. She decides to visit Daniel in Nashville.
Jon quits Justice Row and tries to discuss Hanna's murder investigation with Sheriff Daggett.
Chloe and Daniel visit the home of a famous musician to deliver and pick up art for an auction. They kiss when Chloe drops him off at home.
A national pharmacy chain offers $650,000 to buy the tire shop building from Janet.
Jon tries to speak with former sheriff C.J. Pickens at his house but C.J. turns him away. Jon speaks to a woman who was at the party in the woods on the night Hanna was murdered. The woman recalls that only seven of the kids from the party were officially interviewed, not including Chris Nelms.
Teddy stews over the tire shop offer during a date night. Tawney takes issue with Teddy's anger but later calls Teddy to apologize.
Teddy visits Tawney and they agree to divorce.
Jon asks Trey why Chris never fell under suspicion during Hanna's murder investigation. Trey shares his belief that Chris killed Hanna.
Daniel grows angry at his new roommate, Manny, for masturbating while Daniel is in the room. The housemates defend Daniel against Manny's anger. Pickle becomes Daniel's new roommate.
Sheriff Daggett gives Jon a copy of Chris' sworn affidavit in which he testifies to raping Hanna.
Janet and Ted, Sr. visit Daniel in Nashville. Daniel introduces Janet to Chloe. At the end of the trip, Ted, Sr. agrees with Janet that they should sell the tire shop.
Jared helps Janet clear out the garage and attic of items that she no longer needs.
Tawney cries at Zeke's side as he dies.
Jon implores D.A. Sondra Person to invite the Georgia Bureau of Investigation to look into Hanna's murder, given all the new evidence that has come to light.
Daniel tells Chloe that he was sexually assaulted in prison multiple times. At Chloe's insistence, Daniel finally starts therapy. The therapist records Daniel's account of getting raped in prison. Daniel re-listens to his rape account in an effort to become "bored" with it.
Teddy hints to Ted, Sr. that he may want to leave the tire business.
Bobby Dean apologizes to Amantha for nearly killing Daniel and gives her a letter from Mrs. Dean to Janet. Janet visits Mrs. Dean, who tells Janet that she now believes in Daniel's innocence.
D.A. Person and Sheriff Daggett interrogate C.J. Pickens about the investigation into Hanna's murder. They learn that Senator Foulkes swayed the investigation against Daniel and that Chris was protected by his father, Roger, a friend of Senator Foulkes.
Chloe moves to Ohio and leaves behind a painting and a book for Daniel.
Jon tells Janet and Amantha that D.A. Person has asked the GBI to open a new inquiry into Hanna's murder. He drives to Nashville to update Daniel on the latest developments.
D.A. Person holds a press conference to announce that the GBI is opening a new investigation into Hanna's murder after new details raised doubts about the validity of the original investigation.
Trey tells Sheriff Daggett that Hanna bit Chris' hand on the night of her murder when he tried to have sex with her — and that Chris hid his hand from police the following day.
Daniel talks on the phone with Janet about the new investigation. Teddy gets on the phone with Daniel in an attempt to give Daniel his father's ceramic mechanic, but Daniel insists Teddy keep it. Teddy tells Daniel he's sorry for everything that's happened to Daniel before handing the phone to Tawney. She and Daniel briefly catch up before saying goodbye.
Daniel dreams about reuniting with Chloe.
Find out where to stream, download or purchase Seasons 1-4.a>