3 Final Questions for the Cast of "RECTIFY"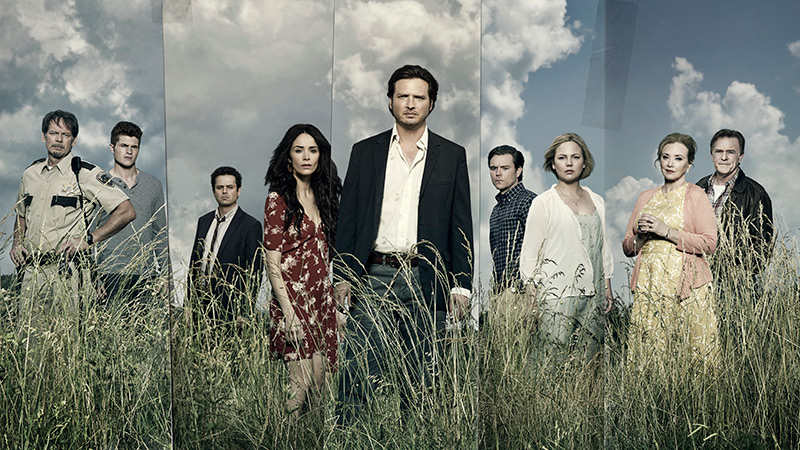 Now that the curtain has drawn on the final season of RECTIFY, we asked three questions to determine the cast's favorite personal and character moments from all four seasons. Read on for their final thoughts.
Q: What's your favorite scene or line of dialogue from your character?
Abigail Spencer (Amantha): "DNA's a mofo, y'all."
Adelaide Clemens (Tawney): "Will you dance with me, Daniel?"
Bruce McKinnon (Ted, Sr.): Each of us actors put so much emotional investment into our roles and in every single scene and line, it's impossible for me to single out a particular one for my character. I'll leave that to our audience to answer.
Clayne Crawford (Teddy): My favorite scenes would be Season 1, Episode 2—Daniel and Teddy at the golf course—at the driving range … Sitting on that bench, I knew I had no dialogue, really. But I had to make Teddy fall apart. … That scene and then the scene with Teddy and [Jared] outside of the house where Tawney is staying and … it's the first time he lost his virginity and how horrific of a moment that was. It kind of gave us a window into who Teddy was and why he's turned out the way he has.
J.D. Evermore (Sheriff Daggett): They're actually one in the same. The scene where Teddy comes to my house and spills the coffee beans in my kitchen, so to speak … "In hindsight."
J. Smith-Cameron (Janet): Gosh. There have been so many. I think [to Amantha]: "The world is absurd."
Luke Kirby (Jon): It's gotta be: "Who's Roger?"
Q: What has been your favorite moment filming RECTIFY?
Abigail Spencer (Amantha): Too many. They are all my favorites. A new adventure every scene. Every day. I loved Episode 1 driving around with Daniel. Going to the Target. I loved the County Line scene with Jon Stern. Laying in the grass and smoking. Telling off Sheriff Daggett. Going to the Thrifty Town convention and telling a bunch of strangers my deepest darkest. The bar scene with Forrest. And on and on…
Adelaide Clemens (Tawney): It would have to be the break-up scene with Teddy. I learned so much that day. I've never been challenged so much as an actor. Ray said to me, "Buddy, I know you got sadness in you." It was an overwhelming feeling at the time, and yet it has given me a new sort of confidence since.
Bruce McKinnon (Ted, Sr.): When I was told I won the part of Ted, Sr. by Ray after my final audition.
Clayne Crawford (Teddy): The first season was really special. We all found ourselves in this little tiny town in Griffin, Ga. with what was the best piece of material I had ever read. Especially for the small screen. And we all knew from the onset that it was special simply because Sundance had gotten involved. And we all knew how special Ray was, as an actor … I didn't know how unique this was going to be. For us all to be in that little town in the middle of summer, we really meshed as a family and we discovered things in that material. We had rehearsals and read-throughs and went to the locations and were talking about the scenes. It was a lot like going to actor camp, and we really molded and meshed together as a single unit that first season. And it was just special, and it's not something that we could ever duplicate.
J.D. Evermore (Sheriff Daggett): Watching the scene with Daniel and Kerwin in the pecan orchard being shot. I was at a distance and wasn't wearing headphones, so I couldn't actually hear the dialogue, but I had read the script and knew the scene and it had brought tears forth as I read the words on the page, so I didn't even need to hear the dialogue as I watched the scene play out from a distance to have the tears flow again. I don't think there was a dry eye on the set that day as we all witnessed that beautiful scene.
J. Smith-Cameron (Janet): I loved filming our group family scenes because it was such an incredibly fun, interesting group of people. I loved working with Aden. The day in Season 1 where Janet and Daniel bond and do all these things together and then have to survive the parking lot paparazzi moment — that was a richly rewarding sequence, even though it was incredibly hot and so emotional … I loved breaking the eggs. I loved that they let me take my purse to bed with me in Season 1 after I left all the groceries out. That wasn't in the script. I just felt I wanted to try it. For some ladies, their purses are their security blankets.
Luke Kirby (Jon): It's unfair and reckless to pick favorites. But I will say any opportunity to become unmoored with laughter or despair while a whole crew looks on is true gift. Thanks to them for their patience and commitment.
Q: What was your favorite thing about how/where your character's journey ended?
Abigail Spencer (Amantha): My favorite thing about where my character's journey… is that it hasn't ended. Amantha will have a very full life long after the credits roll and the town has gone dark. … It's been an honor to inhabit her spirit and bring Ray's characters, the world inside his head, to life.
Adelaide Clemens (Tawney): It was so interesting to me to play Tawney as her own person, rather than an extension of Teddy, this season. I gave a lot of thought to the parallels of her situation now (Season 4) and her upbringing. However, with the help of Rebecca it is not as painful anymore. It is cathartic.
Bruce McKinnon (Ted, Sr.): There is hope after all.
Clayne Crawford (Teddy): The 180 was nice. You think of Teddy in that truck in that first season when Tawney comes out with the cupcakes, and she asks him if he wants to pray, and he goes, "I don't want to pray about everything, Tawney." And you think about the guy who, on the phone with Daniel, says, "There's someone here who wants to talk to you." And Teddy turns and hands that phone to his wife. It's the hardest thing that young man has ever had to do, and that's the joy and the greatest gift I take away from that series. Ray gave us true art, and we were different human beings than when we started. And that's what you want as an actor. And it's so extremely rare. I think we're all just eternally grateful.
J.D. Evermore (Sheriff Daggett): I'm just happy that Carl was one of the catalysts that helped solve this case and bring closure and heal the many wounds that it brought. And that he didn't rape and kill Hanna.
J. Smith-Cameron (Janet): I think when I pulled Amantha in close to lean against me, when I'm on the phone with Daniel in the last episode — it was an instinctive reaction to Amantha coming up behind me for her turn on the phone — it speaks volumes about the affection and possible new beginning of family harmony. It was a tricky, tricky sequence to film, for all departments. We were figuring out the blocking and putting marks down and I just pulled her next to me and everyone behind the camera said, "Yes! Perfect! That works!" As eloquent and verbal and profound as the dialogue is in RECTIFY, just as eloquently written are the unspoken moments.
Luke Kirby (Jon): I'm glad to see that, except being bound by determination, all things remain murky for Jon. Can't wait to see what happens next season … wait, wha—?
Need to catch up on RECTIFY? Find out where to stream, download or purchase Seasons 1-4.