10 "A Few Good Men" Truths You Can't Handle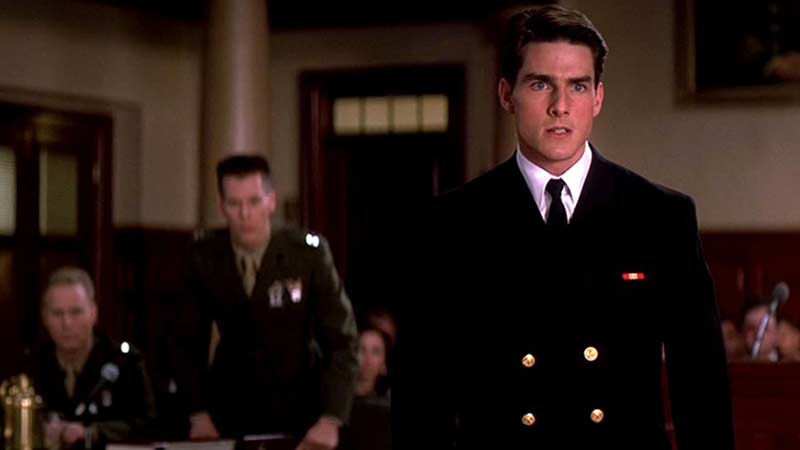 Few movie moments are as powerful as the scene in A Few Good Men when Col. Jessup (Jack Nicholson) bellows "You can't handle the truth!" at Lt. Kaffee (Tom Cruise). Rob Reiner's film adaptation of Aaron Sorkin's acclaimed play is still as gripping today as it was when it was released back in 1992. Take a look at some facts that might be too true to handle:
1. Aaron Sorkin's sister inspired the story
A Few Good Men is based on a real case involving a "Code Red" military hazing at Guantanamo Bay that Sorkin's sister Deborah worked on during her time with the Navy Judge Advocate General's Corps. Sorkin was inspired by the story of a superior officer who ordered a hazing that turned violent, and based Demi Moore's Lt. Galloway character on his sister.
2. Sorkin wrote the play on napkins
While working as a bartender at the Palace Theater on Broadway, Sorkin scribbled what would become his Tony-nominated play on bar napkins. Considering how hyper verbal Sorkin's characters tend to be, we imagine he went through quite a lot of them.
3. A marine involved in the real case died mysteriously 
David Cox, one of the soldiers accused of beating a fellow Marine in a "Code Red" hazing, was acquitted and eventually honorably discharged. When the film came out, Cox, who claimed to have tried to stop the hazing, took issue with how the Marines were portrayed. In 1994, Cox was found dead, shot four times while wearing his military fatigues. His murder is still unsolved.
4. Joshua Malina reprised his role from the play
A Few Good Men opened at Broadway's Music Box Theater in November of 1989 with a cast that included Tom Hulce as Kaffee, Clark Gregg as Lt. Ross and Avatar baddie Stephen Lang as Col. Jessup. Joshua Malina, who also appeared in the play, was the only cast member to reprise his role in the film version. Malina would go on to become a regular on Sorkin's television shows.
5. Sorkin makes a cameo in the film
Look for Aaron Sorkin as a lawyer talking with a woman about a case as Kaffee sits at a bar. Perhaps he was jotting down notes for The West Wing on napkins between takes.
6. Kiefer Sutherland couldn't "handle" the Humvee
The scene where Lt. Kendrick drives Kaffee and his team around the base proved difficult for Sutherland. Driving the military vehicle was no easy feat, and Sutherland accidentally hit a few Marines in the process.
7. Nicholson recited the courtroom speech many times
Jessup's famous speech didn't come easily – Nicholson delivered the "You can't handle the truth!" moment 40-50 times during filming. He later said that his huge salary ($5 million for 10 days of work) was "money well spent."
8. Several lawyers believed they were the basis for Tom Cruise's character 
Four lawyers involved in the case that inspired A Few Good Men claim to have been the basis for Lt. Kaffee of the JAG Corps. David Iglesias, a former Naval lawyer who was later fired by the George W. Bush administration, boasted for years that Kaffee was based on his work on the trial. Fellow JAGs Donald Marcari, Walter Bansley III and Chris Johnson have also claimed to be the inspiration for Cruise's character. However, Sorkin told the New York Times through a spokesperson that Kaffee is "entirely fictional."
9. Rob Reiner included a nod to Misery
A Few Good Men was Reiner's follow-up to his hit Stephen King adaptation Misery. Reiner paid tribute to James Caan's fictional author by putting a copy of the book Misery's Revenge in Kaffee's apartment. If anyone could get Col. Jessup to tell the truth, it's Annie Wilkes.
10. The title came from a Marine recruiting slogan
The Marine Corps at one time recruited soldiers with the tagline "We're looking for a few good men." Over the years the slogan was phased out for the more gender-neutral phrase "The Few. The Proud. The Marines."
Need to catch up on RECTIFY? Find out where to stream, download or purchase Seasons 1-4.