Top 10 First Days of Freedom in Movies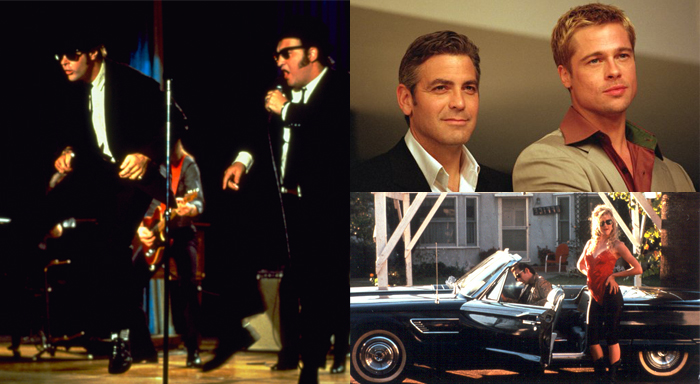 When a movie character goes off to jail, questions arise. Who will they meet inside? Will they ever get out? When they do get out, what will they want to eat? Here's a list of movies that use prison as a way of launching characters into the world, as well as into the heart of the movie fan.
1. A Clockwork Orange
False-eyelashed thug Alex (Malcom McDowell) finds himself caught up in a prisoner experimentation program in this futuristic exploration of violence and free will. Craziest moment: McDowell's forced pacifism is tested by a rude man and a naked woman in front of an audience of leering prison psychiatrists.
2. Buffalo '66
Billy (Vincent Gallo) gets out of prison, searches in vain for a bathroom, then kidnaps tap-dancer Layla (Christina Ricci) and forces her to be his pretend-wife in this romantic comedy classic. Best Ricci moment: tap-dancing hypnotically in an empty bowling alley to King Crimson's "Moon Child."
3. Chicken Run
This powerful movie tells the story of an escape from a WWII prisoner-of-war concentration camp, except the inmates are chickens and the Nazis are farmers. Best dance moment: a sex-crazed rooster named Rocky (Mel Gibson) rouses the chickens to action by starting a wild party with Joe Turner's jump blues classic "Flip, Flop and Fly."
4. I Love You Phillip Morris
Steven (Ewen McGregor) and Phillip (Jim Carrey) are prison-bound lovers in this criminally unseen romantic comedy. Most unpredictable moment: after fleeing from (and returning to) prison three times, Carrey pulls off one last jaw-dropping escape to be reunited with the love of his life.
5. Chopper
Eric Bana plays the infamous Australian gangster Mark "Chopper" Read in this harrowing tale of a dangerous life in and out of jail. Most excruciating moment: mistakenly believing he will be transferred to a safer prison section, Chopper hires an inmate friend to cut off his ears.
6. O Brother, Where Art Thou?
"We're in a tight spot!" hollers Ulysses (George Clooney), one of three escaped singing hobos making their way across '30s Mississippi in this tribute to Homer's Odyssey and the music of the American south. Best musical moment: a stellar performance of "Man of Constant Sorrow" culminates with a racist politician being driven out of town on an actual rail.
7. Ocean's 11
Steven Soderbergh's candy-colored remake of an unwatchable '60s Rat Pack heist movie crackles with zippy energy. Best moment: glowering casino owner Terry (Andy Garcia) realizes exactly how ex-con Danny (George Clooney) has stolen his fortune.
8. Raising Arizona
"We released ourselves on our own recognizance," explains escaped convict Gale (John Goodman) to ex-cop/fraudulent mom Ed (Holly Hunter) in this classic screwball tribute to crime and parenthood. Wildest moment: Gale and partner Evelle (William Forsythe) emerge from a prison sewer during an apocalyptic lightning storm, screaming and covered with poop.
9. The Blues Brothers
"Bring me four fried chickens and a Coke," demands newly-released convict Elwood (Dan Akroyd) in this musical comedy epic about two singing and dancing brothers on a mission from God to save their childhood orphanage. Best musical moment: faced with a hostile crowd of rabid country music fans, the Brothers perform a rousing rendition of the TV theme song "Rawhide," complete with cracking whips.
10. Wild at Heart
Sailor (Nicolas Cage) kills a would-be assassin sent by his girlfriend's mother, goes to prison, gets out, puts on a snakeskin jacket and does an Elvis impersonation&emdash;all in the first 10 minutes of this hallucinogenic crime thriller about lovers on the run. Weirdest moment: Glinda the Good Witch appears to a beat-up Cage and declares, "Don't turn away from love, Sailor!"