"RECTIFY" Recap: Episode 305 (The Future)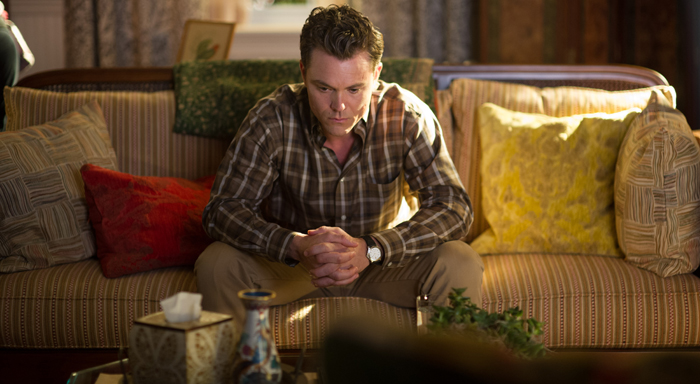 Daniel buys more paint at the pool supply store and hurries back to remove the paint he spilled in the pool the night before.
Melvin informs Amantha that his boss is forcing Daniel to leave after tenants complained about his presence.
Teddy goes to therapy without Tawney, who has left Beth's house without telling him her whereabouts. He shares his fear that he's not right for Tawney. Rebecca reminds him that Tawney had a very difficult childhood and is still figuring out what's right for her.
Tawney helps out in the kitchen at Miss Kathy's house. While speaking to one of Miss Kathy's foster girls, Tawney discloses that her mother abandoned her as a child.
Daniel scrubs the pool clean. Melvin insists on paying for the new paint and additional labor, even after Daniel admits to creating the mess.
Janet visits Murphy's Diner. As Marcy serves her coffee, Janet explains that her late husband used to love eating at Murphy's.
Sheriff Daggett visits Chris Nelms to question him about George. Chris admits that George called two months ago with concerns about Daniel's release from prison — but claims not to know what specifically worried George. Daggett requests a DNA sample from Chris to compare with DNA from Hanna's underwear. Chris refuses to speak further without a lawyer.
Janet bonds with Marcy and formally introduces herself.
Miss Kathy urges Tawney to get an education so that she can be self-sufficient. She offers Tawney a spare bed and comforts her. "You always did feel things hard," she says.
Sheriff Daggett summons Daniel to the station to ask more questions about his trip to Florida. Daggett explains that George's DNA was found on Hanna's underwear and surmises that Trey, Chris and others raped Hanna that night. He reveals that George tried to confess years ago and might have been killed by Trey when he threatened to confess again. Knowing that he is no longer a suspect, Daniel starts cooperating with the system in a new way. Daniel lets his guard down and tells Carl that Trey brought a bag to Florida.
At home, Janet checks in with Jared and encourages him to vent. Jared complains that no one tells him what's going on within the family. She promises to tell him everything once Daniel settles into his new place.
As Daggett takes notes, Daniel recalls that Trey waited until he was asleep to bring his duffel bag into George's trailer. Trey then went into George's bedroom, where Daniel found George's wallet the next morning. Daggett asks if Daniel saw Trey with George's cell phone. Daniel remembers it being on the coffee table when he woke up, to which Daggett responds, "Are you sure?" Daniel corrects himself, remembering that the phone was also in George's bedroom, aligning him with Daggett's facts, and the truth.
After the interview, Daniel walks out of the station in a daze.
Teddy calls Tawney and offers to move out of the house while she figures things out on her own time. He swallows his disappointment when she turns down the offer. "You're not alone, Tawney," he says.
Amantha informs Daniel that he must leave the apartment by midnight. Daniel tells her that he's no longer a suspect in George's death. His spirits lifted, he vows to finish the pool before midnight.
As Ted, Sr. and Teddy work on the kitchen renovation, Janet announces that Daniel is coming back to live with them. "I understand," Ted, Sr. says. Janet tells Teddy that her heart breaks whenever she thinks about what Daniel did to him. She goes on to say that she is going to help Daniel, who, while damaged and sick, is not a bad person. Stunned that Janet and Ted, Sr. know about the assault, Teddy nods in silence and avoids his father's gaze after Janet leaves.
As Daniel finishes the pool, Jon informs him that Tennessee approved his transfer. Janet and Jared join Daniel, Amantha and Jon for poolside beers. Janet is thrilled to hear that Daniel is no longer a suspect in George's death.
Carl shows up at Trey's house with a search warrant.
As they stargaze by the pool, Daniel tells Janet he wants to leave Paulie the next morning. He proposes a mother-son road trip. "It's over, mother," he says. They tear up.
Trey watches TV with his family as Carl's officers search his home. The search team enters the backyard shed and opens a metal box that hides keys and a scrunchie.
Need to catch up on RECTIFY? Find out where to stream, download or purchase Seasons 1-4.