"RECTIFY" Super-Recap: Seasons 1 and 2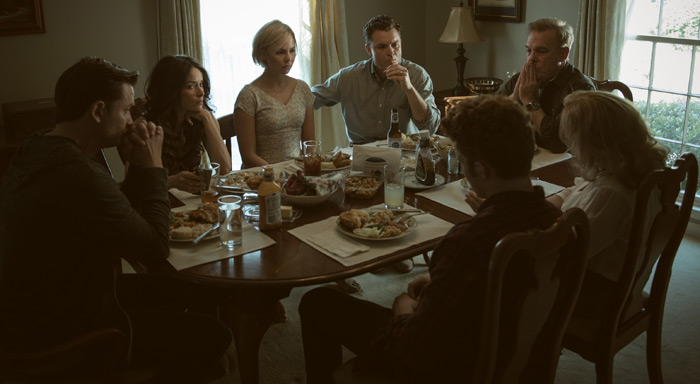 RECTIFY is a haunting drama about a man released after 19 years on death row and his family's struggle to accept the return of a son they'd already begun to mourn.
As a teenager, Daniel Holden was sentenced to death for the murder of Hanna Dean. He had long since accepted his fate when — after years of failed appeals — his sister Amantha and lawyer Jon Stern used DNA evidence to overturn his conviction.
After nearly two decades of total seclusion, Daniel is slow to fully embrace his new freedom. Simple pleasures like watching a DVD with his half-brother Jared or listening to an old mixtape from Hanna are almost more than he can bear at first. But day by day, he wades into his new life, wandering through a Walmart with his mom, Janet and visiting his stepdad, Ted Talbot, Sr., at the family tire store. He also finds himself drawn to his tenderhearted sister-in-law Tawney — much to the annoyance of her jealous husband, Teddy Talbot.
Still, Daniel's legal worries aren't over. D.A.-turned-State-Senator Roland Foulkes believes he found the right man, and Sheriff Carl Daggett is already re-visiting the case against Daniel, in anticipation of a retrial. Meanwhile, George Melton — who twenty years earlier testified against Daniel — meets another witness, Trey Willis, on a bluff over the River Flint. He tries to get Trey to discuss what really happened that night, without success. After Trey leaves, a despairing George shoots himself.
A devout Christian, Tawney feels compelled to offer her friendship to the troubled Daniel. But when Daniel agrees to be baptized, Teddy sees it as a ploy to spend more time with his wife and warns his stepbrother to keep his distance. Daniel agrees, well aware that his feelings for Tawney are not entirely chaste. Unfortunately, Teddy is not satisfied and needles Daniel about the assaults he suffered as a death row inmate. Daniel bridles under Teddy's taunts and chokes him out, rendering him unconscious. Teddy wakes up alone moments later, with his pants around his ankles and — bizarrely — coffee grounds heaped in the crack of his ass.
Troubled by George's disappearance, Trey returns to the bluff and discovers George's corpse. Trey carries the late George Melton down to the river and pushes the dead body into the current.
After the bombing of the Talbot family mailbox, it becomes apparent that Daniel needs to get out of Paulie. Amantha and Jon plan a move to Atlanta while Daniel visits Hanna Dean's grave and listens to her mixtape, realizing too late that he's been followed by Hanna's vengeful brother Bobby Dean. Bobby and his friends brutally assault Daniel, leaving him near death.
The Holden and Talbot families are left reeling by the attack and it is several weeks before Daniel returns home — weaker, still recovering from broken ribs and fractured bones, but without any serious cognitive issues. Yet Daniel refuses to identify Bobby Dean as his attacker —going so far as to describe an assailant who looks nothing like Bobby.
Daniel and his family begin the hard work of healing from the aftermath of his release. Amantha realizes she's staying in Paulie and finds work at the local Thrifty Town. Jon Stern turns his attention to other death row clients. Inspired by Janet's dream of a new kitchen, Daniel tears out the outdated cabinets and linoleum in his childhood home.
But the past keeps pulling Daniel back. In search of George, Daniel visits Trey and gets tangled in Trey's web of lies. The two men end up spending the night in George's trailer in Live Oak, Fl, waiting for George to turn up, or so Daniel believes. After provoking Daniel into a fight, Trey abandons Daniel at the trashed trailer. Stuck in Florida, Daniel is forced to call the one person he trusts to come get him: Tawney Talbot.
Tawney's time with Daniel further damages her already shaky marriage. Teddy remains deeply traumatized by the coffee incident, but unable to tell Tawney, he ends up confiding in Sheriff Daggett, who immediately sees a pattern of violence in Daniel's actions. He and Senator Foulkes urge Teddy to press charges, but Teddy is unwilling to publicly acknowledge what happened.
DA Sondra Person offers Daniel a deal: If he pleads guilty to murdering Hanna Dean, he'll be sentenced to time served and banishment from the state of Georgia. Amantha and Jon Stern urge Daniel to turn down the deal, but Daniel can see the damage his presence has brought to everyone he loves. He re-confesses to the murder of Hanna Dean — although the more Senator Foulkes presses Daniel, the more confused Daniel's answers become, blurring the question of what Daniel really remembers about that night.
Need to catch up on RECTIFY? Find out where to stream, download or purchase Seasons 1-4.