"RECTIFY" Recap: Episode 304 (Girl Jesus)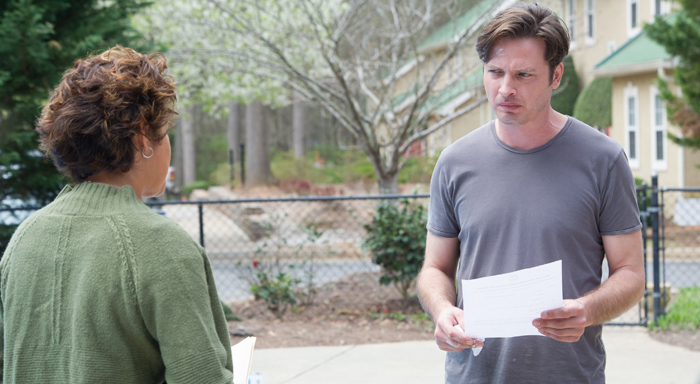 Marcy visits Sen. Foulkes at the hospital, where he's recovering from the stroke and barely able to speak. She makes an effort to help him, and he holds her hand. But she gently removes it and leaves.
Sheriff Daggett summons Trey to his office to ask him the color of his truck. He "casually" mentions that George's semen was found on Hanna's underwear and gauges Trey's reaction. In response to an earlier question about Daniel's attire in Florida, Trey says that Daniel had been wearing a jacket.
Amantha meets Jon at a BBQ joint and learns that he's staying in Paulie to help Daniel.
Daniel's probation officer visits him at the apartment complex after she's unable to reach him by phone. She warns him to take his probation seriously, starting by keeping his phone on him at all times and submitting his overdue housing form by 5 p.m.
Tawney listens to a voicemail from Carl, who asks to speak with her about Daniel. She meets Teddy outside Rebecca's office and they enter together.
In therapy, Rebecca asks Teddy to talk about himself, starting with his childhood.
After telling Amantha about George's death, Jon says that George's old testimony against Daniel gives Daniel a strong murder motive but adds that Trey, too, seems to be a suspect in Carl's investigation. Amantha thanks him for helping Daniel.
In therapy, Teddy explains that his addict mother left his family when he was young. When asked if he's close to Janet, he says they were close until Daniel returned. "Her real son came back and things changed considerably," he explains. Teddy accuses Tawney of thinking about Daniel and implores her to tell the truth for once. After Tawney admits to having doubts about their marriage, Teddy expresses relief that he wasn't imagining her ambivalence.
Daniel stops by Thrifty Town to have Amantha sign his housing form. She insists he take her car in order to meet the 5 p.m. deadline.
After therapy, Tawney tells Teddy about Carl's voicemail. She reveals that she picked Daniel up in Florida — near George's home, Teddy quickly realizes. In a panic, she seeks Teddy's advice. He counsels her to simply tell the truth.
Daniel arrives at the social services building minutes before 5 p.m. As an officer escorts him down a hallway, Daniel has death row flashbacks to being escorted down a prison hallway in shackles.
The probation officer takes the form from Daniel and says she'll see him next week.
At the station, Tawney tells Carl that she and Daniel solely discussed "spiritual matters" when she picked him up in Florida. "I feel any sin he has committed is far surpassed by the sins committed against him," she says. She also tells Carl that Daniel was not wearing a jacket, contrary to what Trey had told the sheriff.
Daniel stops by the empty Talbot residence and takes some clothes that Janet recently bought for him. He wakes up from a short rest to find Trey in the house but is unsure whether Trey is real. As Trey leaves, he remarks that Daniel will never get his lost prison years back.
Teddy meets Tawney outside the police station. She reassures him that nothing will ever happen between her and Daniel. He offers to drive her around until she's ready to return to Beth's house.
D.A. Person tells Carl that only seven kids were interviewed on the night of Hanna's murder even though a much larger group had been rounded up. She also says she procured the warrant for George's trailer. Carl reports that George's last credit card purchase was a round-trip bus ticket to Paulie. He surmises that Daniel did not kill George but notes that Trey's behavior is suspicious.
Janet asks Ted, Sr. if he ever questioned Teddy about his own role in Daniel's assault. Ted, Sr. defends Teddy and refuses to apologize for being protective of him.
Amantha arrives home to find Daniel sitting forlorn on his bed. Daniel says he once thought he was in love. "I thought she was my savior," he says, referring to Tawney.
Janet tells Ted, Sr. that she's going to sleep in Amantha's room.
Teddy pulls up to Beth's house and comforts Tawney as she cries. She kisses him then gently pulls away.
That night, Daniel stares despondently at the empty pool. He drags out the paint to finish the job but then intentionally knocks a can of paint all over the pool. Tears fall down his face.
Need to catch up on RECTIFY? Find out where to stream, download or purchase Seasons 1-4.