6 Questions with "RECTIFY" Star Kim Wall (Marcy)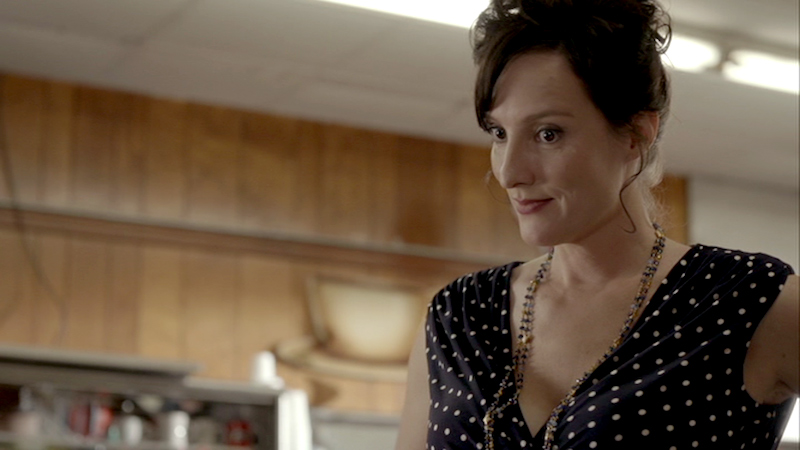 RECTIFY star Kim Wall, who plays Marcy from Murphy's Diner, talked to us about the difference between herself and Marcy, her favorite moments from RECTIFY and her experience waiting tables in NYC.
Q: What are the biggest differences between you and Marcy?
 
A: She hides her feelings better than I do. Marcy is over the drama of relationships with men and avoids conflict. I can't keep my mouth shut. For example when the Senator gives Marcy cash after sex: I'd be like, "What the bleep are you doing? That really hurts my feelings." Then he would feel trapped in an endless conversation. However, Marcy pulls the Senator closer and says, "It's the thought that counts." She hid her feelings to keep the mood easygoing. She was disappointed, but she is used to being disappointed by men. She didn't sleep with him for the money. She has her reasons.
 
Q: Do you have a favorite moment from RECTIFY so far?
 
A: I can't do it! It's too hard to pick just one favorite moment.
Favorite behind the scenes moment: Whenever I can chat with Ray McKinnon, He is a joy to talk to!
Favorite on set moment: Any scene with Aden Young. He is a wonderful scene partner!
Favorite moments as a viewer / fan of the show: When Tawney used her blow dryer to end a conversation with Teddy. Also when Amantha threatens the Sheriff with a citizens arrest. Those are just two. I have so many moments I love as a fan of the show. Oh wait… I gotta mention the scene where Daniel is talking to himself about his death and how macabre it would be for his mother to watch him die by lethal injection. Aden's performance was so powerful!
  
Q: Marcy is a polarizing character, having slept with both Senator Foulkes and Daniel. What are your feelings toward Marcy's behavior?
 
A: Deep down, I think she is a lonely person. She has good and bad battling within her just like most people. On occasion she'll do something promiscuous to be close to a man. I think she is attracted to both of them for different reasons. Marcy can be fickle depending on her mood.
 
Q: Does each season have a unique feel while you're in production? What was it like working on Season 3?
 
A: Yes, in Season one, the feeling was thrilling being on a new show created by the very talented Ray McKinnon! 
Season three: It feels like some very exciting momentum is building. The thrill is definitely not gone it's just getting more intense.

 
Q: That scene in the Season 3 premiere during which Foulkes has a stroke is intense. What was it like filming that scene with Michael O'Neill?

A: Michael really nailed the difficult impediment of a stroke! Every take was incredible! I don't know how he does it. I am always thrilled to work with him! If I see Michael O'Neill's name on the call sheet, I know it's gonna be a very good day!
 
Q: Have you waited tables before? It seems like a rite of passage for most actors!
 
A: Heck yeah, I was a waitress! It's a thing. Ya move to New York City, live in a teeny tiny apartment, work as a waitress, and study acting. I really did love living the "actors life" in NYC. Waiting tables is so much harder than it looks.
Need to catch up on RECTIFY? Find out where to stream, download or purchase Seasons 1-4.